DiGi WWWOW Internet For All Awards 2013!
DiGi's WWWOW Internet For All Awards 2013 is back in its third consecutive year!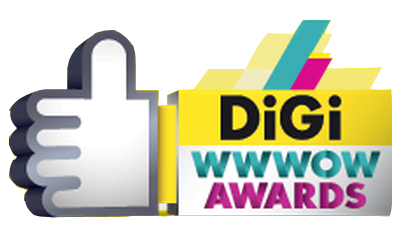 Voting is open until 23 June 2013 (it's this Sunday!), they now have more than 1,000 nominees who are busy promoting their entries in the hope of winning money-can't-buy experiences.
If you've yet to submit your entries, there's still time – public submission of entries is open until 23 June 2013. But you'll have to hurry, as 22,000votes have already been cast (as of 17 June 2013).Endorsed by the Malaysian Communications & Multimedia Commission (MCMC), this year's awards programme recognises Malaysia's top talents in social media, digital content and web commerce who have inspired others to achieve greater things and do more good through the power of the Internet.
We're back as one of the sponsors for the event, this time – it's the Most Inspiring Internet for Good Award!
This category is open for all those the of the net, the ones who have used the power of the Internet for the betterment of humankind – any NGO, social enterprise, charity, non-profit venture, environmental campaign, animal welfare, educational or community group of sorts. The winner of this category will walk away with Media space across Innity's wide and exhaustive network to publicize and raise awareness for their cause; including the the production cost for display banners worth RM5,000. Not just that, the list of ridiculously awesome prizes goes on!
Embracing this year's theme of 'Dream Big, Do Bigger', the special prizes to be won includes an all-expense paid for trip to Oslo, Norway to attend the Nobel Prize Concert and sit in the exclusive CNN interviews – for the winners of the People's Choice Award and DiGi WWWOW of the Year award. Other special prizes include a trip to The Philippines to meet fellow top bloggers and an opportunity to pick the brains of the Managing Editor of Yahoo! SEA on developing photo stories.
So what are you waiting for?
To find out more information or get involved in the excitement head over to www.WWWOW.my or join the chatter with#DGWWWOW :D