Innity's Monthly Digital Roundup! #2
Hey yo, Digital Roundup incoming!
We've got stats that we think all of you folks working in digital will find useful; and also some insights on the latest trends.
Scroll down for more!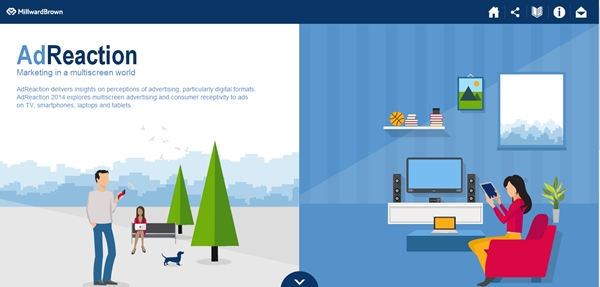 AdReaction: Marketing in a multiscreen world
Here's data from Milword Brown's AdReaction study on multiscreen usage.
Looking into ads on TV, laptops/PCs, smartphones and tablets, the study helps marketers understand the multiscreen landscape by considering both the scale of screens (reach/opportunity to contact) as well as the receptivity of people to various marketing approaches, both within and across screens.
Bye, Bye Banner: Emerging Display Formats & What Marketers Need To Know
As the industry progresses so has the IAB Standard Ad formats. Over the past two years, the IAB Standard Ad Unit portfolio has undergone a dramatic transformation and is now 70% new. Here's what they've replaced them with – together with some emerging ad formats that marketers should know about.
Mary Meeker's Internet Trends Report: The Internet Trifecta & the Battle for Attention
Renowned tech analyst Mary Meeker has delivered her influential annual Internet Trends report, emphasizing the rise of mobile interfaces in transforming the way we communicate and interact. Her key observations are summarized below.
Marketing Can No Longer Rely on the Funnel
One of the central concepts of marketing and sales is the funnel — through which companies are supposed to systematically move prospects from awareness through consideration to purchase.
But consumers are now more informed, connected, and empowered than ever. Does the funnel still work in a digital, social, mobile age?
Where's the Creative? The Missing Link in Customer Experience
In our dis­cus­sion around mar­ket­ing and its part­ners, we typ­i­cally only men­tion the mar­keters and IT pro­fes­sion­als. But that's like only men­tion­ing red and yel­low when talk­ing about the pri­mary col­ors. What about all-important blue, with­out which we couldn't cre­ate end­less shades of green and purple?
The third, oft-neglected pri­mary mem­ber of your mar­ket­ing team is the cre­ative.
Why Small Business Should Care About Native Advertising
While native ads have been in existence since the early 2000s it has gained new momentum this year. With Native Advertising offering unparalleled user experience and the significant changes in the SEO landscape, Native Ads could just be the thing small business are looking for to beat the giants in this crowded landscape.