Suara.com is Innity's Website of the Month!
Hailing from Indonesia, our website of this month has been around for only slightly over a year but has risen to be one of the top 30 sites within the country. Suara.com prides itself for being an independent and honest news source covering local happenings in Indonesia. Editor in Chief, Suwarjono shares a few words about the site's success.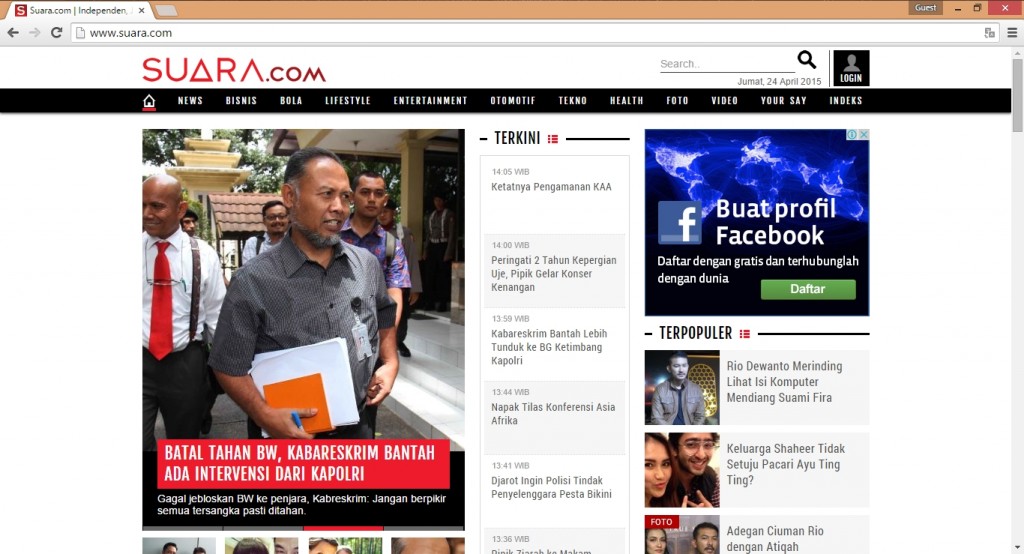 Name: Suwarjono
Position: Editor In Chief
Site: http://www.suara.com/
Can you tell us a little about Suara.com and how it got started?
Suara.com started during Indonesia legislative and presidential election in 2014, when the big media players were picking sides in the Political arena. So the voice of a neutral media was in demand. So that was how Suara.com came about, and what we are. We aim for is media without political coalition, affiliation, or other political influences.
What is your strategy to stand out from your competitors?
With my 15 years experiences working in big media companies, I have learned a lot from Detik, Okezone, and Viva. I've tried to combine their strategy and create a new style writing style. We also use selected news and niche content to attract local audience.
What are the main challenges faced by you in this highly dynamic online media ecosystem?
The main challenges are creativity in terms of content creation, application development, and other creative services. And also how to monetize online media both for mobile and desktop.
Any words of wisdom you'd like to share with new and aspiring new publishers?
If you want to create new media, I suggest that you promote to niche markets, and also to grab audience in other cities than Jakarta so that we can promote local Brands as well.
Other than your own, what are your favorite websites out there?
Huffingtonpost & Buzzfeed.
What role does Innity play in your business and what do you like most about working with Innity?
Our cooperation with Innity opened up new opportunities and also helped us monetize our media. They also help us to grow our audience with Yahoo.
Where do you see Suara.com in 3 years time and what do you hope to achieve?
Expand and focus in digital, strengthen our mobile products, and implement new digital products.
If your website had a superhero mascot, what would you call it and what superpowers would it have?
It would be MacGyver, smart, fast and proactive.