Innity's Campaigns of the Month!
This month's ads tastes something very much like Spring – fresh out of the box with sprinkles of sunshine and positive energy. Get energized by Microsoft Lumia's #MakeItHappen campaign, or catch a taste of Spring with Mango and Cadbury's new flavours. Then check out Sun Cellular's Lightbox mini game, and perhaps try out your luck in winning some branded bags with Alcon.
Microsoft Lumia Make it Happen
Ad Format: Social Lightbox
Advertiser: Microsoft Indonesia
Agency: PT Cursor Media
Network: Run of Network
Country: Indonesia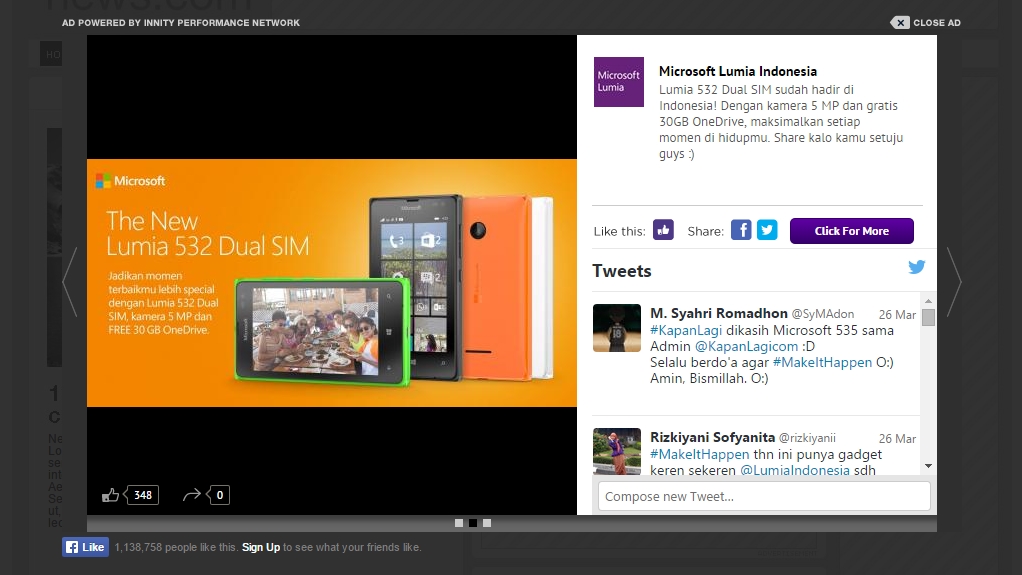 Be prepared to be flooded with of countless messages of positivity in Microsoft's #MakeItHappen campaign. Encouraging users to submit their aspirations for the year, Microsoft Lumia's Social Lightbox utilizes Innity's propriety #SocialHub to draw user generated content from various sources and highlighting them via display ads. The campaign garnered a huge interest with the locals and achieved a CTR and Engagement rate well beyond the industry standards.
Alcon AirOptix Colors Contest
Ad Format: Mobile Engage
Advertiser: Alcon
Agency : MediaVest
Network: Women, Shopping, Entertainment, News, Lifestyle, Social & Community
Country: Malaysia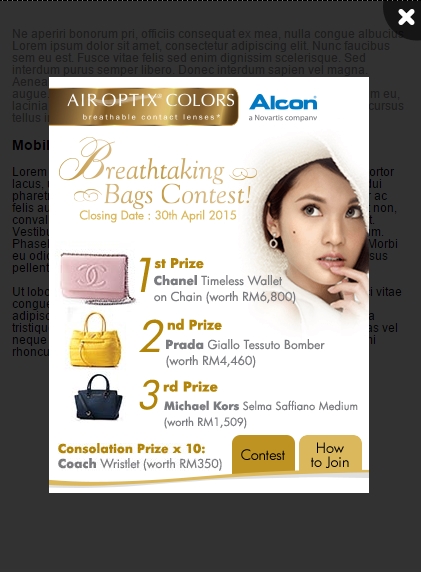 Alcon AirOptix is drawing eyeballs with their latest campaign on mobile. With Taiwanese artise Rainie Yang and the potential of winning a Channel bag as attraction, users slide up on the invitation ad to get the details on participating the brand's "Breathtaking Bags Contest". The campaign has drawn an incredible amount of interest, raking a CTR and Engagement rate well beyond the industry standards.
MANGO Spring Summer 2015
Ad Format: Welcome Video
Advertiser: Mango
Agency: ZenithOptimedia Sdn Bhd
Network: Women, Lifestyle, English
Country: Malaysia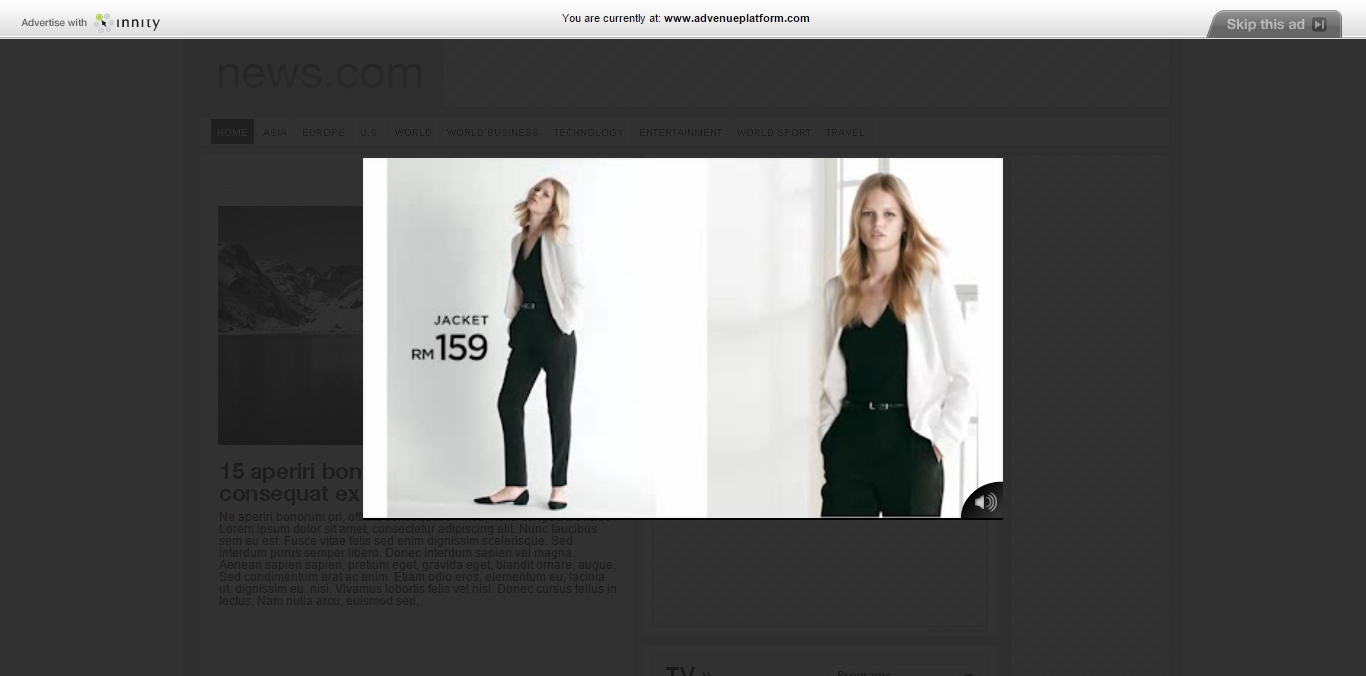 Come Spring, and Mango has released a new line of fashion for the season. This 20-second welcome video temporary blocks out distractions and highlights the trendiest style for females, focusing on creating purchase interest with the targeted audience. Who doesn't want some quiet time to contemplate about making a purchase?;) Attracting eyeballs by the hundred thousands, the campaign achieved a CTR well beyond the industry standards.
Sun Cellular Complete Angel's Outfit
Ad Format: Lightbox
Advertiser: Sun Cellular Philippines
Agency: Starcom Philippines
Network: RON
Country: Philippines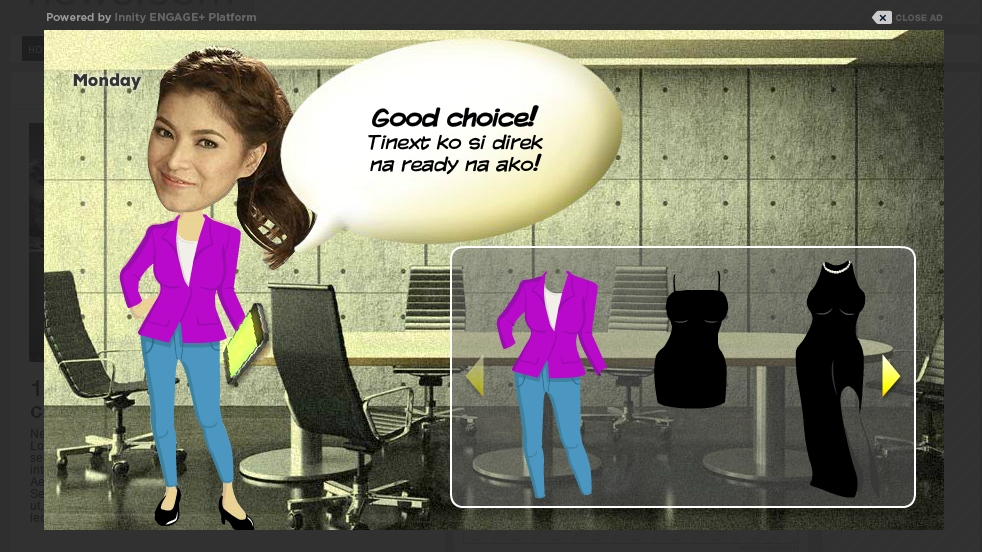 Sun Cellular gives you a walk-through on how important phone data is when you're dependent on your phone to getting opinions from your friends like all of us are. The invitation ads catches user attention as a game, and upon expanding, users help Angel pick outfits for the days in her working life. Upon completion, the ad highlights Sun Cellular's offering that could breeze you through busy days without worrying about getting insufficient data for connecting with your pals.
Cadbury Video Campaign 2015
Ad Format: Mobile First View
Advertiser: Cadbury HK Limited
Agency : Carat Media Hong Kong
Network: Running on Youth, Games, Entertainment, Social and Community channels
Country: Hong Kong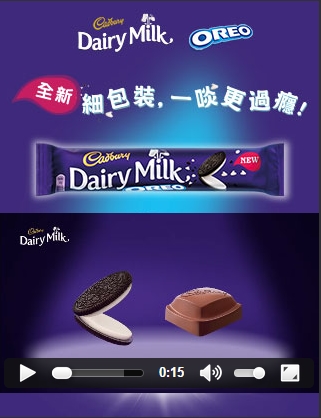 Cadbury's grand gesture of marrying two of their most popular products – the Dairy Milk chocolate and Oreo has just hit the streets. Targeting young viewers on mobile, this Mobile First View ad combines features of a straight-to-point print ad and a 15-seconds TVC to attract viewers to try out the new product.