[November] Innity Featured Publisher of the Month

This month's Publisher of the Month, goes to …… Tribunnews from Indonesia! Tribunnews is one of the top news sites in Indonesia where it covers a wide range of news. We're happy to be given the opportunity to talk to the director of Tribunnesws, Dahlan Dahi. So, let's get right down to it!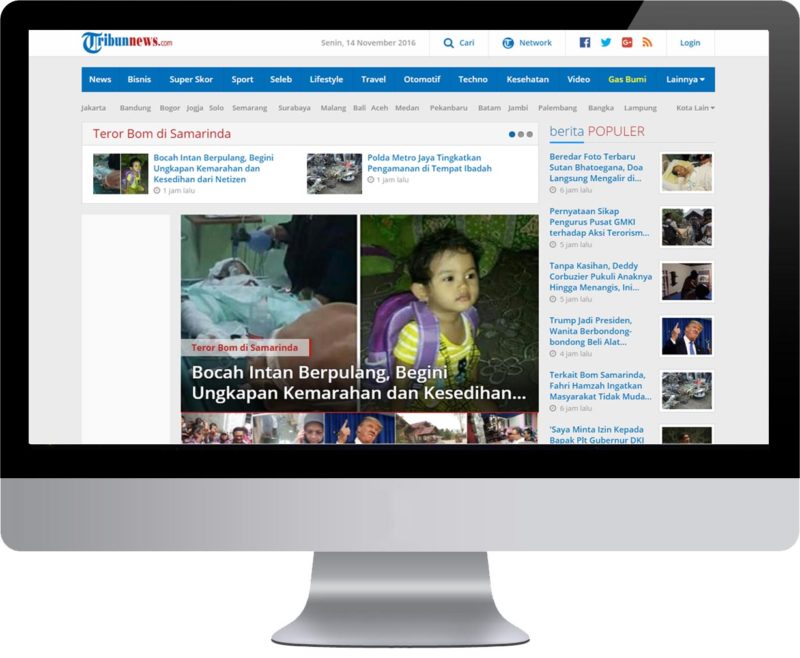 Name: Dahlan Dahi
Position: Director of Tribunnews
1) Let's start with the basics. In your own words, what is Tribunnews all about?
Established in 22nd March 2010, Tribunnews.com is an Indonesian online news portal published by PT Indopersda Primamedia, which is supported by 25 local news portals in 22 different cities all around Indonesia.
With "Local Breaking News" as the tagline, Tribunnews.com provides a wide range of local, national, and international news accurately, and fast. Supported by more than 500 journalists in 217 cities, Tribunnews.com is a place for people to participate in sharing information or conveying ideas and empirical experience which are important for the nation.
On March 21, 2014, on its 4th birthday, Tribunnews.com was ranked among the top three sites for the Indonesian Market in the News Portal Category, according to alexa.com. And on August 2016, Tribunnews.com made it to the first position among all Indonesian websites.
2) Who are your targeted audience/readers?
In the beginning when Tribunnews.com was established six years ago, it had the same target audience as Tribun Network's newspapers, which were the middle class working adults. After signing in into digital, we realized that there is a large market – the millennial readers, and thus, we are working on those two segments at once.
3) What kind of contents do you look into when it comes to building up your site?
Tribunnews.com is the house of Local Breaking News contents. If you have more than 500 news reporters in the field, you will know that their strength is to access the information right on the ground. However, not all publishers have access to a field like this. Moreover, Indonesia is a vast archipelagic country. From the west end in Aceh to the east end in Papua, you'll need 9 – 10 hours flight by plane. These kinds of content is what we look into when it comes to building up Tribunnews.com.
4) As a publisher, what were your main challenges and how did you overcome them?
With the Internet today, readers are able to consume information anywhere and anytime. This has contributed to various challenges like content production and distribution. As we manage 30 news portals and social platforms, we have rich data and insight which allows us to produce content that is relevant to readers.
5) Other than your very own, what are your favorite websites that you would usually go to, and why?
As a journalist myself, I read a lot of discussions online regarding digital contents, and how and why users engaged with the the content. I am also interested in content on monetization and IT support.
6) What other limitations or flaws do you find in the digital industry? What do you think the industry needs to grow?
Programmatic advertising prices still underrated. Brands and agencies are still adapting to the digital world. All the key players in the digital ecosystem such as, publishers, brands, and agencies need to head and build a "New Normal".
7) What do you like about working with Innity so far?
I love the way Innity guides us on how to strengthen our publisher solutions. Innity is such a close friend.
8) What is Tribunnews' vision for the future of Media?
The truth is, technology is controlling us today. However, technology helps us strengthen our competency in creating, producing, and distributing content itself.
The Internet has given access to Indonesia users who previously didn't have access to the publisher. It expanded the market by 3 – 4 times compared to the newspaper readership.
We want to increase the value of monetization per user. Publishers must earn enough money to produce content that is not only relevant to their user, but also useful to the nation. That is what Tribunnews.com hopes to achieve in the coming years.