Innity rolls out a brand new dashboard
for publishers!
Have you heard about our awesome newly launched Advenue Publisher Platform? The comprehensive Platform provides information that is simpler and more effective, while transparency and control reigns supreme.
For Advenue users, the changes should be instantly apparent to you!
The entirely revamped interface provides publishers with evident view of the graphs. Beyond looking slightly sleeker, the new layout packs some punch too. The new Advenue dashboard includes easy-to-understand analytics that provides an overview of the most meaningful and actionable statistics among other important data such as:
Reports: A straightforward outline that provides trending data comparing the current day's earning performance to performance one month and three months prior.
Ad Performance: Offers transparency into campaign level performance by individual advertisers. It breaks down the individual earning performance of each ad campaigns based on categories such as CPM, CPE, CPC, and CPA. Additionally, it provides transparency regarding ad requests, ad impressions, clicks, engagements, CTR, eCPM, and earnings.
Support Centre: New to the system? Don't fret. The improved support centre comes with updated Glossary and extremely detailed FAQs to clear up any confusion.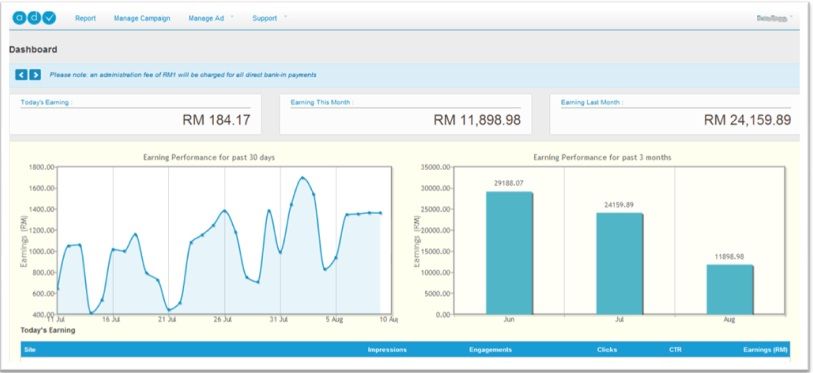 "We have listened to our publishers and as a result, churned out an amazing platform. Its sleek design allows for seamless navigation, reporting and effective management tools, said Phang Chee Leong, CEO and co-founder of Innity. "Transparency is the core of our objective and it is especially reflected in Advenue's latest upgrades."
What are you waiting for? Go check out our new dashboard if you haven't already and let us know what you think by commenting below! :)
Interested to join Innity's network? Want to know more about our awesome offerings? Visit http://www.innity.com/publishers/