This Native Advertising thing.
Right. So it's this thing we call an ad that doesn't look like an ad. Also the emerging star and hype of the online ad-kingdom. Not to mention also the source of various debates in which the theme seems to never run away from the whole "what on earth is this native advertising thing" question.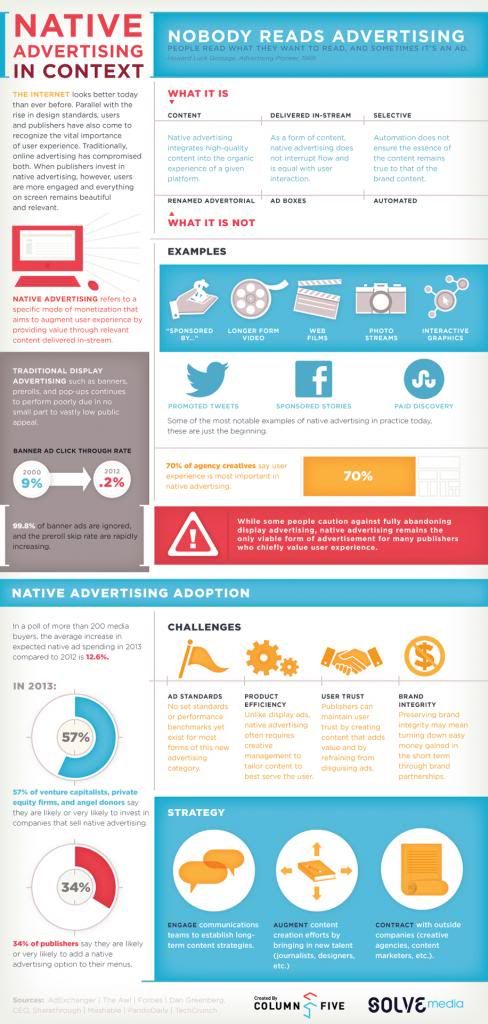 The kind folks from Column Five Media and Solve Media came up with this aiming to explain what native advertising is but it didn't seem to help with the gradually heating debate on defining native advertising itself.
While on the topic, we also found some commentaries online that are rather informative.
Where You Can Go Right, And Wrong, With Native Ads
Dan Greenberg and Jasmes Navin discuss about what Native Advertising is, and how advertisers and publishers can make the best out of the native movement.
Going 'Native'? 10 Things You Need to Know About the Hottest Trend in Advertising
John LoGioco of Outbrain tells you 10 things you have to take note about Native Advertising before you decide to hop in.
Mashable's Dani Fankhauser on the Rise of Native Advertising, Content Marketing, and the Joys of Kombucha
Dani Fankhauser talks about her opinions on Native Advertising….and yeah. Kombucha.
—
But while the concept gradually forms itself over time with experimentation and trial/error, we thought it would be great if to share some of the examples of Native Advertising here. Hey, actual examples are always better than vague descriptions :)
Here's a couple of them from Flipthemedia,  a sponsored by MINI USA content on slate.com, and finally this.