#innityhalloween!
At first someone had the idea of decorating the office. Then someone else thought of having a costume party.  After that there was a commotion to let it be something done in our regional offices.
And that, ladies and gentlemen, was how #innityhalloween came to birth.
Since Halloween landed on the week where we usually have our monthly Innity Townhall, you can say that our Townhall theme and activities are all settled and there's nothing else to worry about right? That's what some of us thought.
But how wrong we were.
Fact it, we've never really had this thing for celebrating Halloween, lest say dressing up for a costume party. But somehow this year the idea of it caught up to a few of us, and those few took on the responsibility to spread the hype of participation for Halloween.
Starting with a (oh-so-adorable) poster that someone made from an image found online, making our Halloween Costume Party an official thing :)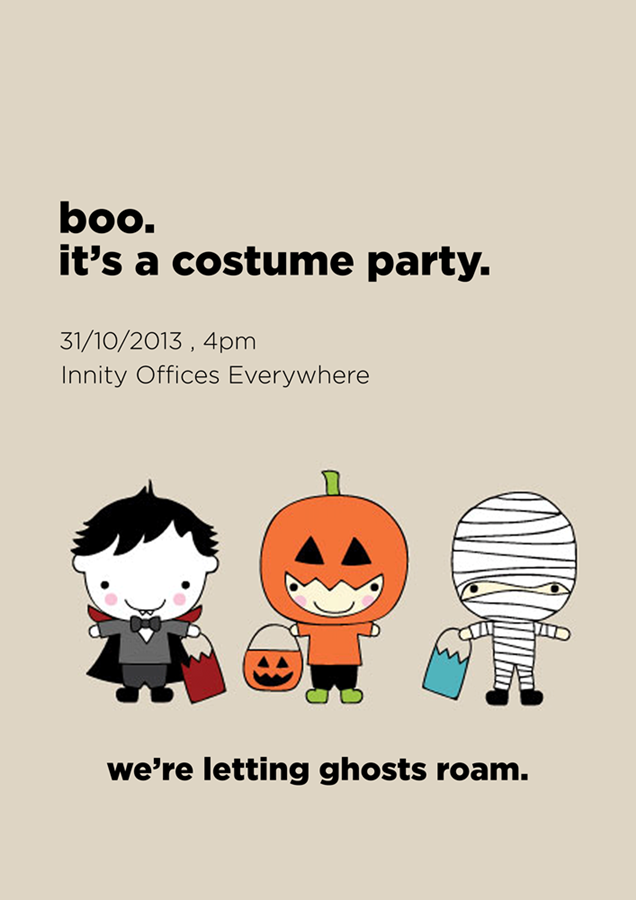 And then our Marketing Art Director Edward decided to build up the atmosphere by creating this:
When the power of all these forces came together, combined with the continuous nagging and the not-so-subtle reminders about Halloween we had in the office, we soon had people scattering the local malls for costumes and doing their research on Google on Halloween makeups.
And on the 31st October, Innity's very first Halloween party and competition!
Pictures, anyone?