PULSK is Innity's Website of the Month!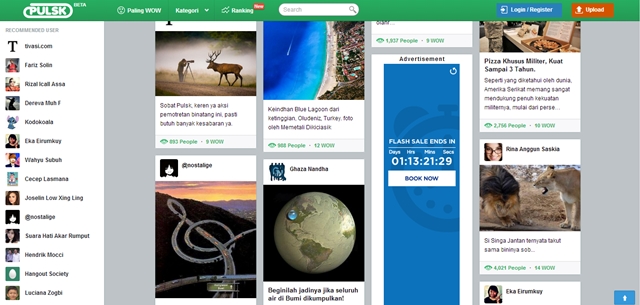 A social website with their own gamified twist, PULSK invites Indonesian users to curate and share localized content with users and friends. Since starting out in 2012, they've grown to build quite an audience and content base.  Co-founder Irwan shares with us about the hyperlocal social site.
Name: Irwan
Position: Co-Founder & CMO
Site: http://www.pulsk.com/
Website Type: Social
Can you tell us a little about PULSK and how it got started?
PULSK is a Social Sharing Platform where we introduce a new way to share content with our friends. Users are able to share images, articles and videos. We have a unique Gamification tool called WOW, it's like the facebook-like button for appreciation.
Simply put, PULSK is like the combination of Pinterest & Tumblr.
How do you stand out from the other social sites out there?
In Indonesia, we can say that we are the pioneer for this kind of Social Media and one of the fastest growing ones.
Currently we have more than:
200K Registered Users
500K Submitted Content (Images, Articles, & Videos),
4.5 Million Total "WOW" Generated
1.5 Million Discussion using Facebook Comments
If compared to international sites like Pinterest, PULSK has richer localized for Indonesians.
What are the main challenges faced by you in this highly dynamic online media ecosystem?
User acquisition and user retention is the hardest part for social media sites. The challenge is how to acquire, attract them to join; and how to keep the registered ones active using our product/service.
What's the best tip you'd like to give to new and aspiring new publishers?
Product is the key. In early stages, we have to get as much feedback as possible regarding our product from the users to validate our direction we're going.
If we're offering free services, we need to make sure that our offering is helpful/useful for them, and whether or not it really solved their problems.
If we are a media – providing content, we need to make sure that our content is good/unique enough for them compared to other sites or sources.
We also need to track any metrics for our product to know what works and what doesn't.
If we are doing it right then they(users/visitors) should be back and using our product more and more often.
What role does Innity play in your business and how has it helped?
Cash flow is one of most important aspect for businesses. As a bootstrapped startup PULSK uses advertisements as our main revenue stream, and Innity helps us to identify and leverage our best advertising opportunity – delivering significant financial value without getting in the way of our primary sales effort to brand and agencies.
Where do you see PULSK in 3 years time and what do you hope to achieve?
When we made PULSK live for public use, we had a vision to make more localized content for Indonesians, and motivating users to upload content and share good/awesome content with others. In 3 years time we aim to be the Biggest Entertaining-Content Platform in Indonesia.
If your website had a superhero mascot, what would you call it and what superpowers would it have?
PULSKER like the users who join our platform and community, and WOW powers just like the button that is our unique and strong identity.