Now Trending: #Worldcup
4 years since the last World Cup and the rise of technology and social media have made this year's world cup the most talked-about one ever. Putting it down in numbers, Coca-cola anticipates 3 billion people to be sharing about this in real-time during the live competitions. Even months before that, we've seen brands building buzz and hype surrounding the world's most watched event, with most budgets flowing into digital.
But how exactly are brands trying to score this marketing opportunity of the year this time around?
Coca-Cola Group : The World's Cup
Kings of content marketing Coca-Cola's approach to tackling World Cup stayed true to their marketing strategy. The core of the company's campaign is the documentary styled video "One World, One Game", featuring football fans across the globe who gets once-in-a-lifetime opportunity to visit Brazil and experience World Cup live. The video raked quite a number of views but it's still quite a distance away from Nike's "Winners Stay" that is leading in both shares and views of all world cup campaigns. We're liking the vid and think it deserves some of the prime light that Nike has, but Coca-Cola's usual approach of bringing happiness may not appeal to the mass in this context, as contrast to the passion and enthusiasm-driven Nike ad.
McDonald: GOL!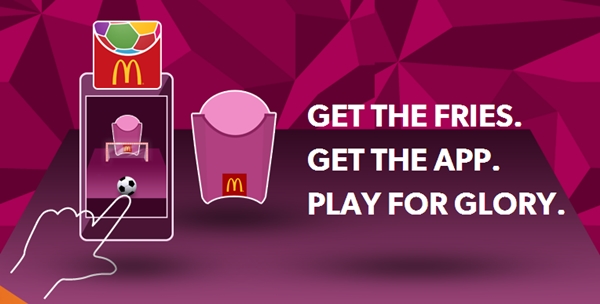 Official World Cup sponsor McDonald's campaign falls into one of those grey areas, blurring the borders between digital and real world advertising with their augmented reality campaign. Launched on a global scale, McDonald revamped the packaging design of their fries to an AR scene, when scanned with the McDonald's Gol!! app, customers could play a game of football on their smartphones with the fries box as the goal. If it sounds familiar to you, you've probably heard about a similar concept from Giraffas Brazilian Kitchen & Grill that was launched in time for the World Cup as well. Given the scale of this campaign is launched, ol' McDonald definitely doesn't want to miss out on what could be the biggest marketing opportunity in the world.
If you feel like joining in the fun, head to your nearest McDonald's with your downloaded app and to play some football yourself ;)
FIFA: Social Hub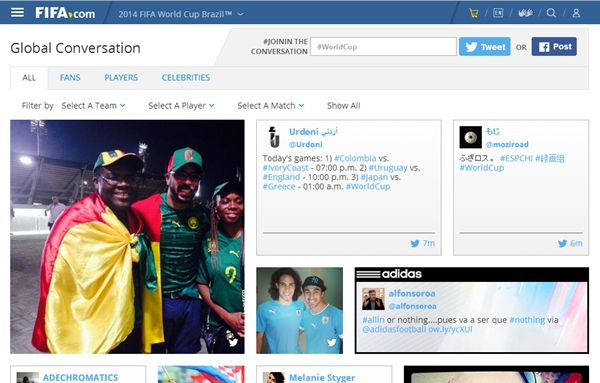 Having a social hub helps to curate all the chatter on social media to one single place especially if you have a huge event, more so if your event is observed by half the world's population. Official organizer of the FIFA World Cup teamed up with Adidas to set up a page where fans can not only stay updated on the scores of the matches, but also engage with other supporters of the same team. Whether you're a fan and looking for someone with the same passion for the same team or just want to stay updated on the latest topic of the World Cup, you can just find it here .
Foca Beer: Football Religion
Brazilian beer company Foca's content marketing is one that speaks true to all football fans' hearts. Drawing from the fans' love for the sport, Foca opened up an opportunity for football fanatics to officially claim some time off from their jobs to support their favorite teams in the pub, and of course, chug on the beer that made that all happened. The campaign is targeted to Brazillian audience, but if you read Portuguese and want to try your luck  here's the website to rightfully claim your time to follow some matches.
Live data suggests that #worldcup has an average of over 35,000 mentions per hour as of now. Have you made the most of it in your marketing? ;)