Yume.vn is Innity's Website of the Month!
With their recent integration of social media features as major part of their website, Yume.vn now defines itself as a social news website. With their strong user base, the site prides itself as a network fueled by user generated content with topics that are of interest for the local youths. Part news platform and part blog, the site encourages a participatory culture for Vietnamese youths to post and determine which news are noteworthy.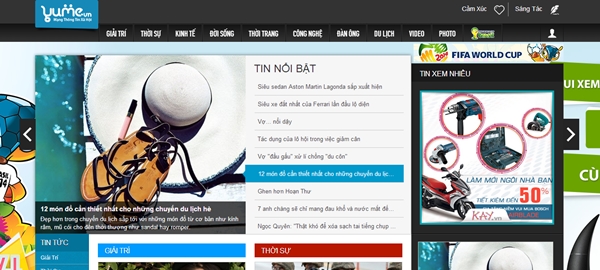 Name: Võ Đình Tuyến
Position: Head of Business Development
Site: http://yume.vn
1) Can you tell us a little about Yume.vn and how it got started?
Yume.vn is a social news website launched firstly in 2010. The initial format was based on http://timnhanh.com.vn/. The site is owned by Diadiem,ltd.
At first, Yume was a blog network with user generated content. After many changes, in March 2014, Yume officially has the new version which follows the social news pattern. It includes article about social life, entertainment, technology, sports and a blog section for user to write and connect with friends.
Yume currently has over 3,000,000 blog users, with 60,000 daily active users.
2) How do you stand out from the other news sites out there?
Yume is a social blog which has been around for many years. Although it has gone through many changes, Yume.vn has a large number of active and loyal users. Thirdly, the new Yume.vn content orientation is targeted towards youth, active and working; and we're constantly updating it with suitable information for them.
3) What are the main challenges faced by you in this highly dynamic online media ecosystem?
Yume's main challenges in the market are firstly, many other publishers have their own youth social network. Secondly, news sites are not new in the digital market and there's a lot be big competitors out there for social news sites.
4) What's the best tip you'd like to give to new and aspiring new publishers?
Learn about how internet users think, what information they need, the reason for visiting a news website, and then provide user with relevant information.
For example: Yume.vn user's average age is 22 to 30 years old. The topics they show interest in depends on the time of day. For example majority of them look at soccer news or latest entertainment news in the morning, social news at lunch time, funny stories about work place, love in the afternoon…
5) What role does Innity play in your business and how has it helped?
Innity brings Yume earnings from the ads banners, and provide users information about products through advertising.
6) Where do you see Yume.vn in 3 years time and what do you hope to achieve?
The lastest version of Yume.vn has been confirmed after a very thorough research about Vietnamese user behavior:- What kind of platform do they need? That platform must provide what function to " speak out and write"? How can they connect their friend?
We know that 97% of internet users are interested in getting their news online everyday and nearly 90% of users are on social networks. So Yume.vn will continue to be a platform that is a compilation of general news and blog posts, because users tend to interact with topics in their social networks, by leaving comments or share…