Yugatech is Innity's Website of the Month!
Started out as a hobby, Yugatech grew into their 8 man team right now covering localized tech news for the Filipino audience. Emerging from the massive competition, they are one of the many examples that we've came across that prove passion and dedication to be the best guide your way into the major leagues.
Abe, the founder of Yugatech shares with us about his website.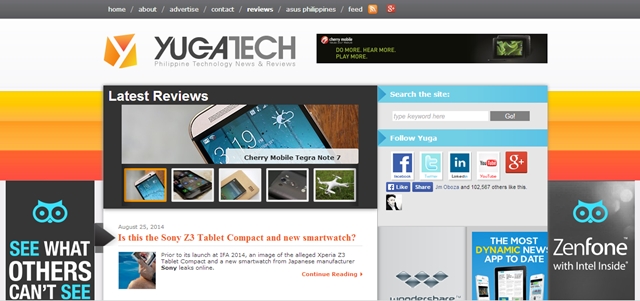 Name: Abe Olandres
Position: Founder, Yugatech
Site: http://www.yugatech.com/
1) Can you tell us a little about Yugatech and how it got started?
YugaTech was a hobby back in 2002 when I was starting to learn how to do web design and programming. The blog was only added later when I started creating my own CMS (this was before WordPress). I didn't have any background in communication/writing/journalism so it was a way for me to learn how to write. Next thing I knew, I was doing blogging fulltime by end of 2004. We now have a team of 8 with 5 working full-time to operate the site.
2) How do you stand out from the other Tech sites out there?
I read a lot of sites before and was looking for localized content but there wasn't a lot. That gave me the idea on how to position YugaTech — by providing localized and Filipino-centric coverage that is easy to digest and understand. We always strive to be first, fast, fresh and relevant.
3) What are the main challenges faced by you in this highly dynamic online media ecosystem?
Relevance is one of our biggest challenge — the digital landscape is very dynamic, volatile and always shifting. We want to be current and the very fast-paced landscape is really hard to catch up, especially the technology space where a lot of things are happening all the time. Speed is very important especially when we cover news so that is also a constant challenge for the team.
4) What's the best tip you'd like to give to new and aspiring new publishers?
Passion and determination are both priceless investments when it comes to online publishing. Focus on your strengths and use it as leverage to provide something new and fresh to your target audience. There's still a lot of room for growth with internet penetration still around 30% of the population. Social media is also a huge engagement and marketing tool that you need to maximize.
5) What role does Innity play in your business and how has it helped?
Innity has provided publishers like us an opportunity to tap un-used inventory as supplementary source of revenue. They have access to premium advertisers and is able to execute creative and targeted campaigns that are also engaging to our readers.
6) Where do you see Yugatech in 3 years time and what do you hope to achieve?
We're hoping that in 3 years time, we'd be able to shift to multimedia broadcasting and probably do something live on the web and expand our coverage to news. The team is working really hard to maximize existing resources and train harder to be more competitive so we can achieve that goal.
7) If your website had a superhero mascot, what would you call it and what superpowers would it have?
He'd be called Stark. Geek, genius, moves at the speed of tachyons, and has an eidetic memory.