Carsome is Innity's Featured Website of the Month!
Automotive websites are teeming in the interwebs of late. However, don't be too quick to write off Carsome as just another car review site. Founded in February 2015, our featured website of the month hails from Malaysia and packs quite a powerful punch. Aiming to provide a smarter and easier car buying experience for car buyers, Carsome hopes to reach a largely niche audience with its unique content and most importantly, its service that seamlessly connects buyers with dealers.
Eric Cheng, ceo and co-founder of Carsome shares with us about the website.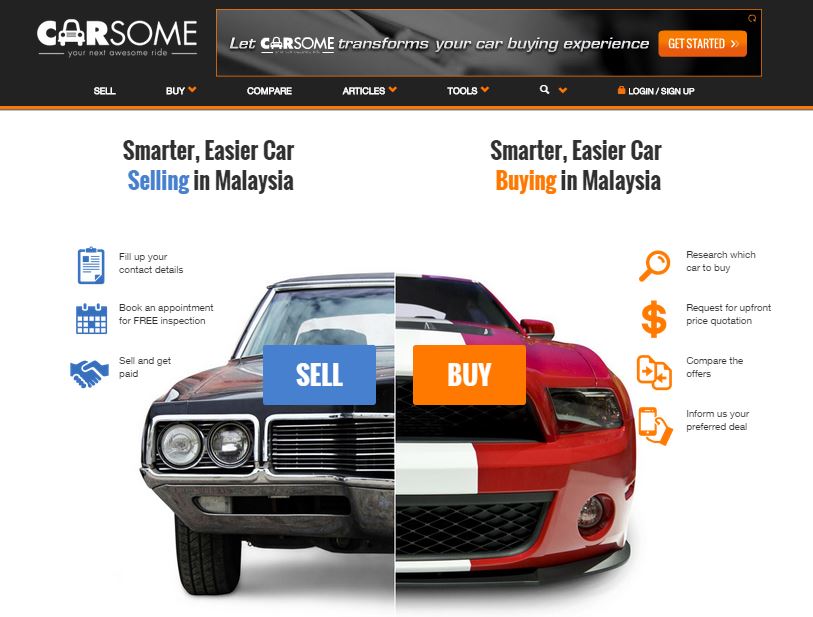 Can you tell us a little about Carsome and how it got started?
We have always heard stories from friends and family about how buying a car can be exciting but yet at the same time complicated. For instance, we all dread those awkward face-to-face haggling and uncertainty over whether we are overpaying. After doing a lot of market research, speaking to car buyers and dealers, we understood how the industry works and where the pain points were.
We found that consumers want a convenient and less stressful way to compare dealers' offers without going through the pain of negotiating and haggling. On the other hand, dealers want a source of high quality leads to help hit the tough volume targets and expand their customer base.
With all that in mind, we created Carsome – the car buying platform for new car buyers to research on cars and sign up to receive offers. We will then match them based on the selected location and facilitate the best offers for them. If they like the offer, all they need to do is just test drive and purchase the car from the dealer. The whole process is pain-free, hassle-free, and haggle-free. Additionally, we also benefit Carsome Certified Dealers by extending their reach to genuine car buyers and significantly reduce their costs. In normal circumstances, dealers have to advertise or list their inventory on classifieds with a fee. On Carsome, they get quick and easy direct sales, and we only charge upon a success basis.
What is your strategy to stand out from your competitors?
As a car site/platform, we don't just provide car brands awareness through display banners and content. But we also provide analysis on leads generated, actual sales through our site, leads-to-sales conversion rate, and location analysis. Carsome is the only platform to promise car manufacturers sales analytics in Malaysia and also South East Asia – this gives us a huge advantage over the other car sites out there.
What are the main challenges faced by you in this highly dynamic online media ecosystem?
The main challenge would be finding the right technology and content partners for your business. Consumers today are demanding more choices, better service and personalized content. Finding the right partners to analyze the wants and needs of a specific market can be a pain as there are so many platforms a marketer can use. But if you choose the right partners, you will surely have a better understanding of your users.
What can you share with us about building content for the site?
Carsome is about presenting car facts and car buying tips for the users. Unlike most of the car sites out there, where they tend to cover car launches or spy shots of a certain model, Carsome aims to become the go-to guide for car-buying. I.e. If you are earning RM 5,000 a month, what's the best hatchback car for you?
This strategy helps define Carsome to the users. Whenever there is an article by Carsome pushed out to the users, by reading the article's title, readers will instantly know it's all about car buying and selling.
Any words of wisdom you'd like to share with new and aspiring publishers?
Identifying your value proposition would be key whether it is content and/or technology. The next challenge would be executing the plan with speed as the more content you create, the better you have a grasp on the market and what works best for your site.
Other than your own, what are your favourite websites out there?
1) Facebook – No doubt the number one site in my mind, Facebook opens up so many opportunities for publishers to circulate content and it is becoming the anchor in content discovery.
2) Google – Another platform where you can find anything you want. You don't search for something anymore, you Google it.
3) Truecar.com – By far one of the most data-driven automotive platform in the world. Carsome's objective is largely inspired by Truecar where they strive to introduce transparency in automotive pricing and information to ensure happy car buying experiences to consumers.
What role does Innity play in your business and what do you like most about working with Innity?
The concept of Carsome is to be able to provide most up-to-date price offers to car buyers and sellers. This involves instilling pricing confidence using precise data and analytics presented in an easy to digest form to the users. Currently we are collaborating with Innity on its DMP solutions to further analyze user's behaviours on our site. We are glad to have Innity on board in enhancing Carsome's services and we hope to collaborate further in the near future.
Where do you see Carsome.my in 3 years' time and what do you hope to achieve?
Carsome is the motor industry's Expedia. We aim to become the one-stop solution provider for your car buying and selling needs. With that in mind, we are looking to extend Carsome's services to other countries in the SEA market. Carsome will try to shake up a sector that has proved stubbornly resistant to ecommerce revolution. Prior to this, online shopping has transformed almost all sectors of retails, from selling gadgets to groceries.
If your website had a superhero mascot, what would you call it and what superpowers would it have?
That would definitely be Bumble Bee from Transformers (preferably in orange colour)! The fact that he is a trusty companion for humans very much aligns with how Carsome is trying to connect car buyers and sellers online. For its superpower, we would like him to deliver cars to our users – that will definitely solve the logistic problems!