PinoyExchange.com is Innity's Featured Website of the Month!
Posted on

October 9, 2015

in General
This month, we're happy to feature Philippines leading online community site, PinoyExchange.com as Innity's website of the month! PinoyExchange.com has come a long way since its inception in 1999 and over the years managed to amassed a huge following by staying true to their core to provide an avenue for Filipinos across the globe to voice out their thoughts on issues important to them. We had the pleasure to interview the site's sales and marketing manager, Ammabel Masangkay to learn more about the popular site.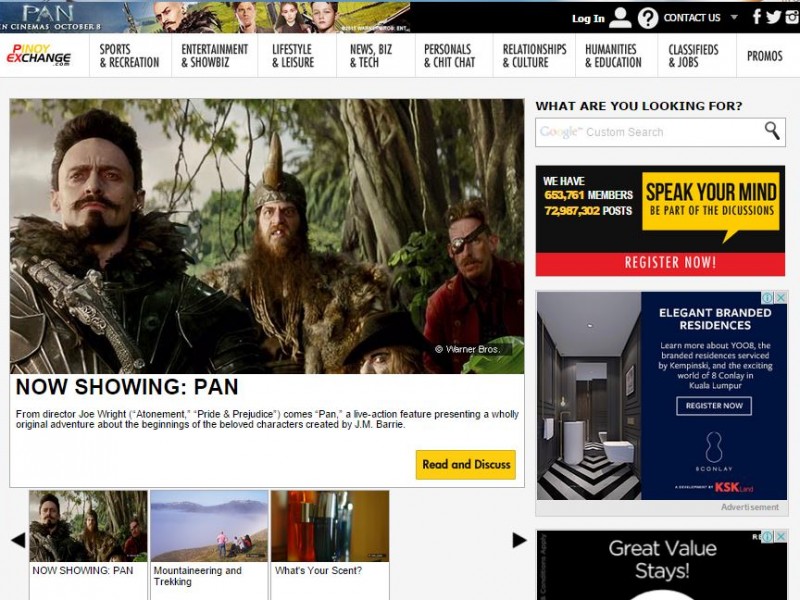 Name: Ammabel Masangkay
Position: Sales and Marketing Manager
Site: PinoyExchange.com
1.) Can you tell us a little about PinoyExchange and how it got started?
PinoyExchange.com is an online community forum used mainly by Filipinos from all parts of the globe. The site is an avenue for anyone to communicate their thoughts and ideas on topics that concern the Philippines and Pinoys everywhere. The site was founded by Nico Nolledo (Nix), Marco Lucena, and Jude Turcuato, PinoyExchange went online on July 12, 1999. Michael Palacios later joined the founding group as lead designer and technical consultant. Some of the more loyal members were also asked to become moderators to help out in stimulating the discussions. The site's initial success stemmed from exposure during the televised UAAP games, a well know collegiate league in the Philippines.
2.) What is your strategy to stand out from your competitors?
Our strategy is mainly staying true to the site's core – that is focusing on the discussions and thread topics that will continue to stimulate conversation between our members. We talk the way our community talks. The first step is to understand their language, both verbal and non-verbal. Most of our communication efforts are designed based on the cues our members throw at us. Once we get the full grasp of their language, that's when we try to introduce a new way of connecting to them.
3.) What are the main challenges faced by you in this highly dynamic online media ecosystem?
Our main challenge is basically keeping up with the "instant" trend. Users nowadays are dependent on getting instantaneous results, instant interactions, instant virality etc. Internet users are always on the go and our platform is not really designed for such. But we make up by making sure that we highlight relevant user-generated content. They might not consume it immediately, but it is something they will surely go back which hopefully will lead them in staying longer on the site. 

4.) What can you share with us about building content for the site?
Since our content is about 80% user generated, we make sure we provide enough room for our members' discussions to grow and expand organically and anticipate the things they'll talk about from there. You have to know what your users secretly want. That is the trick. Know what will they look for that is part of their impulsive consciousness. Find something to feed their random searches.
5.) Any words of wisdom you'd like to share with new and aspiring new publishers?
Know your community and users by heart. Be their guilty pleasure. Times will continue to change but once you are able to get a hold of the core of your users, they will keep coming back to your site.

Other than your own, what are your favorite websites out there?
Buzzfeed and Youtube :)
6.) What role does Innity play in your business and what do you like most about working with Innity?
Innity is one of our ad network partners who allows us to serve ads from their roster of international clients. We really like working with Innity since they are very responsive and easy to collaborate with.
7.) Where do you see PinoyExchange in 3 years time and what do you hope to achieve?
We hope to continue to provide a platform for meaty discussions from like-minded Pinoys all over the globe. In 3 years, we are still PEx. Though things will surely change in the next three years. Anonymity might not be a concern by then, but the quality of discussion will be stronger. An audio/video based forum is good but who knows? It's just a random idea. :)
8.) If your website had a superhero mascot, what would you call it and what superpowers would it have?
We'll just call it "The PEx" with the power to absorb emotions and ideas. Afterwards, it can be translated into different forms of communication so that many people can understand it in different levels.