March 2016: PPTV Thailand is Innity's Featured Publisher of the Month

PPTV Thailand is a famous digital TV station based in Thailand with 36 channels. They provide different kinds of television programs such as news, sports and entertainment which broadcasts for 24 hours. PPTV Thailand brings outstanding content to their audiences in High Definition (HD) nationally. We recently did a short interview with the Sales Director from PPTV, who explained more about PPTV Thailand.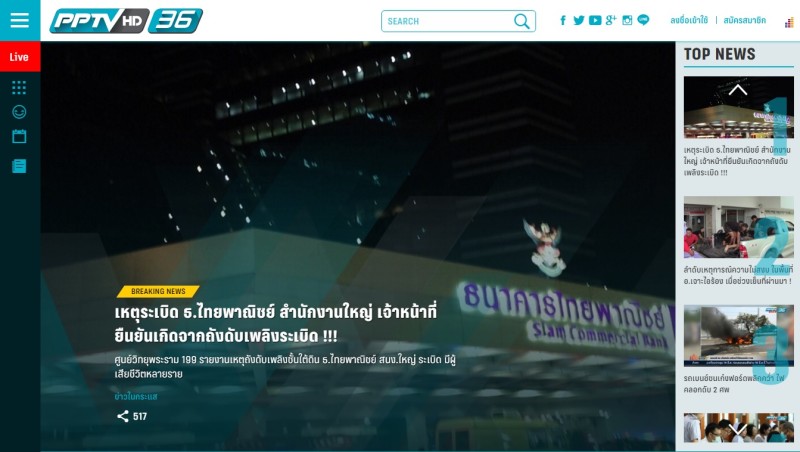 Name: Chutintra Wattanakul
Position: Sales Director
1.) Can you tell us a little about PPTV Thailand and how it got started?
PPTV Thailand started after PPTV HD entered the bid for the license to operate one of Thailand's only 7 high definition digital channels in 2014. Now, we have began to offer the premium quality programming to all platforms.
2.) What is your strategy to stand out from your competitors?
Premium Content is our strategy. The sports content are some of our core rating magnets that includes the online live streaming of Bundesliga which attracts an audience base of approximately  2,000,000 per month.
3.) What are the main challenges faced by you in this highly dynamic online media ecosystem?
In this highly dynamic online media ecosystem, the challenges for us are mainly the fast-changing media landscape and user behaviors as it is rapidly changing along with the communication technologies nowadays.
4.) What can you share with us about building content for the site?
We have an online team to build content, as well as a policy to converge content between TV and online. Our site supports TV content and well as online content such as supporting promotions and complementing side stories, which allow us to create the perfect second screen.
5.) Any words of wisdom you'd like to share with new and aspiring new publishers?
I would say, content is the KING. Creative content can make new publishers well known in a second.
6.) Other than your own, what are your favourite websites out there?
My favorite websites are The Huffington Post, Online BuzzFeed and Mashable Asia as these websites keep me updated on what's new when it comes technology, popular media, entertainment, and lifestyle.
7.) What role does Innity play in your business and what do you like most about working with Innity?
They help me monetize the site. It is great working with Innity, as they also provide good and new advertising technology.
8.) What is PPTV Thailand's vision for the future of media and what does PPTV Thailand hope to achieve in the coming years?
Our plan is to continuously build our community and increase engagement. We also hope to provide everyone content on all platforms.