April 2016: The Coverage is Innity's Featured Publisher of the Month
The Coverage Bureau launched in November 2015, and in a few short months, has successfully amassed a substantial following due to the fresh way they present various different topics of traditional news. The founding team grew tired of conventional media publications that mandate news coverage to be presented in a single dull, one-dimensional manner and endeavoured to create a highly engaging, socially driven content platform that would redefine the meaning of a media publication.
We had a chance to interview the Founder and Creator of The Coverage Bureau, Shen Yee Aun to learn more about the site. Read the full interview below!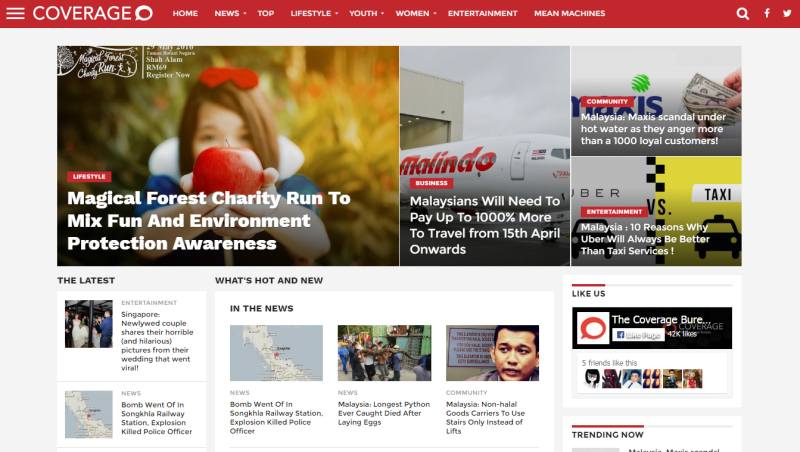 Name: Shen Yee Aun
Position: Founder and Creator of thecoverage.my
1. Let's start with the basics. What is The Coverage all about ?
We're a platform to provide a voice to the news and stories that circulates through the networks of social media such as Facebook and Twitter. We take these stories that goes unheard of and bring them into one place, into The Coverage. Essentially, we're a social news platform for these stories. If needed, we would define ourselves to be a Malaysian News outlet within the Social and Digital media line.
We're functioning in a way whereby the news is channeled from the people to the people rather than the traditional media that channels its news from the journalist, corporations and Governments to the people. Another point to add is that we're also developing a platform for advertisers to advertise and market out their ideas, from there it's the people who share and promote these ideas from consumer to consumer, instead of your conventional media to consumers channel.
We're developing a culture whereby the people and consumers are the kings of this new digital era. To further elaborate, it's an era whereby the culture allows the people to share news, information, products and services among one another through their own choice of social media channels. We're confident enough to say that an average amount of shares per article in The Coverage can garner up from 5,000 to about 85,000 shares.
To sum up ourselves with 3 words, we're Trending, Viral and Shareable.
2. What inspired you to start The Coverage?
We're inspired by the fact that other websites such as Buzzfeed, Upworthy, Daily Mail and many more can achieve so much in the west while sites like TEEPR, Rocket News and Stomp in Asia can do as well too. Therefore, we would like to provide the variety and colours to the Malaysian digital and social scene.
We want to provide Malaysians a social news site on a massive scale like the rest of the world. We want the people to obtain their daily dosage of information and news in the most entertaining way possible from us. In a nutshell, we're achieving this for the digital media industry, the advertisers and most importantly for the people.
We don't see ourselves opposing the mainstream media but rather as a complementary site that will help develop a particular news or information to go viral. It's the way it is because it's the way the people today are consuming their news. It's changing today and it will forever change the future.
We're daring to be different and to start something that isn't what the public is used from the media industry. We're inspired to change the style, norm and culture on how we should be consuming news in Malaysia.
A speech by Nokia CEO had became the main inspiration for every Coverage team members, " It's not wrong if you don't want to learn new things. However, if your thoughts and mindset cannot catch up with time, you will be eliminated.The advantage you have yesterday, will be replaced by the trends of tomorrow. You don't have to do anything wrong, as long as your competitors catch the wave and do it RIGHT, you can lose out and fail.To change and improve yourself is giving yourself a second chance. To be forced by others to change, is like being discarded.Those who refuse to learn & improve, will definitely one day become redundant & not relevant to the industry. "
We want to be the trendsetter for tomorrow.
3. What were your main challenges in starting the site and how did you overcome them?
Server Crash
Although most of our team members had extensive experience in the social media space, we didn't expect our exponential growth. We had to upgrade our site's infrastructure several times in the first few months ever since we went live, and in addition we had to deal with loads of angry readers because of it.
Our server had crash multiple times since the day we started because we were having 1000 – 3500 readers per seconds on average. Our server keep bursting from time to time whenever it couldn't support such a huge amount of traffic readers.
In the end we had to look into different technologies such as caching to help reduce server burden, and also we're constantly looking into ways to optimize content delivery.
Growing Way Too Fast
We were extremely new in the industry back then and in less than 10 days of our start up, we had companies knocking unto our doors who were interesting in investing in our company. I remember having long and multiple arguments among ourselves about these investors and which investors would suit our company's culture and philosophy. Before we could even stabilize ourselves to grow properly stages by stages we were already being pressured by so many different corporate rates and even up to this date, we're still getting offers.
Went Viral Too Fast
Once in awhile we do make technical mistakes on our articles and in some rare cases we publish them publicly by accident. So the mistakes are out there now and even after we fix or edit them out, it has already been seen by thousands of reader in such a short period of time.
4. Who are your targeted audience/readers?
Young 'urbanites' living in Malaysia. These individuals are also a large majority of our audiences. These unique group of people are already moving away from your traditional print media and into the platforms that provides them their daily sources of news and information online.
Note that the current generation of readers of today are the current readers of tomorrow.
5. As a publisher, what challenges are you currently facing in this dynamic online industry ie. ad blocking?
As a publisher, we're always trying to find the right balance between providing quality content and advertising. We can't afford to push our readers away with too many advertisements while at the same time, we have to advertise enough as well to keep ourselves afloat.
Using the current tools in technology, we remind our audiences that the consistent and quality content that we provide is only because of the results of us not using ad blocks, if we do use it, it'll just restrict us furthermore in what we provide. Aside from that, we do use other innovative methods, such as native advertising to deliver relevant sponsored messages to our audiences.
6. What is your strategy to stand out among your competitors?
Many of the contents we publish can also be seen on other news outlet, however that doesn't stop us as we're always one step ahead in the speed of delivery and the unique angles on how we tackle on a specific news. The way we do this is by having our staffs to be on the lookout consistently and to scavenge these day-to-day news worthy stories from the people. We then retell their stories to other people and to also hopefully expand our number of readers.
Another strategy of ours stems from how we have created the culture whereby the news is shared by the people to people on social media platforms. It allows us to not spend a single cent on Facebook Advertising to promote or as to reach out to other readers. In a way, we carefully thought out how our readers would be able to share our content and at the same provide free publicity for ourselves.
7. What kind of contents do you look into when it comes to building up your site?
Interesting social stories, urgent requests for help from people (Blood donation, missing person or pets, warning others about dangerous individuals and what not) and last but not least, interesting angles to tackle on current news.
We have a group of people within our staffs to selectively pick out potentially newsworthy stories can could go viral. This group of individuals additionally informs us how to construct the information that would it to go viral based on the methods of attracting readers to click willingly, read the article ad then share it.
8. Other than your very own, what are your favourite websites that you would usually go to?
There aren't any personal favourite websites for me to go to. Our staffs and I believe that we should encourage ourselves to really browse through multiple websites daily in order for us to be really knowledgeable about the latest news, issues and articles happening from all over the world. In the end, we do filter out the news through our audiences to really grasp what might be interesting and newsworthy for the public.
9. What do you like about working with Innity so far?
Well, first and foremost is that we don't have to sell the advertisements ourselves (haha), but on the other hand, we're able to gain access to quality advertisements which is highly valuable to us in preventing our readers in walking away.
Innity has also been very helpful with us by implementing advertisements over to our website and moreover, they're amazing to work with because of their hospitality and sincerity to us. In addition, they're already well established within multiple regions allowing us to ready monetize our traffic whenever we decide to grow beyond the country, Malaysia.
10. What is The Coverage's vision for the future of media ?
We see a future whereby media content will become social and mobile, we also would like to think that these media content would become the leaders in the digital era. We hope to expand our offering in the future and hopefully from there grow into one of Asia's digital media behemoths.
It backs up to the idea whereby the readers and consumers are on top of whatever that goes viral and popular by sharing the news withing the community. We are currently setting the trend today for the future.
11. What does The Coverage hope to achieve in the coming years?
We hope to prove that the current template for success and virality stems from The Covergae. We hope to also prove that the culture we're developing whereby the people are on top on whatever that goes viral is a success. We also hope to expand ourselves into the very specific niche segments such as automotive, entertainment, travel, business and the list can go on and on. Moreover for ourselves, we hope to expand into different fields such as event planning and broadcasting slowly but surely.
In the end, we want to be Malaysia's largest ad viral web portal with the highest traffic among all our competitors.
Innity is pleased to be the exclusive advertising representative for The Coverage. For any advertising inquiries on The Coverage, kindly contact us at my.sales@innity.com