May 2016: Rolling Stone Indonesia is Innity's Featured Publisher of the Month

Rolling Stone is a magazine based in America that focuses on popular culture, music, movies and politics. Since May 2005, Rolling Stone magazine was published in Indonesia by PT A & E Media and became the first in Asia. Their official website (www.rollingstone.co.id) was launched only a few months after the magazine was published. Till today, RSI has developed into a highly influential media and became the fundamental magazine & website for most of the people.
We had a chance to interview the Business Development & Sales Digital Manager , Rizki Fajar Nugraha to learn more about the site. Read the full interview below!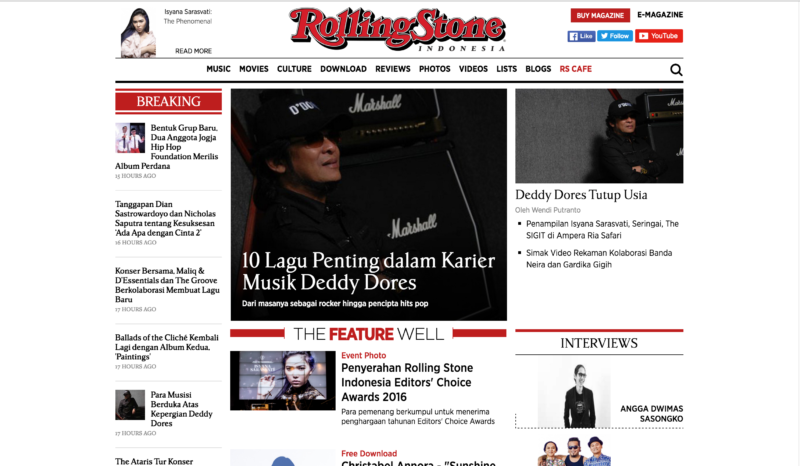 Name: Rizki Fajar Nugraha
Position: Business Development & Sales Digital Manager
1. Rolling Stone is such a well-known publisher in the U.S, how does Rolling Stone plan to emulate its success in US over in Indonesia?
We have just celebrated our 11th anniversary and for these past 11 years we have survived the test of time and are the only music publisher that is on printed magazines as well as in a digital format – www.rollingstone.co.id.
2. What were your strategies in building the brand and followers in Indonesia? 
High-quality content plays a major factor in our strategies as Rolling Stone Indonesia. It allows us to develop into a highly influential media where readers may depend on us when it comes to reading news about music, movies, lifestyle, politics and pop culture on the local scene.
3. As a publisher, what challenges are you currently facing in this dynamic online industry, i.e. ad blocking? 
As a medium of music that has a niche audience, the biggest challenge now would be getting the maximum number of visitors and turning them into our loyal audience. We also consider ad blocking a challenge and how important it is to see it from our audience/visitors' point of view.
4. What is your thought on programmatic advertising in Indonesia?
Actually, people who know and understand the complete picture regarding programmatic here are very rare. However, for the last 2 years, many brands especially e-commerce and start-ups are already using programmatic advertising. Programmatic becomes this dashboard that helps us publishers to review, track and optimize ad inventory sales performance. Hence, we are confident that it will continue to expand its use here in Indonesia.
5. Is there any one core service, or technology in particular that you think the online industry is missing out on? 
It seems that all aspects have been developed and integrated with each other well, therefore there is no doubt that the digital industry is growing rapidly in Indonesia.
6. What role does Innity play in your business and what do you like most about working with Innity? 
Innity indirectly helps Rolling Stone Indonesia to be better known by the advertiser, either brand or agency.
7. What is Rolling Stone's vision for the future of media and what does Rolling Stone hope to achieve in the coming years in Indonesia? 
In Rolling Stone Indonesia, we are certain that we would continue publishing printed magazines. We would also ensure that Rolling Stone Indonesia will continue providing high-quality content that can be enjoyed by readers on both printed and digital mediums.