August 2016: The Local Society is Innity's Featured Publisher of the Month
Posted on

August 29, 2016

in General
Based in Singapore, The Local Society, also known as the social media badass, is dedicated to provide readers with social news and viral stories, and always at the search for funny, inspirational or any stories at all that will shock their readers. This month, we get to know more about the site through its founder, Muhd Zulhilmi!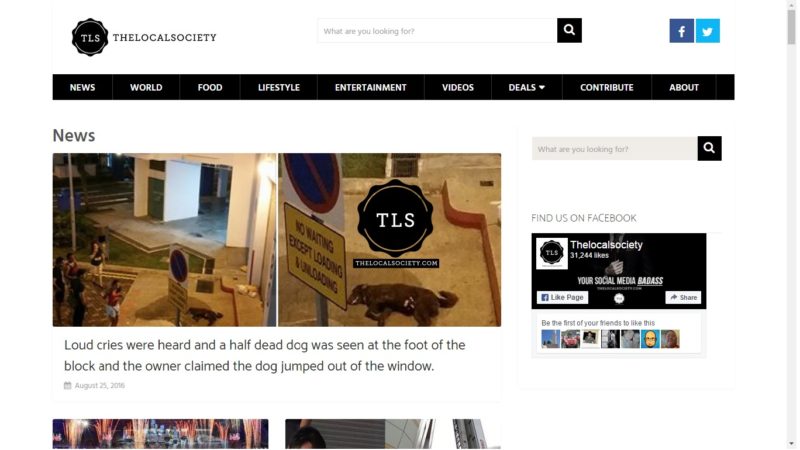 Name: Muhd Zulhilmi
Designation: Founder of The Local Society
1. Let's start with the basics. In your own words, what is The Local Society all about?
TLS (The Local Society) is an independent global platform for viral stories, breaking news and entertainment. A social media powerhouse established by generation Y for all generations.
2. What inspired you to start The Local Society?
We're tired of the boring news from the local media and decided to spice things up by providing our audience with real-time news and viral stories.
3. Who are your targeted audience/readers?
Our flagship brand, TLS is followed by all ages. Our readers are hip and upwardly mobile – the kind of audience advertisers love! Our targeted audience are generally from Singapore & Malaysia.
4. What kind of contents do you look into when it comes to building up your site?
We're always looking for viral content and stories that our audience would love to share. It could be anything from the breaking news to entertainment news. We're constantly looking to improve our content from time to time.
5. As a publisher, what challenges are you currently facing in this dynamic online industry?
One of our core values is being a social media platform that provides values to our audience. Our biggest challenge has to be recruiting suitable talent to join our agency. We're still struggling to find a full-time deputy editor to help us grow our content.
6. What is your strategy to stand out among your competitors?
We tend to produce informative content and content that people crave for. We have a unique way to make the content interesting for our audience to enjoy. Also, we have prior experience in web development and growth hacking, a marketing technique aimed to maximize exposure.
7. Other than your very own, what are your favourite websites that you would usually go to, and why?
We love Facebook! Also, we love to check out Unilad.co.uk and elitedaily.com as they produce great content!
8. What other limitations or flaws do you find in the digital industry? What do you think the industry needs to grow?
The lack of customers' interaction, safety is the main flaw here in the digital industry world. We need to grow talents to build a secure digital space so that it will be a safe and secure place for people to enhance their life.
9. What do you like about working with Innity so far?
Awesome! We joined Innity for a couple of months now and we're so glad that we did. Innity helps to provide our audience with relevant advertising campaigns which helps to stretch our revenue.
10. What does The Local Society hope to achieve in the coming years?
Our goal is to be the top social media powerhouse in Asia providing great content and great informative video. We also aim to recruit more editors, video producer and build more hyper-local ancillary sites and channels to support our content distribution. Moreover, we want to expand our content to a wider audience.