September 2016: SETN is Innity Featured Publisher of The Month
Posted on

September 13, 2016

in General
On 12th November 2013, SETN launched and became the very first Taiwan online media platform to collaborate with local TV broadcasters. SETN integrated international and local news with different aspects including politics, social, technology, lifestyle, entertainment, breaking news, live news, videos, features stories and more. We are pleased to have had the opportunity to interview SETN's Director, Ms Alice Hung, to know more about their site.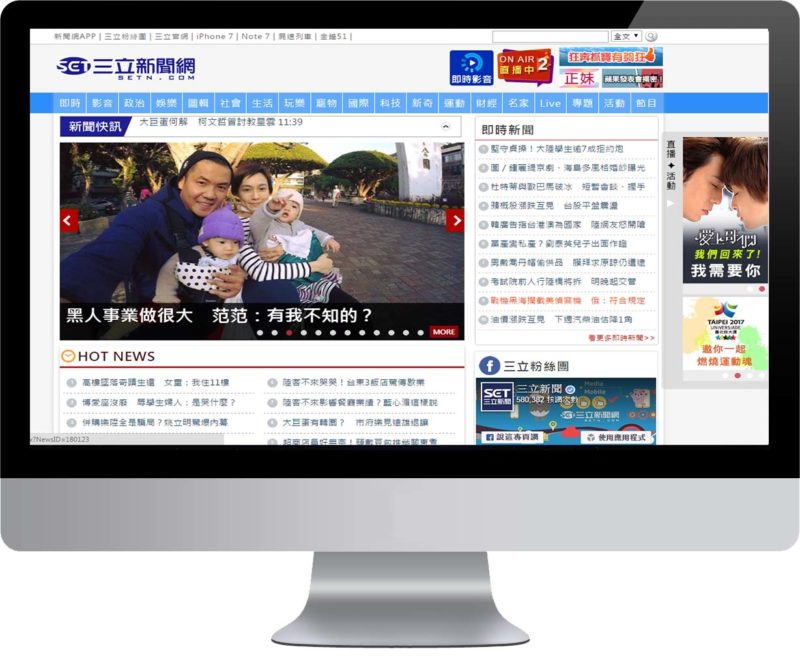 Name: ALICE HUNG
Position: Director
1.) Can you tell us a little about SETN and how it got started?
請問可以告訴我們三立新聞網是一個怎樣的網絡媒體平台以及它的由來嗎?
SETN.com」是台灣第一家結合直播、互動、社群、即時新聞的新媒體;
以專業、品質、正能量的嚴謹態度,及跨屏多螢的創新技術,
提供您公平、正義、新觀點的國際時事、即時新聞、節目直播、名家專欄、社群討論、爆料服務。
SETN is the first Taiwan online media that integrates live news, interactive content, local community and breaking news. We are professionals and always stay positive to provide high quality content to our users using our multi-screen technology. Most importantly, we provide accurate, fair and new perspectives of on the news, events, and shows that we report on.

2.) What is your strategy to stand out from your competitors?
請問你們有什麼策略或者優勢讓你們可以不同於其他競爭對手嗎?
三立媒體集團堅持「原創」精神,以百分百自製為核心經營,
創造戲劇、娛樂、音樂、財經、新聞等五大內容,因此全方位的內容及新媒體技術,都讓三立新聞網在短短不到一年快速成長,並得到廣大兩岸網友的關注。
We always keep our content original. We created 5 sections – drama, entertainment, music, finance and news. With our original content and advanced media technology, we managed to grow rapidly within 1 year where we have a lot of readers from both local as well as China.
3.) What are the main challenges faced by you in this highly dynamic online
media ecosystem?
請問在這個網絡媒體生態系統,你們面對最大的挑戰是什麼?
最大的挑戰是新媒體技術應用,
在網路資訊爆炸之時,新聞取得相對容易,但載具的應用及優化還有很大的成長空間;
及如何推薦讀者想要的內容,增加對媒體的黏著度。
The biggest challenge is that, in this information overload internet era, news and stories are relatively easy to obtain. Nevertheless, we still think that there is room for improvement on the content. We are also concerned on how to increase readership by building relevant content for them.
4.) What can you share with us about building content for the site?
請問你可以跟我們分享你們為網站創造內容的心得嗎?
創建一則新聞時,最基本是從圖文新聞開始,
但因應讀者習慣的改變,又為了符合不同社群平台的操作策略,須再增加動態影音新聞,
因此,在創造內容時須考慮的層面不再是單向,而是需要想到如何讓內容在社群中擴散及互動回應。
To create a news article, we normally go with the usual content with an image. However, we need to adapt to the rapid changes of reading habits among our readers and also the different needs from various communities. Hence, we will need to add in more dynamic videos to attract people. We found out that when it comes to creating original content, we need to consider and include few perspectives to make the content interesting and interactive.
5.) Any words of wisdom you'd like to share with new and aspiring new
publishers?
請問你們有什麼忠告或建議可以分享給那些新的網絡媒體們呢?
堅持專業、品質、正能量的媒體態度。
Be professional. Maintain a high quality of content and also have media ethics

6.) Other than your own, what are your favourite websites out there?
請問除了你們的網站之外, 你還有欣賞哪個資訊網嗎? 他們的網站有什麼讓你覺得值得去學習的呢?
Mashable、BuzzFeed是勇於創新的內容網站,是值得學習的。
Mashable and BuzzFeed. We want to learn from both of these sites as they are really good at producing refreshing and original content.
7.) What role does Innity play in your business and what do you like most
about working with Innity?
請問Innity 對於你們來說扮演了怎樣的角色? 與 Innity 合作,最讓你們滿意的地方是什麼?
多樣式的廣告模式,及具質感的內容控管,是最滿意的地方。
We are pleased to work with Innity because they have a variety choices of ad formats and a high standard of quality content.
8.) Where do you see SETN in 3 years time and what do you hope to
achieve?
在未來的3年內,你們希望你們的網站有怎樣的發展?
在未來3年成為華人新聞媒體的標杆。
To become the leading Chinese news media in 3 years!