October 2016: Publisher Of The Month (Malaysia)
Sirap Limau
is one of the top parenting sites in Malaysia. With the concept of 'Media Famili Anda' (Media for your family), it shares a lot of useful info on family and parenting which attracts a flurry of parents to the site. One of the highlights is their '40 Minggu' (40 Weeks) guide, where they provide tips, information, and guidelines throughout the journey of being pregnant. This is definitely worth a shout out! And we are pleased to have their Managing Director, Md Hisamudin Ahmad to tell us more about the site.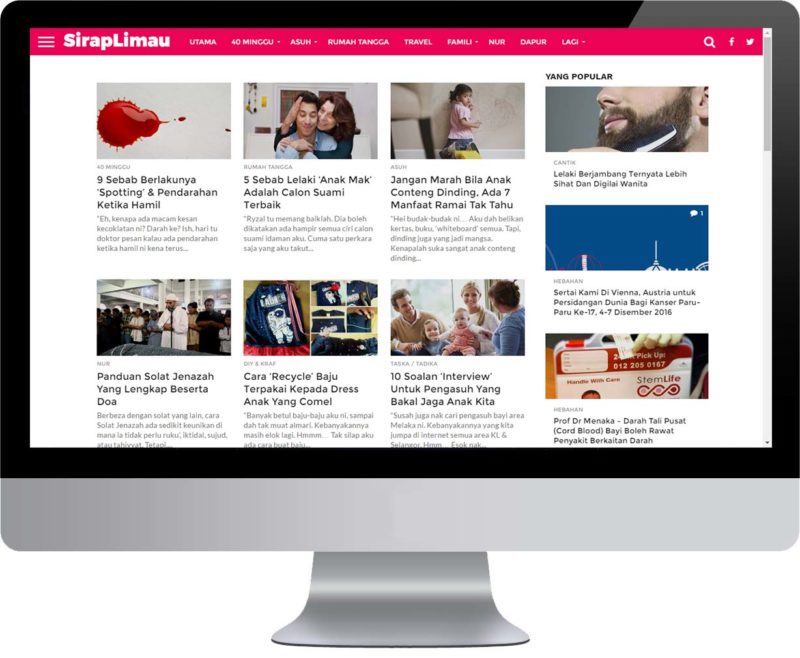 Name: Md Hisamudin Ahmad
Position: Managing Director
1) Let's start with the basics. In your own words, what is Sirap Limau all about?
Sirap Limau is a site that carries family values, in the context of Malaysia.
2) What inspired you to start Sirap Limau?
Flashback few years ago, my wife delivered a baby. During the confinement period, it was so hard a get a therapist or so-called 'tukang urut' (masseuse) . I had to Google it and call them one-by-one to check on their availability. It was so frustrating.
To overcome the frustration, I start collecting the list of traditional 'tukang urut' all over Malaysia. It became one of the earliest entries in Sirap Limau. Turns out, it's very well received by the readers. And eventually, it got picked-up by the mainstream media and we've been mentioned in one of the radio shows.
And I was thinking, do people really need these kind of information? And to prove that, we continued to experiment with writings about kids, parenting and pregnancy. And the rest is history.
3) Who are your targeted audience/readers?
Our demographic is 80% female. They're either young professionals or housewives who are married with kids. Hence, it fits the advertisers who are looking to target this segment. Simply because they're the 'decision-makers' in the family.
4) What kind of content do you look into when it comes to building up your site?
We focus 80% on content creation. The remaining 20% is on content curation. During the internal brainstorming and content planning stages, we always ask ourselves, will this content benefit others?
Other than making sure the content is relevant, we also try to inculcate positive messages and inspirational stories. This is a huge responsibility. We don't want to be viral for the wrong reasons.
5) As a publisher, what were your main challenges and how did you overcome them?
Definitely on a content sourcing. Similar to the advertising industry, it's all about getting the insights. Understanding what the audience wants, not what we think they want.
In some cases, we have to dig deep to get to know the darkest concerns of a mother. And those little things send a trigger where many other mothers can relate too. Fantastic isn't it?
6) What is your strategy to stand out among your competitors?
Write from the heart. Write from experience. Do plenty of research. Blend it with the facts. When you see your friends as well as strangers sharing your content, and it appears on your Facebook Newsfeed, you know you're getting it right.
Content first, revenue later. Focus on the quality, not the quantity.
7) Other than your very own, what are your favourite websites that you would usually go to , and why?
I keep myself up-to-date with the news by visiting
thestar.com.my
. Other daily-dose includes
digiday.com
for digital media and advertising updates,
quora.com
for motivation, inspiration and wisdom, and
9gag.com
for light entertainment.
8) What other limitations or flaws do you find in the digital industry? What do you think the industry needs to grow?
Plagiarism. I'm not surprised if individuals copied your content. But when mainstream media starts copying yours without giving proper credit, that's something to be worried about.
But hey, at least you know you got their attention and you're doing it right.
9) What do you like about working with Innity so far?
Less headache, because you don't have to interact with clients or agencies. Trust me, it's a fussy job. Innity will handle all the 'dirty' part and we just execute the campaign. Wonderful isn't it?
In addition, a dedicated Account Manager really helps and speed-up the work in closing the deal. You even get a reminder when the campaign is about to start. That's awesome!
10) What is Sirap Limau's vision for the future of Media?
Media in Malaysia is quite fragmented. There's a few 'big-boys' and countless independent ones that actually spawns every day. Just like the banking industry, we may see a media consolidation in the near future.
As for online media, it is moving towards native advertising together with audience targeting. There is less budget spent on display banners as clients are focusing on having a personalized and human touch. And while TV advertising still commands a higher price, the rise of online videos may change the landscape in time.
But at the end of the day, it's content that matters.
11) What does Sirap Limau hope to achieve in the coming years?
Our life is already complicated. To make it worse, there's too many false news, hate, negativity, politics and untrue stories on the Internet. We aspire to stay away from that. We want to touch many hearts. We want to give impact to many lives. That's satisfaction to us.
Of course, we can't do this without the writers and the team. Without them and the readers, we are nothing.