8 Best Practices To Increase Your Website Traffic
Ever since the first-ever website was published on the internet last August 1991, a lot has evolved technologically and online. According to a published collective report on internet statistics for 2019,  as of early this year, there are over 1.94 billion sites around the world! There's basically a website for anything – fashion, travel, food, you name it! With over 4 billion internet users globally, there is also no wonder why businesses are on the internet as well, and all have their own websites. E-commerce has taken over many brick-and-mortar businesses while digital marketing is expected to tackle down traditional marketing this year.
With this much competition online, getting website traffic gets tougher by the minute, and we all know how important traffic is for publishers. It is their lifeblood, it's what keeps them going, as this drives revenue to their sites. The more traffic they generate, the more marketers are willing to pay and advertise on their sites. Given this, we have laid down a few tips for publishers to help increase page visits in their sites.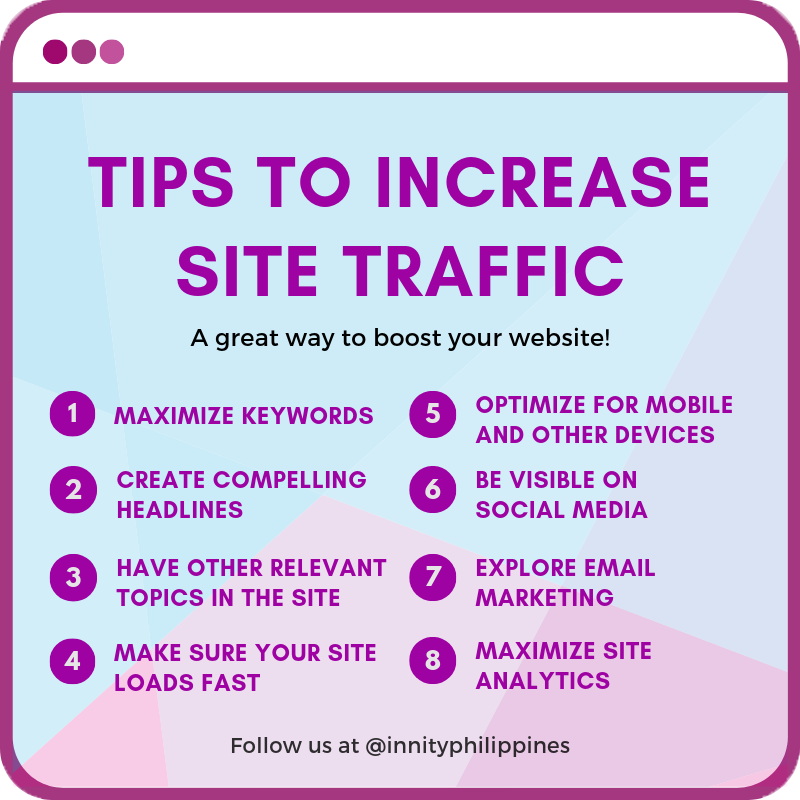 1. Maximize keywords
Keywords are what help your site pop on search engines so make sure your site contains keywords that potential site visitors would be searching online. The more relevant keywords you have, the more likely people would click to your site. To push your site further, you can also try exploring on the wonders of search engine optimization or SEO.
2. Create compelling headlines 
These are what people see first. Headlines are what hooks them to view the content of your site. Put in lots of keywords there and let it spark interest while still encapsulating the gist of your article. But at the same time, avoid clickbaits as many could find this annoying and immediately exit your website.
3. Have other relevant topics in the site
Websites, especially blogs, are able to create a sense of community within their followers. Having other related content within your main topic is what keeps them and attracts new visitors. Make sure you have plenty of these so that they can keep reading and jump from one page to another within your site.

4. Make sure your site loads fast
According to a research done by DoubleClick (owned by Google),
"Slow loading sites frustrate users and negatively impact publishers. In our new study, "The Need for Mobile Speed", we found that 53% of mobile site visits are abandoned if pages take longer than 3 seconds to load."
Loading speed is essential to keep your viewers, so make sure your site loads fast, including those images!

5. Optimize for mobile and other devices
As reported by Statista, there are over 2.7 billion people in the world that owns a smartphone! With the multi-screen era we are currently living in, it is important for websites to be responsive to captivate viewers, no matter what type or size of device they have.

6. Be visible on social media
Based on the 2019 Global Digital Report of We Are Social and Hootsuite, there are over 3 billion active social media users. Thus, having a social media presence can definitely help expand your reach while being able to engage with your followers. You use this to help promote and update them whenever a new post is up on your site, gaining more engagements and site traffic, especially with the help of the right social media platform fit for your site.

7. Explore email marketing
Regularly sending out newsletters about promos or new posts can surely help strengthen your ties with your followers and generate site traffic. Providing engaging and useful content through these newsletters can also add plus points to your site, but don't forget to include page links directing them back to your site. Just make sure not to bombard them with too many emails, or else, they might unsubscribe to your newsletter.

8. Maximize site analytics
Best way for you to really increase your site visit is to understand the behavior of your audience. All websites have a data backend, but this can be quite tricky and complicated at times. Try and make use of data management platforms to help turn these data into actionable insights for your website.
To keep websites relevant and competitive, publishers need to keep up with trends to gain site momentum. Driving traffic takes a lot of effort, but in the long run, it is definitely worth it. In return, all these generated traffic could eventually be converted into site revenue. The more website visits you get, the more digital marketers would be willing to pay and advertise on your website!
Click here to learn more about data management platform
For partnerships and other collaborations for your website, reach out to us through ph.marketing@innity.com
Follow us on social media: @innityphilippines #EngageWithInnity
— 

Innity is a leading digital media company, that offers the best in class programmatic advertising platform, high impact display advertising, and data-driven audience targeting platform to publishers and some of the world's largest brands and advertising agencies.
Innity has presence in Malaysia, Singapore, Vietnam, Thailand, Indonesia, China, Hongkong, Philippines, Taiwan, South Korea, Myanmar, and Cambodia with more than 300 staff to-date.
Find out more about Innity and its services at www.innity.com