Publishers' Benefits to Using the In-demand Programmatic Today!
According to the released annual digital report by We Are Social and Hootesuite, Philippines is currently ranking first in the most time spent online globally, with an average of about 10 hours a day online. This exceeds the global daily average of 6 hours and 42 minutes. This just shows how people are now spending significantly more time online and why we see digital advertising booming and taking a huge part in marketers' budgets.
As online advertising continues to grow and be of higher demand, various platforms with sophisticated algorithm and technology have been developed to help marketers reach their target market better. One of the thriving online advertising technology we have at present is programmatic.



What is Programmatic?
The programmatic sales lead EMEA at Linkedin Programmatic, Kenneth Kulbok, briefly defined programmatic as "… buying digital advertising space automatically, with computers using data to decide which ads to buy and how much to pay for them." Through this automation, the online ad marketplace has been found easier and more efficient for both publishers and advertisers. Marketers are now able to optimize their campaigns more as one great feature of programmatic is being able to effectively run ads in multiple sites that is targeted to its specific audience instead of the traditional way of having to commit to one site only.
With this kind of technology, there is no doubt that programmatic has been rising and gaining momentum over the past few years. In fact, the Global Ad Spends Forecast of Dentsu Aegis Network has reported that programmatic ad spend is expected to grow by 19.1% this 2019. In the United States, according to a report by eMarketer, the forecasted programmatic ad spending this year is nearly $60 billion or 84.9% of the US digital display ad market. Meanwhile, digital advertising in the Philippines this year is expected to have a split of 82% of revenue for programmatic vs. 18% for non-programmatic, as reported by Statista.
Given all these data, programmatic continuously progresses and takes up a huge part of online advertising. As the demand for ad placement continues to increase, inventory is becoming more in demand too. Although programmatic can be quite intimidating at first, various platforms have been created to make the jobs of publishers, and even advertisers, easier. One example of these programmatic platforms is Innity's Advenue Direct. As the leading digital media company and online solutions provides in Asia Pacific, Innity has built and established a white-label automated self-serve ad platform that simplifies the media buying and/or selling for both advertisers and publishers.
What is Advenue Direct?
Advenue Direct is a well-equipped platform with different targeting and optimization abilities such as geo-targeting, ads allocation optimization, frequency capping, and more. Being a self-serve platform, it enables publishers to make their sites more competitive and efficient by having a plug and play ad generator for advertisers and being able to manage their own inventory more effectively.
To further understand the advantages of using this, here are the benefits of using Advenue Direct to publishers: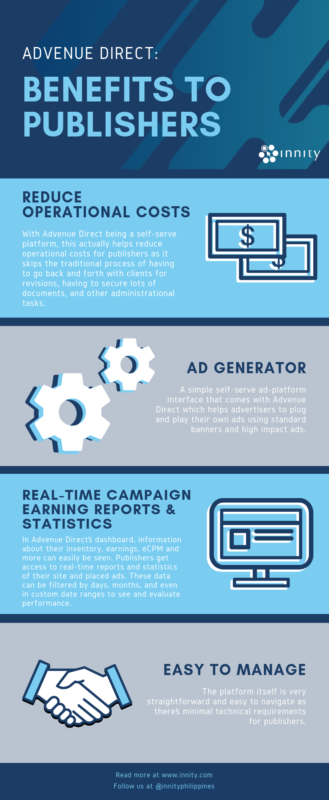 Embracing programmatic and platforms like Advenue Direct is now the new trend for marketers in order to stay competitive. Through this, publishers are able to grow their website, both in reach and in profit. Programmatic has a lot to offer and taking advantage of this tool equates to optimal maximization to publishers websites.
Click here to learn more about Advenue Direct and Programmatic
For partnerships and other collaborations, reach out to us through ph.marketing@innity.com
Follow us on social media: @innityphilippines #EngageWithInnity
— 

Innity is a leading digital media company, that offers the best in class programmatic advertising platform, high impact display advertising, and data-driven audience targeting platform to publishers and some of the world's largest brands and advertising agencies.
Innity has presence in Malaysia, Singapore, Vietnam, Thailand, Indonesia, China, Hongkong, Philippines, Taiwan, South Korea, Myanmar, and Cambodia with more than 300 staff to-date.
Find out more about Innity and its services at www.innity.com