Innity's Campaigns of the Month!
Hello, hello! We're back again with our Campaigns of the Month! ;)
If you're familiar with us, you'll know that Innity has a wide range of products and we're constantly coming up with newer, innovative formats to ensure the ads are served on our channels are engaging and able of communicating brand messages well.
Included in this Campaigns of the Month is the Welcome ad, a video ad format from our EnRoll Video Network that creates a Lightbox-like environment for video ads, allowing brands to communicate with viewers without outside distractions.
Check out the demo below!
Innity Lightbox – Samsung NX300
Advertiser: Samsung Philippines
Agency: Starcom Philippines
Network: Run of Network on Business, News, Technology, Shopping, Sports channels
Country: Philippines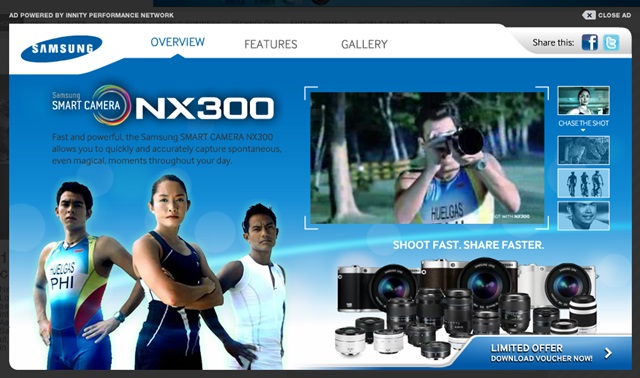 Our Lightbox campaign with Samsung aimed to promote the NX300 in the Philippines. Utilizing the NX300's TVC we highlighted the main features of the camera to the viewers instantly when the Lightbox appears. Interested users are able to learn more about the camera without leaving the ad by browsing the features and gallery tabs of the Lightbox . To help in driving further conversion, the Lightbox included a downloadable voucher that gives users the opportunity to get the camera at a discounted price; and social media buttons that allows users to share the the product with their friends and family. The campaign was seen over 5 million times and had an ER and CTR that surpassed the industry standards of 2% and 0.2% respectively. Of these viewers, each of them spent an approximately 35 seconds on the ad.
Innity Lightbox – McDonald Monopoly 2013
Advertiser: McDonalds
Agency: OMD Hong Kong
Network: Premium and Run of Network
Country: Hong Kong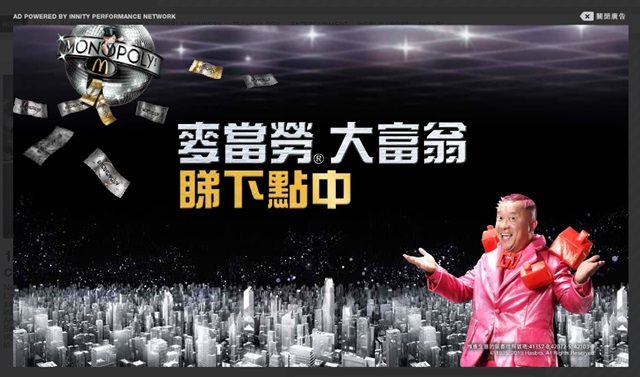 In November last year, McDonald's announced the return of the their Monopoly campaign in Hong Kong. We worked alongside them to create a Lightbox campaign that ran across our vast range of sites targeting Hong Kong audiences to raise awareness. TVCs were utilized to highlight the various ways of winning, and viewers who were interested to learn more about the Monopoly campaign may choose to be redirected to the campaign's main site by clicking on a link. This Lightbox reached out to over 1.5 million locals, achieving an CTR and ER that surpassed the industry standards of 02% and 2% respectively.
Pre-Roll – Chevrolet
Advertiser: Chevrolet (Thailand)
Agency: Carat (Thailand)
Network: Run of Network
Country: Thailand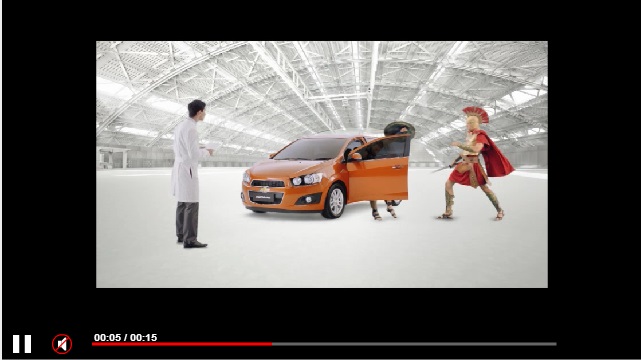 We worked with Chevrolet to drive awareness towards the new addition to their line of cars. Highlighting their video ads under our Innity's Video Network, this pre-roll campaign ran for over 20 days. With more than 3 million unique views, the campaign achieved a significant CTR rate and had a video completion rate of 72%.
Welcome Video – Devil's Due
Advertiser: 20th Century Fox Film
Agency: Carat Media Service Malaysia
Network: Run of Network focusing on Malay, Entertainment, Social & Community, News, Lifestyle channels.
Country: Malaysia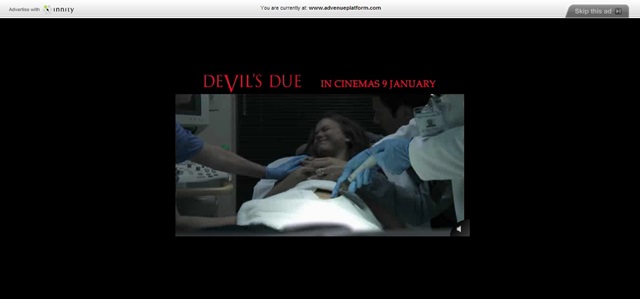 To promote the new movie Devil's Due to the Malaysian audience, Fox hired us to showcase the movie trailer to their targeted viewers. With Innity's Welcome Video, we presented the video clip in a Lightbox environment, allowing viewers to give undivided attention to the video ad they were watching. Measuring only views that indicated genuine interest towards the movie, the trailer was watched by 100,000 viewers for an average of 130 seconds, and achieved a significant CTR above industry standards.
RTB – Accenture Hire
Advertiser: Accenture Inc.
Agency: Mindshare Philippines
Network: Run of Network
Country: Philippines

The internationally known consulting services company Acenture collaborated with us on recruiting new blood for their team. Aimed to spread the word of the recruitment, this campaign lasted for over a week, delivering over 19% of expected clicks while decreasing the CPC rate by over 5%.
RTB – HSBC Megasales 2013
Advertiser: HSBC Malaysia
Agency: Mindshare Malaysia
Network: Run of Network
Country: Malaysia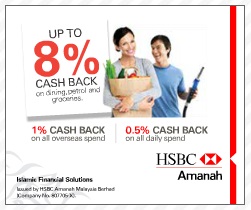 During the year end sales of 2013, we worked with HSBC on a campaign promoting their credit cards. Running for a span of 29 days, the ads were shown across our vast network of sites purposed to drive sales leads. By the end of the campaign, we delivered over 18% of expected clicks, and reduced the CPC rate by over 5%.