Innity's Campaigns of the Month!
We're featuring some new ad formats this April!!
If you've never seen our Engage+ Mobile formats do check out the demo we've done for Sulwhasoo!
And of course that's not just it ;) Scroll down to find out what we have in store this time!
Innity Engage+ – Sulwhasoo Snowise Launch
Advertiser: Amorepacific Sdn Bhd
Agency : PHD Media (M) Sdn Bhd
Network: Run of Network targeting Women, Entertainment, Lifestyle, Social & Community channels
Country: Malaysia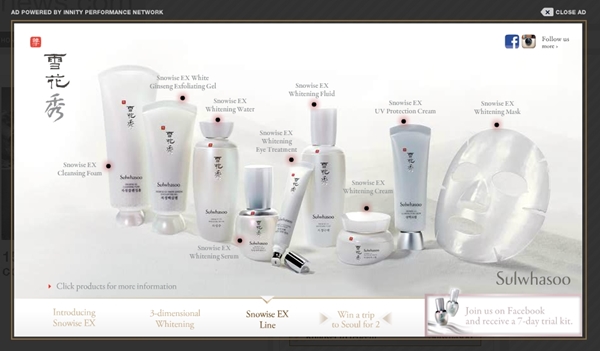 For its recent launch of the Snowise series, luxury skincare brand Sulwhasoo expressed their interest in expanding their advertising efforts to more users and drive brand awareness. The result was an Engage+ campaign that covered both display and mobile devices. The creatives for both Lightbox and mobile campaign emphasized on introducing the viewers to the new Snowise series, with brief introduction about the products under the this lineup as well as its benefits. To create a more native experience on mobile, the mobile ad stimulated an app-like environment; allowing viewers swipe though the information with their mobile devices. The ad unit also included a Facebook button, driving viewers to Sulwhasoo's Facebook page where they can have more interaction with the brand. The campaign was viewed over 2,000,000 times and had close to 30,000 engagements.
Check out the demos in the links down below!
VIEW LIGHTBOX DEMO | VIEW ENGAGE+ MOBILE DEMO (please view using your mobile phone or a mobile emulator)
Welcome Video – Need for Speed
Advertiser: Walt Disney Studios Motion Pictures Malaysia
Agency : Mediacompete Sdn Bhd
Network: Run of Network targeting Sports, Games, Entertainment, Youth, News channels
Country: Malaysia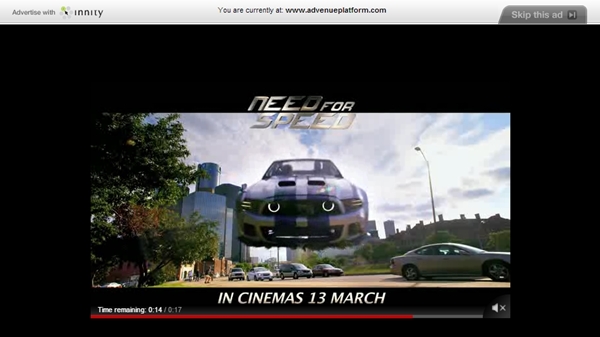 The widely anticipated video game turned blockbuster Need for Speed was scheduled for a big hit in major cinemas in 2014. Prior the official screenings, we worked with Walk Disney Studios in Malaysia to build on the hype in the country. We used the Welcome Video, a cross-platform compatible site takeover ad format to capture the attention of viewers on both display and mobile devices. Building on the familiarity of the audience with the NFS franchise, we utilized the adrenaline driving trailer and targeted potential audience to build anticipation. Targeting the sports, games, entertainment, youth, news, and men channels within our network, the campaign achieved over 60,000 unique views, with viewers viewing the ad for an average of over 100 seconds.
Innity Lightbox – HP Rango Touchpad
Advertiser: HP
Agency : PHD Singapore
Network: Run of Network targeting local IP in News, Business & Finance, Technology, Entertainment channels
Country: Singapore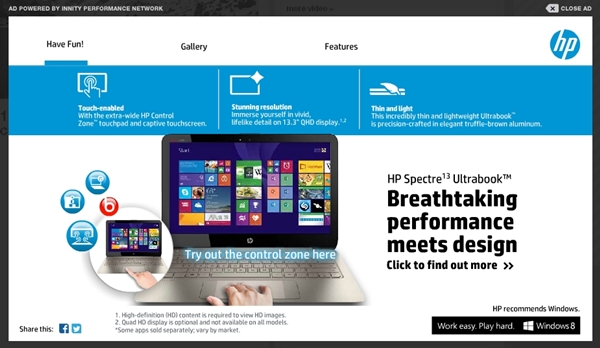 We worked with computer manufacturer HP to craft an online marketing campaign to create hype for the Rango Touchpad. The resulted Lightbox has 3 individual tabs for viewers to learn more about the machine – feature highlights, a gallery, also an interactive game for viewers to experience the HP Controlzone trackpad. Equipped with social sharing features, viewers can also share about the Rango Touchpad with friends and family they think would be interested. The campaign garnered an Engagement Rate and Click-Through Rate over the industry benchmark of 1% and 0.2% respectively.
Innity Lightbox – TransUnion Personal Loan
Advertiser: TransUnion HK
Agency : Webssup Production Company Ltd
Network: Premium & Run of Network targeting local IP in Business & Finance channels
Country: Hong Kong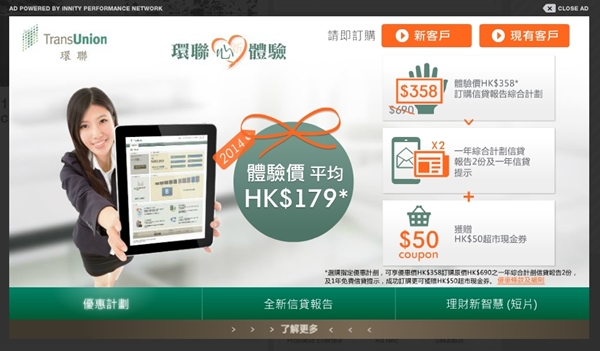 We worked with TransUnion to promote their personal loan with Innity's propriety Lightbox. The campaign was simple and to the point, incorporating TVC previews, benefits of their program, and their transparent reporting. By the end of the campaign, the ad was viewed over 300,000 times, with viewers spending an average of 25 seconds engaging with the ad. The ad raked an Engagement Rate and Click-Through Rate of that surpassed the industry standards of 1% and 0.2% respectively.