Digitalizing Philanthropy :
Breast Cancer Awareness Campaigns
We've all seen the incredible power of digital advocacy – the viral success of the #ALSIceBucketChallenge raised over over $113 million dollars to help fight ALS and increased exposure of the disease on a global scale. Granted, the chance of hyper growth of this scale may not happen to all charitable efforts made; but combining the effort on digital and traditional platforms opens up doors to worlds that are unimaginable before.
Last month being Breast Cancer Awareness month,  we'd like commemorate and share with you some of the inspirational digital efforts campaigning to fight the disease that caught our eye.
#itouchmyself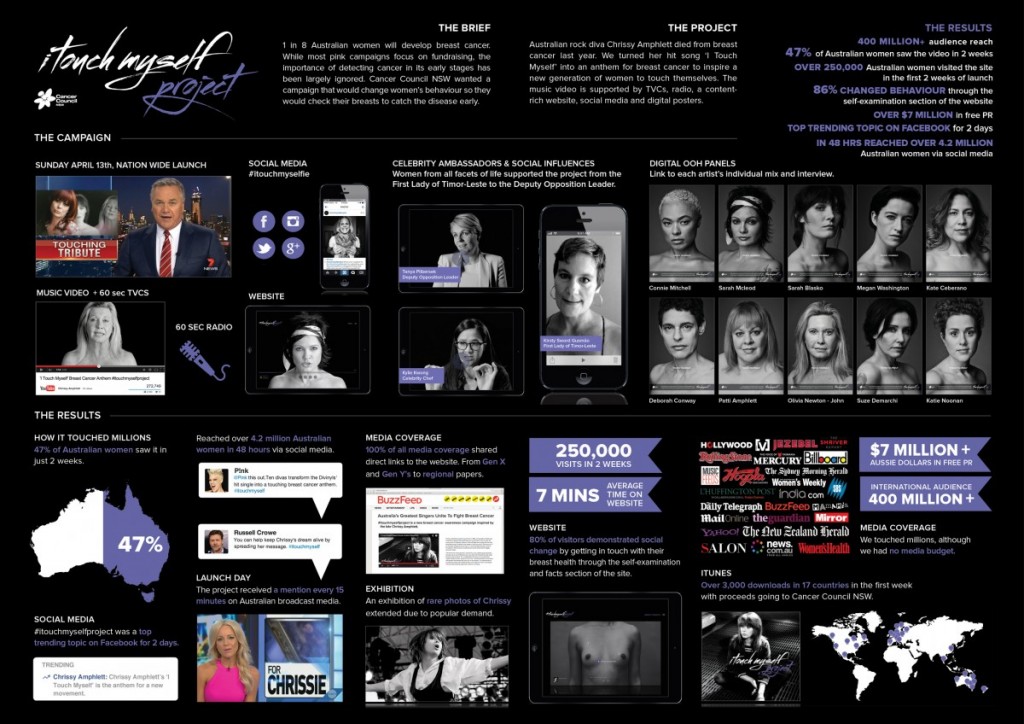 A winner of numerous awards across the globe, the #itouchmyselfproject took inspiration from the late Australian artist Chrissy Amphlett's No.1 hit "I Touch Myself" asking women to "touch themselves", reminding them to know the look and feel of their breasts. An extensive campaign across media with the combined support of celebrity ambassadors, the campaign became a media and social media circuit-breaker, gaining attention from Australion women to pledge to check their breasts more often on their campaign website.
Social Media Icons for Breast Cancer Awareness
We've shared this gem by DDB Singapore previously here. To urge women to perform regular self-examinations to detect early signs of breast cancer, the agency's ad campaign utilized social media in an unconventional manner. Proposing that if women checked their breasts as often as they check their social media accounts, DDB had the logos of Facebook, Twitter, and Instagram tweaked to resemble hands examining a breast. The campaign may not be extensive as some of the others we're sharing, but it's a brilliant execution of an ingenious concept nonetheless.
Estee Lauder BCA Campaign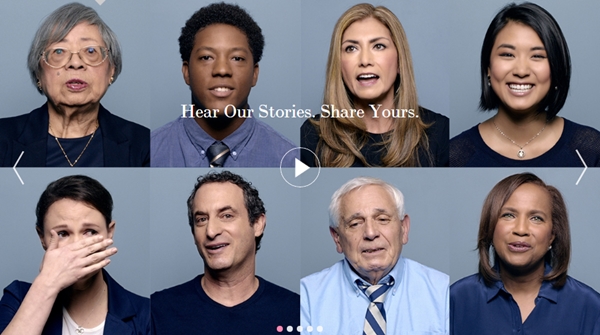 Estee Lauder's 2014 campaign takes on a content driven approach to spread an uplifting message. With the campaign tagline "We're Stronger Together", the campaign inspires to spread powerful stories of fights against breast cancer survivors while inviting viewers to share theirs to create a global reaction. The campaign website hosts a social hub to gather stories share across social platforms with the hashtag #BCAstrength, or viewers can choose to upload their story straight on the website itself. The intimate sharing of these stories breathes life into this campaign, as inspirational stories are shared to the site and encourages people to contribute to the fight against breast cancer.
Your Man Reminder
This one may be tad outdated but it's something worth mentioning. In 2011, Rethink Breast Cancer in Canada launched an app that served to remind women to perform their monthly self-exams. Who else better to remind them than a uber ripped hot guy with a heart of gold. In cometh Your Man Reminder, a smartphone app with humorous hunks to remind women to perform the TLC and also provide legit information on how to spot irregularities and where to get checked. Yes, this app may raise some eyebrows, but really. Like honestly. Seriously. Tell me you're not planning to download the app and have a peek yourself.