Presenting Innity's Top Creatives in November!
There's one quote by Helen Keller we find very true and is applicable to many contexts around us ⏤ "The best and most beautiful things in the world cannot be seen or even touched. They must be felt with the heart." Things with beautiful appearances often manage to grab our attention but what really holds on to us are those that create a sense of attachment and are relevant to our lives.
In Innity, our aim is not only about creating beautiful first impressions, we also aim to create beauty through lasting experiences; through campaigns that touch hearts and encourage audiences to take action; through effective ad formats to convey the right messages to audience.      
This time round we'll be sharing with you some of our creative and close to heart ad campaigns from November that we hope might impress, and inspire your next campaign!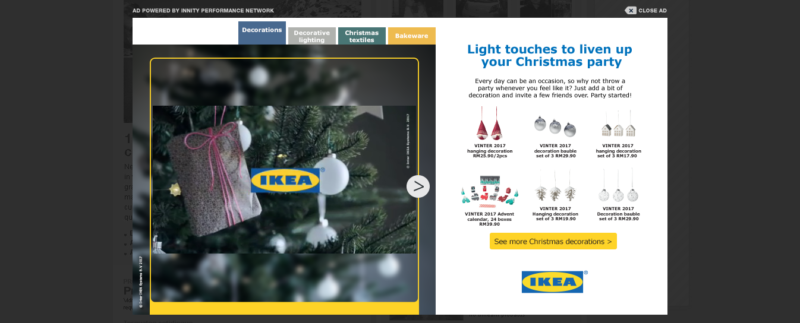 IKEA – Christmas, Light Box, Malaysia
In conjunction with the Christmas season, IKEA and Innity worked together to come out with a campaign utilizing Innity's Responsive Light Box to promote IKEA's products for the Christmas season. The ad expanded to cover the full screen and is responsive to fit any screen. There were a few tabs on the menu which included a Christmas video, a gallery with product information as well as a button on each tab to direct audience to IKEA's website for more information – this helped the audience to visualise what decoration outcome they can get with IKEA's Christmas products. Have you decorated your home for Christmas yet?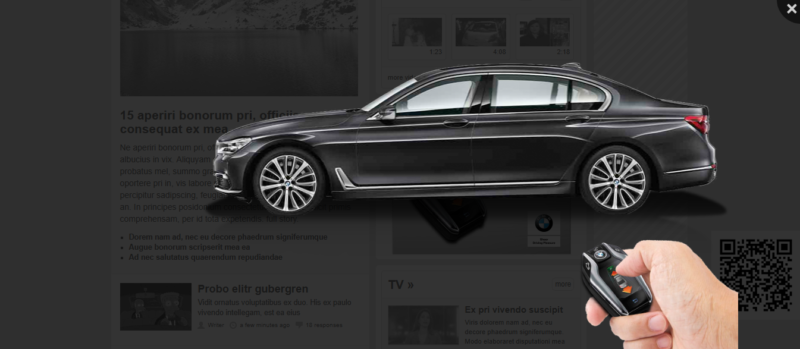 BMW Luxury, Responsive Over The Page, Singapore
The BMW's Remote Control Parking campaign came with cross-channel compatibility where audience were able to view the campaign on both web and mobile display. The ad is first expanded into a full page layout with a creative animation of a hand controlling a remote to park a BMW car. It is accompanied by a companion ad as a standard display ad once the animation ends. It successfully grabbed audience's first attention once they land on the page and got them to stay watching the animation until the end. The ad was short but enough to deliver a clear message to the audience.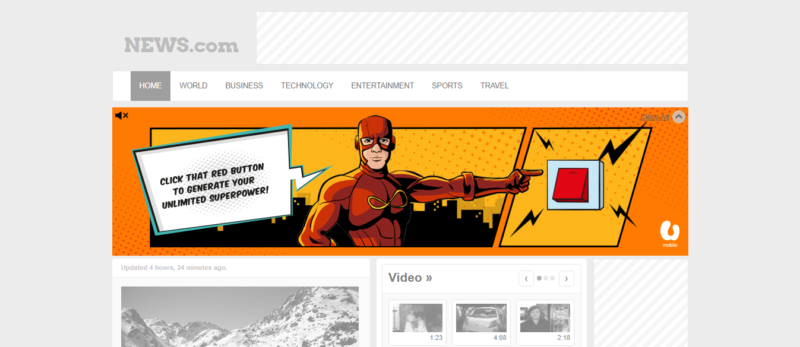 U-Mobile – Unlimited Hero P99, Billboard, Malaysia
To promote U-Mobile's Unlimited Hero P99 mobile plan, an interesting and interactive animation featuring a hero character was integrated into Innity's Billboard ad format. This ad campaign managed to grab audience's attention by having a hero character in the ad to promote the specialities of their new plan and also allowed audience to interact with the brand by clicking on the superpower generator button on the billboard.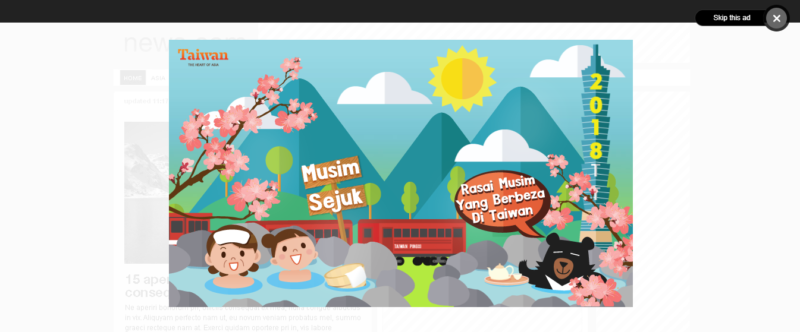 Taiwan Tourism, Site Take Over, Malaysia
This ad campaign by Taiwan Tourism using Innity's Site Take Over ad format came in handy for those who were planning a trip to Taiwan. The ad campaign was shown in a full-page overlay format showing audience the beauty of Taiwan through a stop motion animation. 
---
Curious to know more about our ad formats? Feel free to contact us!