Reaching Out on Mobile
This article is written by Shuba Krishnan, Senior Business Development Manager of Innity.
After a few misses, 2014 is finally and surely the "year of the mobile (device)". Marketers are responding to this trend by increasing their ad spends on this platform. According to an eMarketer estimate, world-wide spending on mobile advertising is expected to reach $31.5 billion this year, a 75 percent increase from 2013; and will account for a quarter for all digital ad spending globally. In the light of this information, it would serve well for marketers, agencies, publishers and other digital media vendors to examine the ways in which these investments are channelized.
Mobile as a medium is unique in its capabilities and it is far more personal compared to other offline and online mediums. A smartphone is almost an extension of a person's hand at a physical level, and an extension of one's brain and heart at a more cognitive and emotional level. Given this deep relationship a user shares with his or her phone/tablet, it ought to be used in a way that leverages on this relationship.  In short, it needs to be used to 'engage' the user at a cognitive, physical and emotional level.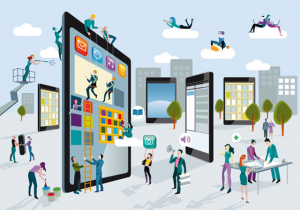 IAB (Interactive Advertising Bureau) in its 2012 whitepaper on ad engagement has outlined the cognitive-emotional-physical framework, whereby cognitive relates to strategic goals such as awareness, interest, likelihood to purchase etc., emotional relates to the brand favorability and loyalty and physical covers the physical behaviour on the creative itself such as playing a video, viewing a photo gallery, clicking to read additional information etc.
Traditionally, mobile ad spends have been channelized towards achieving clicks and conversions, essentially those lower funnel actions which assume that a prospect is already interested in what you have to offer. Very little has been done to date and engage that prospect! Another popular investment choice has been developing native apps for the iOS and Android platforms and achieving downloads through paid ads. While the apps themselves are great for engagement, very few prospects actually download them. A case in point is the 2011 study published by Deloitte which concluded that 80% of the branded apps struggle to get even 1000 downloads!
Therefore the key is to find solutions for mobile that promote user engagement by drawing on the cognitive-emotional-physical framework of ad engagement and the same time do not require users to download an app.  Such a solution could be found by simply converting the app in to an ad! Armed with mobile capabilities such as accelerometer, sophisticated touch-screen interface, camera functions, location-based functions etc, these new app-ads can be compelling mediums for user engagement. Furthermore, rendering them on HTML5 would make portability a non-issue.
Since incorporating these capabilities and features would require a large canvas, these app-ads should typically be delivered as a 2 piece format with a standard banner to invite user attention and a larger format which is displayed only when users express interest by swiping, pulling or tapping on the invitation ad.  This also ensures that there is cognitive engagement wherein the user is expressing an active awareness/interest. The emotional aspect is covered by promoting actions such as sharing or 'liking' of the ad content, uploading images, contest participation (from within the ad) etc. The physical or behaviour aspect is covered in great length by features such as photo galleries, video players, accelerometer support, tap to call, tap to SMS, downloading coupons and so forth.
These app-ads promote true-blue engagements and we're hoping to see more investments in mobile channelized towards such formats to make best of use of the medium and its faculties.