Thai News Agency is Innity's Website of the Month!
An initiative by the Mass Communication Organization of Thailand (MCOT) to increase distribution of news to the people of Thailand, Thai News Agency came about as the digital arm to take advantage of the increasing adaptation amongst its population. Being relatively new to the online publishing landscape, TNA has increased their readership steadily for the past year. We talk to Saubpong Sittimalairut about their website.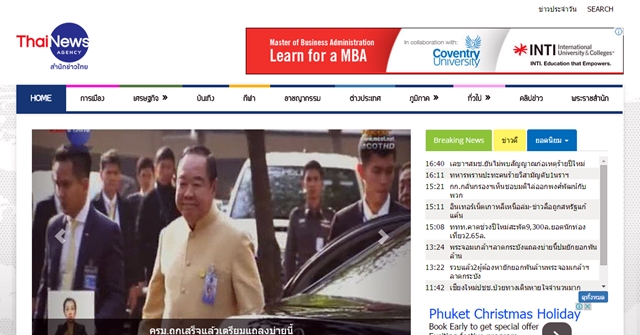 Name: Saubpong Sittimalairut
Position: Webmaster
Site: Thai News Agency
1. Can you tell us a little about Thai News Agency(TNAMCOT) and how it got started?
TNA = Thai News Agency, we're a news portal under MCOT(Mass Communication Organization of Thailand). Our website was founded 1 year ago.
2. What is your strategy to stand out from your competitors?
We have more news content than what our competitors are covering, for example – on politics, economics, sports, entertainment, etc. We're also developing new technology to broadcast our content in digital.
3. What are the main challenges faced by you in this highly dynamic online media ecosystem?
I think social mediai a big challenge for us so far.
4. Any words of wisdom you'd like to share with new and aspiring new publishers?
I like Malcom X's words "The media's the most powerful entity on earth. They have the power to make the innocent guilty and to make the guilty innocent, and that's power. Because they control the minds of the masses."
5. Other than your own, what are your favorite websites out there?
wired.com, smashingmagazine.com, bbc.com
6. What do you like most about working with Innity?
Innity has various ad formats which we are able to implement on multiple platforms.
7. Where do you see TNAMCOT in 3 years time and what do you hope to achieve?
We're aiming to be the No.1 news portal website in Thailand.
8. If your website had a superhero mascot, what would you call it and what superpowers would it have?
Professor X, cause I'll know what everyone is thinking. ^^