looloo iNSIGHTS is Innity's Website of the Month!
Built to spread the joy of discovery to more people, looloo iNSIGHTS quickly became a hit with the local online community, and is now one of the go-to sites if you're looking for new places to discover in the Philippines.
Peanut from looloo talks to us about the team's expansion from app to website.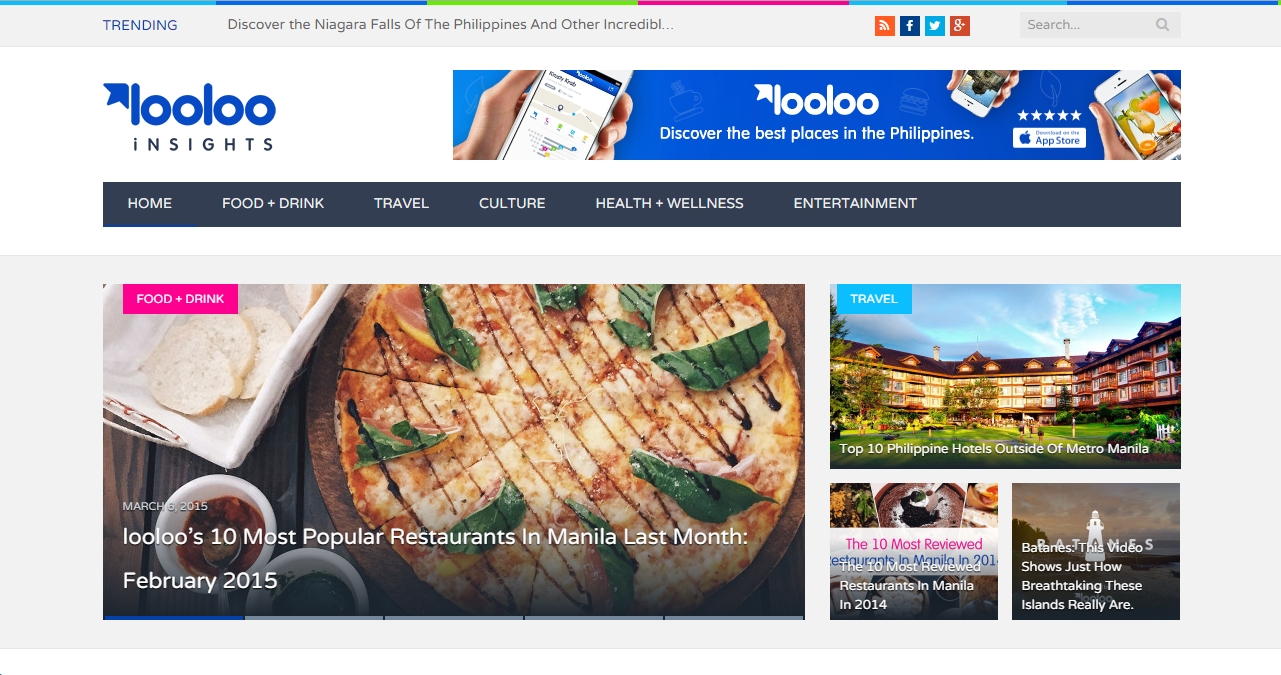 Name: Peanut Dela Cruz
Position: Marketing, looloo
Site: http://insights.looloo.com/
1) Can you tell us a little about looloo and how it got started?
Before we released looloo, there wasn't an easy way to discover places in the Philippines. Whether it's a place nearby or one of those "hidden gems," you had to come across them by chance or know someone who's been there.
We wanted to make it a whole lot easier for us and everyone in the Philippines to quickly discover places. So we released looloo, the review and place discovery app for the Philippines.
The initial feedback we received was amazing. People loved (and still love!) discovering places all over the country and sharing them with others!
But we didn't want to limit the joys of place discovery just to our app users. So in 2014, we decided to share the fun in discovering places with even more people by launching looloo iNSIGHTS, a companion website for looloo that highlights noteworthy places in the country
whether they be restaurants or travel destinations.
2) How do you stand out from the other Lifestyle sites out there?
We love inspiring our readers to keep travelling around the country by writing about featured places in a more casual, yet informative, manner. Not only do we highlight different kinds of places to visit in the Philippines, we also make sure they are well written and come with
photos that will encourage foodies and travelers to visit.
Every now and then, we also release our "top lists." With these types of lists, we take pride in the fact that they are based on quantitative data sent in by our growing community of reviewers. And because looloo has the most number of reviews in the Philippines, this type of content is exclusive only to looloo iNSIGHTS.
3) What are the main challenges faced by you in this highly dynamic online media ecosystem?
There are so many beautiful places in the Philippines and the challenge we face is making sure we feature them the best way we can so that more people get to discover these destinations.
4) What's the best tip you'd like to give to new and aspiring new publishers?
Make sure you have good and unique content. We've found that shareability is really hinged on good content that readers find useful, entertaining, or that they can emotionally connect with.
5) Where do you see looloo in 3 years time and what do you hope to achieve?
We want to educate and inspire locals and tourists to really explore the Philippines and see what the country has to offer. We want to help elevate the conversation about the potential of the Philippines.
For example, the Philippines is home to a lot of awesome beaches that rival and even surpass other countries. And they cost a lot less to visit. More people just need to be made aware of them.
So by that time, we hope we've helped boatloads of places in the country get tons of visitors!