Gone in a Flash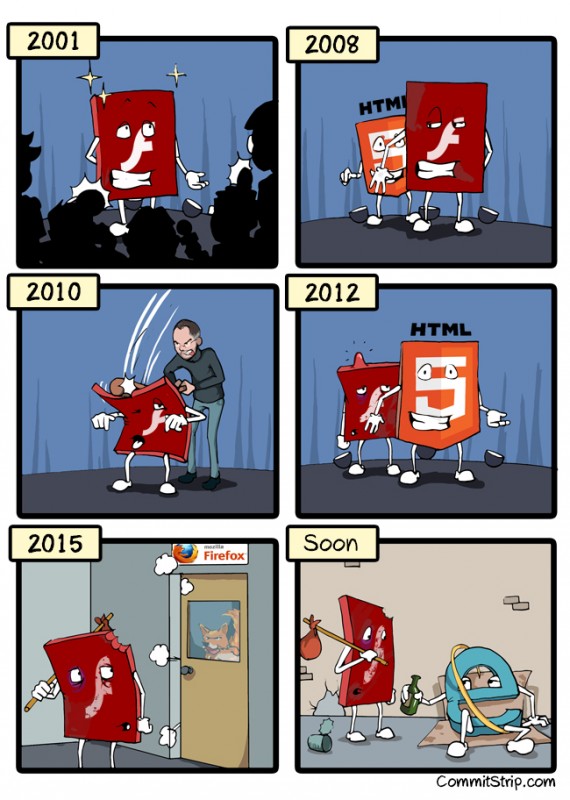 Written by Edward Lum, Marketing Art Director, Innity 
There's no way around it – flash advertising IS coming to an end. This is a close of a momentous chapter that pushes digital creatives like us to take that evolutionary step forward.
Five years ago, when Steve Jobs announced that Apple would not allow Flash on the iPhone, iPod and iPad, we were well aware that Apple has waged a war against Flash. And in 2012, when Adobe discontinued their support of Flash Player for mobile browsers, the world knew that Apple had won that war. Flash is destined for doom.
The final nail on the coffin came when YouTube changed its default player to HTML5 video in January, and again when Google Chrome decided to pause flash content that aren't central to a website. This is definitely hard-hitting news for media agencies who are accustomed to distributing Flash ads campaigns. Interestingly, Google Chrome accounts for 35%-40% of Internet traffic and is a large part of their media distribution.
Fortunately, we have seen this coming and most ad serving systems are ready to distribute HTML5 ads like our very own AdVenue ad serving platform has done for all our mobile campaigns.
The only downside in our industry is for those involved in banner productions. It would mean longer timeline to produce a significantly good banner, let alone a rich media banner. Flash ad designers need time to adapt to HTML5 practices and to discover new methods to bring the benefits of Flash ad's rich media experience to HTML5.
Yes there are many applications out there which are able to help, but to truly find the right one which designers can be comfortable with and able to help optimize creatives for ad delivery is the key issue.
The transition period will be challenging and will take some time to adapt, especially in terms of turnaround time to create great banner creatives. Thus, begins a new race to find the successor for Flash as an application to create HTML5 ads that are non-propriety, reliable, secure and able to perform across devices.
TL;DR
GOOD BYE FLASH ADS, WELCOME HTML5 ADS FOR DISPLAY.