June 2016: Out of Town Blog Philippines is Innity's Featured Publisher of the Month
In 2005, Melo Villareal left the corporate world and started venturing into freelance photojournalism. His talent has taken him to more than 500 islands in the Philippines where his photos have been published in both local and international travel publications and he has been the mastermind behind this travel blog called Out of Town Blog since then. He has developed a wide following over the years with the site focusing on culture, rituals, festivals, local heritage sites and breath taking landscapes that are often taken for granted.
We had the pleasure of learning more about the site from Melo himself! Read on below :)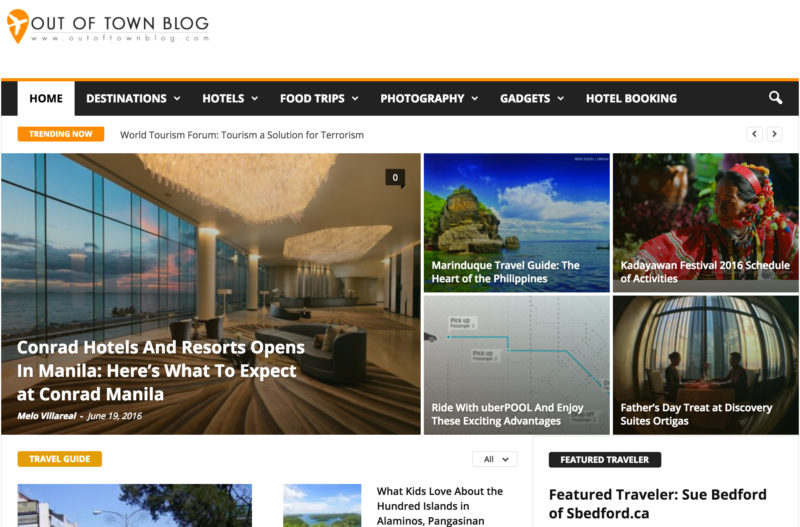 Name: Melo Villareal
Position: Owner and Founder of Out of Town Blog 
1. Let's start with the basics. In your own words, what is Out of Town Blog all about?
Out of Town Blog is an online travel magazine that offers travel related news, travel guides, hotel reviews, food reviews, travel gadget reviews and travel tales from contributing writers from different parts of the world.
2. What inspired you to start Out of Town Blog?
I started as a travel writer for glossy magazines before I started publishing online via Geocities. As the readership grews, I decided to migrate to WordPress for seamless updates.
3. Who are your targeted audience/readers?
I believe that everyone loves to travel in general,  hence when it comes to audience or readers, there are no specific targeted ones. It is meant for everyone!
4. As a publisher, what challenges are you currently facing in this dynamic online industry?
For me, it is still quite hard to use all the widely used banners especially if the website theme has limited ad slots.
5. What is your strategy to stand out among your competitors?
Our goal is to continue publishing helpful content in order to ensure our readers have a satisfying read. Therefore, we would always make sure to answer questions from our readers and create a more detailed articles according to their questions.
6. What kind of contents do you look into when it comes to building up your site?
The site is built with quite diversified contents. I usually get into any travel, food or lifestyle related stories.
7. Other than your very own, what are your favourite websites that you would usually go to?
I wouldn't say that there is a particular website that I would go to. I'd usually read more than a hundred travel blogs from time to time. It gives me inspiration sometimes, and it is also a great way to relax.
8. What do you like about working with Innity so far?
Innity's Business Development Team has been very helpful and efficient as it is always easy to reach them whenever I need some assistance.
9. What is Out of Town Blog's vision for the future of media ?
It has been predicted that our world is becoming paperless with the current advanced technology; time will come, and all the news will be solely provided online.
10. What does Out of Town Blog hope to achieve in the coming years?
The main goal is definitely to increase the readership and invite more contributors from various parts of the world.