The Man in Business That Inspire Innitians
Guess who is the man? Yes, it's our company COO, Fabian Looa!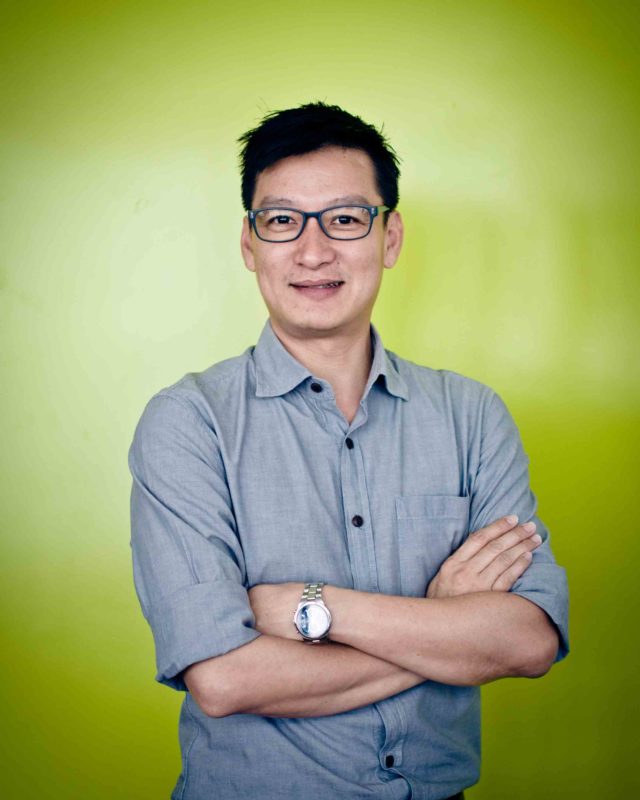 How has your life experience made you the leader you are today?
I was born into a wealthy family that had our own family business. During that time, we had a factory and a shipyard. My uncle was the head of the family and he tried his hand at entrepreneurship. Unfortunately, he made the wrong choice of investing heavily in tin mining – which caused our entire family business to collapse. At that point, I made a promise to myself to restore and improve the status and wealth of my family. That incident drove my desire to start my own business.
My parents also instilled traditional values in me. They made sure I understood the importance of having good work ethics; being hardworking, honest, determined, and disciplined. I started many businesses before Innity, and all of them failed. I wouldn't have continued on this journey to be where I am today if I didn't believe in those values. I can't stress enough on how important it is to have a strong desire and passion in everything that you do.
How has your previous employment experience aided your current position?
My first job was doing sales for a Danish communications company, which was also the only employment experience I had before I started Innity. I figured that to be successful, I had to stand out from the rest. I took the initiative to be the first few in the company to invest in a mobile phone. It was really expensive then but it enabled me to keep in touch and improve my relationship with clients; to build my network. My little investment paid off when I was eventually offered to lead the Sales and Projects department.
I had a really good mentor who was my manager in the company. He guided me along the way and also gave me a book called 7 Habits of Highly Effective People which sparked my reading habit until today. If you are fortunate enough to meet a great mentor, it could be a bonus to your career. That's why I don't mind sharing my experiences to the young people in hopes that it can help them to grow and reach their full potential.
What have the highlights and challenges been during your tenure at Innity?
Digital is a dynamic business – there are changes and challenges every day. For me, it doesn't matter if the challenge is big or small, as long as you have the right attitude to face it and turn it into opportunities. I believe facing challenges is like sharpening a knife. You need a rough surface to improve. If life is too smooth, you will never grow.
Indeed, Innity faced many challenges in the past 17 years. We had to fight with the greatest digital marketing companies, but we still managed to survive and grow. However, I am more concerned with internal challenges, such as my employees. Managing a large group of people is not easy. I'm always finding ways to grow and nurture my growing team. Hence, I started the company town hall to get everyone sharing thoughts, ideas, and to innovate together.
What advice can you offer to entrepreneurs/youths who want to start their career/own business?
Running a business is just like running a marathon. You need to save your energy to do strategic planning and overcome challenges to reach the goal. There are no shortcuts. You need to build your network, work hard, have integrity, and be open to new things. A brand gains people's trust because it provides quality service and product that is coupled with good ethics. You must have a strong work ethic and treat people the way you want to be treated. Attitude determines your altitude. If you have a great positive attitude towards challenges, you can definitely go the distance.
How do you maintain work-life balance?
When I started the business, I worked very hard and spent many nights in the office. I had no time for other things. Nowadays, I have a balanced diet, exercise regularly at home, and eat my meals on time. I learnt to be mindful and to stay focused without giving in to negativity. I try not to give myself excuses while doing something. I quit smoking last year, not just for health reasons, but I knew that if I did something successfully without giving up, it could become a keystone habit for me.
What do you want to accomplish in the next five years?
I want to grow and get Innity to the next level by expanding our business to Australia, Korea, Japan and Myanmar. My long term goal for Innity is for it to be Asia's greatest online media and advertising technology company. I am also working towards a healthier lifestyle as well as spending more time with my family and to travel with them.
Best piece of advice you ever got on your career?
Find a career that you are really passionate about. There are no shortcuts. If you love doing what you do, you will be willing to overcome whatever challenges that come with it.
Most admired business leader? Why?
If I have to choose one, it'll be Martin Sorrell. He is a British businessman and the CEO of WPP. He has served in that role since he joined company in 1986. By 2013, WPP was employing over 170,000 people worldwide and had revenues of £10.4 billion. I admire the fact that he created so many job opportunities for so many people. He is a visionary man with great foresight on the media industry, which allows him to lead the rapidly changing industry. Martin Sorrell also created a very enjoyable and healthy working culture in his company and that has inspired me to do the same for Innity.
What was your biggest failure and how did you learn from it?
In 1998, I realised the importance of the Internet and wanted to work for an Internet company. Unfortunately, no company wanted to hire me then. Most of them rejected me due to my poor command of English. I consider that one of my biggest failures. I decided then to start my own internet company instead of working for one. Honestly, I had no idea about the Internet; I didn't know where to start. I took the initiative and got in touch with Phang, an ex-schoolmate who was working with an internet company at that time. We started to exchange ideas and discussed on how we could start an internet business. And that was how Innity came to be. A few years later, we faced a crisis when MSN dropped us as their reseller. I lost my direction then, and due to my own ego, I neglected the team. Eventually, Phang managed to turn the situation around and got the company back on track by introducing a new media platform to the market. What I learnt from this is never be overly egoistic as it might distract you from working together and exploring possible solutions to fix any situation.  
Malaysia's greatest brand
Definitely Air Asia. For me, a good brand is a brand that delivers what they promised. Air Asia promised low cost flights for everyone, and successfully delivers exactly that without compromising on safety and quality.
Blue or red ocean strategy? Or neither? Why?
I would go for the blue ocean. I would never go to a price war as I would rather stay focused on making my business standout from others. Blue ocean strategy creates new dimensions and keeps competitors on their toes to constantly improve their quality of products and services. I also do not encourage headhunting for my company. I prefer to create and nurture talent and allow them to grow with the company.
A must-read for every business owner/manager is?
The book I would suggest is Delivering Happiness. The book explains how Zappos CEO, Tony Hsieh created a corporate culture that aims to improve the lives of its employees, customers, vendors, and backers. This book inspired me to deliver happiness through our company town hall by encouraging my employees to appreciate and care for each other, invest wisely, save money, and learn from each other.