A Day In the Life of a General Manager in Innity
Here's a sneak peek into the life of the General Manager of Innity Hong Kong, Andrew Lim.
He graduated from University of Central Oklahoma, and worked with Innity since 2013. When not hard at work, Andrew finds time to travel, and shop. Ask him anything about those two things and he's always happy to dish out tips!
Let's get to know more about the man himself!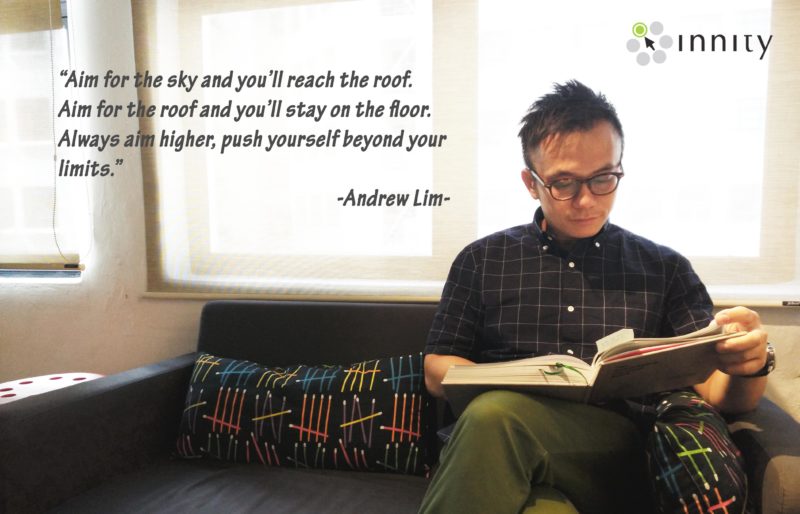 What are your key tasks as a General Manager at Innity Hong Kong?
"My key tasks are broken down into a few parts. First of all, managing P&L for Innity Hong Kong will be my ultimate objective, and ensuring Innity has a sustainable business model while enjoy continuous growth year over year basis. Other than that, I need to ensure oversea sales,  ad ops, finance, business development division work well individually and as a team."
What comprises a typical day for you?
"My typical day will start off with reading some news across the region followed by industry articles. Then, I will have discussions with the sales and business development team on ongoing projects and upcoming opportunities. Occasionally, I will have meetings with clients and partners."
How did you land at Innity?
"I have known our CEO and COO and many other Innitians since 2007. In 2013, I was talking to a very good friend of mine in Innity and an opportunity was given to me to develop Innity Hong Kong. Being in a media agency for more than half a decade, the change was massive to me but it was nonetheless the best decision that I have made in my career."
What's the best thing about your job role?
"I am the King! I'm just kidding. Haha! The best part about my role is that I have the macro view of how a company is being run by not looking at revenue alone but cost and future developments as well. Also, I am grateful to get the trust from CEO an COO to execute my plans in Innity Hong Kong."
What are the challenges in your job role?
"Expectation!
When we first started our business in Hong Kong, it was a humble and small set up of 4 people in the office. The expectation was low, from myself, the employees, and from the management. We have since increased our staff count and growth to 5 or 6 times in 3 years. With greater resources, comes greater expectation, from myself and the people around me."
Can you tell us about your passion for digital advertising and why you chose this industry?
'My first Digital Experience started from working with the biggest job portal in 2005, helping colleges/universities to promote their MBA/PhD courses to the members. That was my first encounter with digital media. I did not choose this industry purposely but I always believe I was destined to be part of it."
How do you manage to keep up with the new trends of the industry?
"I subscribe to a few industry articles' newsletter but I also read a lot of news and magazines that are not directly related to industry news. This will help me generate new ideas and thoughts. Do not confine yourself with only industry articles so that we can have conversation withs people from all walks of life."
Any advice to give to those who are aiming to be a General Manager; like yourself?
"Learn to be a multi-dimension person; to be someone who has the ability to see things from different angles, though I am still learning. For example, in the aspect of football, a top manager is usually not the best football player. Instead, the best managers are people with great vision and aspiring leaders; a top manager may not be the best goalscorer or Ballon D'or winner, but he/she should know how to leverage on the players' full capabilities. Same thing applies at the workplace, you have to be fair and help team members align their strengths with expectations and responsibility of their roles, and also assign tasks based on their strengths too."
As a manager of Innity Hong Kong, how do you maintain a good working relationship with the team to ensure everyone works happily and productively?
"Beside having discussions and chats related to work, we do have frequent drinking and snacking sessions with the team in and outside of office. I will learn a lot of trending topics so that we have common topics as most of the people in our office are youngsters."
We are well aware that you're originally from Malaysia and currently working in Hong Kong, can you share with us how do you adapt with the culture and lifestyle in Hong Kong? Or is there any difference with being in Malaysia and Hong Kong?
"The main difference between Hong Kong and Malaysia is "pace". There's a joke in Hong Kong where clients will always tell you, "Take it slowly, but I want it fast". It took me awhile to get used to the pace of Hong Konger. I think by hanging out around or working with the locals helps you to adapt to the life in Hong Kong."
How do you maintain work-life balance?
"Plan your work ahead and prioritize your tasks help you to work more efficiently.
When I get off from work, I will work out in a gym near by my house. On weekends, I normally will spend time with my family with simple activities."
What is it like to be an Innitian?
"Innitians are fun, kind and caring. We are a group of people who take work and play very seriously."