A Day in the Life of a Business Development Manager in Innity Taiwan
Ever thought of how is it like to work as a Business Development Manager in Innity Taiwan? Let's have a chat with Jojo to get to know her better!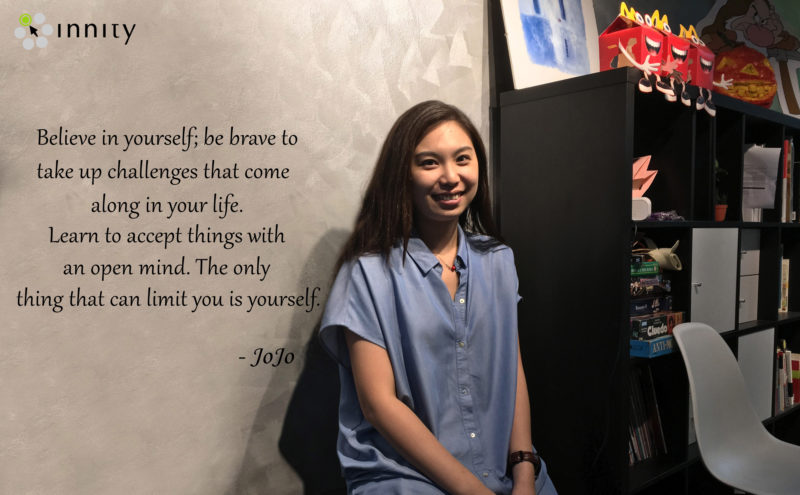 What are your key tasks as a Business Development Manager at Innity Taiwan?
"Well, my tasks in the BD team are usually to communicate with the publishers to maintain a close relationship with them. Besides that, I'd gather and market inventories, come up with marketing strategies, work closely with the ops team on campaigns and ensure that I'll be able to be a product support for the sales team. It is important for me to cover from the pre-sales to post-sales. I'm also known as the 'information counter' for everyone, hahah!"
What comprises a typical day for you?
"I'd normally start off with reading emails, tidying up my to-do-list of the day; by setting publisher's issue as priority, then sales, and last but not least, the other departments and office management. I'd also meet up with the publishers occasionally for industry updates and of course to maintain the relationship."
How did you land at Innity?
"One word, FATE. Well, I got attracted by the word "campaigns" on Jobstreet. My first interview was actually to apply for a position in Ad Ops, however, the manager though I would be better in a BD role. She passed my resume to the BD department, and I went for a second interview and that's when I started my life in Innity!"
Can you tell us about your passion for digital advertising and why you chose this industry?
"Digital advertising used to be something strange and new to me. But, as I started exploring this industry after I joined Innity, it somehow became my passion till today. The industry changes everyday, something new might pop up in just few days."
What's the best thing about your job role and dealing with publishers?

As a BD person that carries not only the BD role, I've learned a lot across the whole process of Innity TW's development; which is not only from BD's point of view, but more on running a branch that I have to consider from top to toe. I am grateful that Innity bosses gave me this opportunity to learn and grow.
What are the challenges in your job role?
As our mission and vision in Taiwan is to have a position in the competitive market. Hence my challenge is always to balance between sales request and publisher's demand.
Any advice on how to survive and thrive at an ad tech company?
Make sure you are interested in digital advertising, and you are willing to learn something techy; even though it may not be easy at times.
We are well aware that you're originally from Malaysia and was transferred to Taiwan, can you share with us how you adapt with the culture and lifestyle in Taiwan? Or is there any difference with being in Malaysia and Taiwan?

"Malaysians are well known for adapting to our environments! However, of course, I took some time to get used to the local lifestyle, such as 中熱拿= a cup of medium size hot latte, or where we'd need to stand at the right side of the escalator if we are not planning to move forward. Thankfully, I'm an outgoing person, so I managed to meet a lot of new friends here and build my social circle in Taiwan.
How do you maintain work-life balance?
"I play badminton at least 3 times a week – it helps me release stress and keep my body healthy. Also, I hardly bring my work home unless it's necessary or urgent."
What is it like to be an Innitian?
"Innity is a family, I'm happy and proud to be an Innitian."