A Day in the Life of the Head of Business Development in Innity Indonesia
She's a gorgeous lady who possesses a positive outlook on life. Her feisty and friendly nature is what draws people to her. She is none other than Nadya, the Head of Business Development in Innity Indonesia! When she's not working, she loves traveling around the world – so catch her if you can. Let's get to know more about her!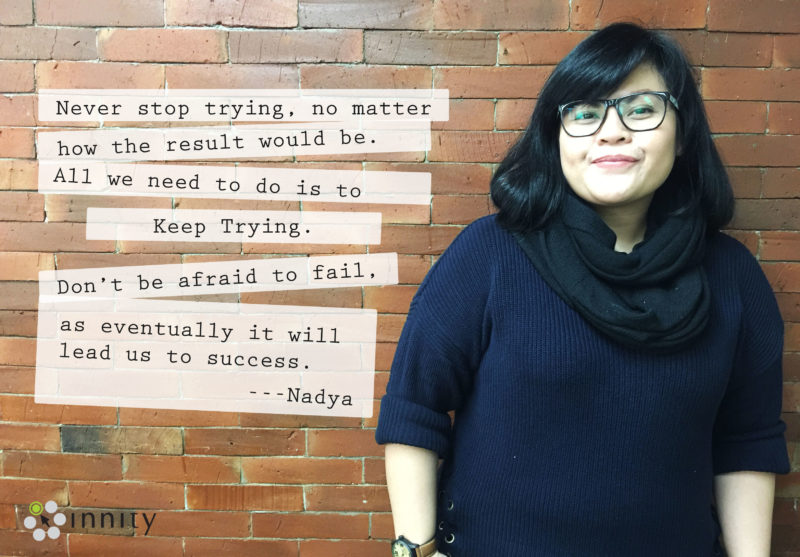 What are your key tasks as a Head of Business Development at Innity Indonesia?
My key tasks are to maintain the relationship with our key publishers, and work with headquarters on strategies to strengthen Innity's position in Indonesia.
What comprises a typical day for you?
First thing's first, I will need my coffee! It is essential to start the day for me. After that, I will check all my pending tasks and get them done by priority.
How did you land at Innity?
Well, my former manager in my previous company reached out to me and asked me out for a chat. I didn't know that that was actually an initially interview hahaha
What's the best thing about your job role?
I have the privilege to get first hand updates on upcoming products – this is really interesting for me! I enjoy learning about the products and figuring out how to roll them out to the whole team so that everyone's on the same page to market the products.
What are the challenges in your job role?
Maintain relationships with key publishers! This is challenging yet exciting. I used to be in Sales, and now, since moving over to Business Development,  I feel that I'm kind of a hybrid that understands both clients and publishers. However, the game is slightly different with publishers. So it's definitely a new challenge for me.
Can you tell us about your passion for digital advertising and why you chose this industry?
I am a digital native – I use social media everyday, I watch videos on Youtube, read news online and so on. I believe the future is in digital, print media is shifting rapidly to digital. I feel like I am always learning something new here in digital. There's always something to stimulate our minds.
Any advice to give to those who are interested in starting a career in the Business Development like yourself?
Don't be afraid to try something new! It doesn't matter if you fail – you'll learn and improve from every experience. I always push myself to try new things and love the lessons that I get from those experiences. Also, I believe to be a head of department like myself, you need to be flexible. Flexibility in problem solving. Being strict for me isn't necessarily good sometimes, because there are always different angles and ways to solve an issue.
As a Head of Business Development of Innity Indonesia, how do you maintain a good working relationship with the team to ensure everyone works happily and productively?
People are important for me, especially those who are working together with me. We usually have lunch and dinners together, and of course, karaoke sessions too! All these small things matter to maintain the internal relationship. We don't really talk about work all the time. We are all friends, and everyone is comfortable working with each other. And this is imperative for a happy and productive team!
What book has influenced you most?
Harry Potter. Not in a witch's way of course haha. Harry Potter is always focused on everything he does. He's very good in playing Quidditch. This is because he is focused, and does a lot of training to improve his skills. It has influenced me to always focus on the things that I do, and learn to improve and adapt when everything goes out of plan.
If you could recommend just one "must see" place for visitors in Indonesia, what would it be and why?
LOMBOK! I'm in love with the beaches. It's less crowded than Bali and that's why I like it so much. Lombok has lot of virgin beaches and beautiful, clear waters. Other than beaches, Lombok also has a famous volcano called Rinjani. By visiting Lombok, you can get both beach and mountain. Its like an combo package!
What is it like to be an Innitian?
I love being an Innitian, I don't see people here as just co-workers but I see them as my family. I spend most of my day with them. I love the "family" culture that Innity has and it really makes me feel like I am part of a big supportive family.