[Feb] Vocket is Innity's Featured Publisher of the Month
We have been fortunate to be able to work with many great publishers. One of them is no other than Vocket. They are a Malay site featuring lifestyle, travel tips, entertainment articles and more catering to the local audience. They have been with us for few years now and we're glad to have had the opportunity to talk to their CEO, Fazreen to get to know more about the site.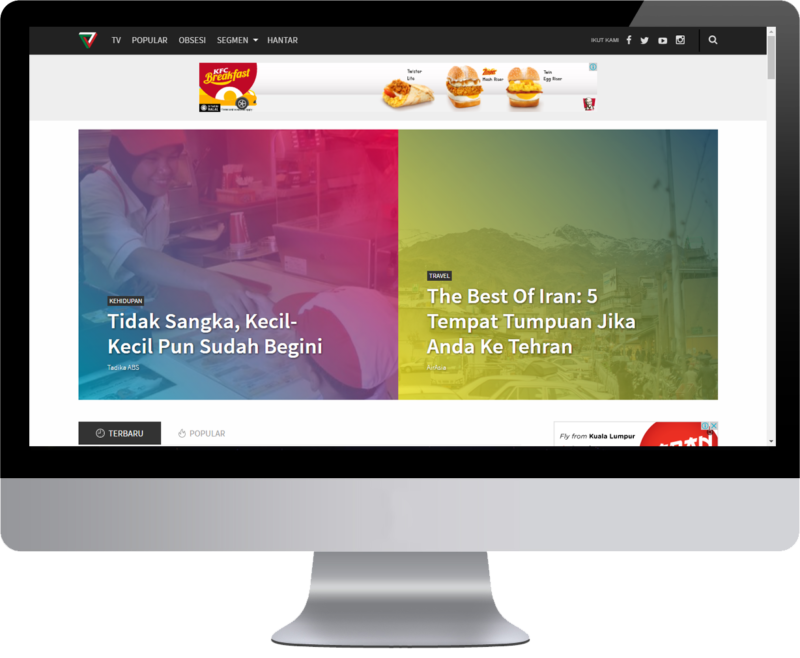 Name: Fazreen Jasni
Position : CEO
1.Lets Start With The Basic. In your own words,  what is Vocket all about?
The perfect words to describe Vocket would be 'Inspirational and positive'.  On a daily basis, we would love to inspire people that read Vocket with inspirational and feel good stories.  With the negativity surrounding us most of the time, we try to turn the negativity into everything positive. That's our main target for our readers.
2.What Inspired You to start Vocket?
We wanted to be a medium that collected and highlighted inspirational stuff trending on social media. It's kinda sad that sometimes, a good story doesn't get the attention it deserves. That's how we got the idea to start Vocket . Its more of a platform for Malaysians to share good stories. It's a good thing actually, since we're getting good feedback from our readers and they're requesting for more.
3. Who are your targeted audience/readers?
In general, everyone on the Internet. By using mainly Malay, it gives The Vocket an advantage since majority of Malaysians can speak and read in Malay. But to be specific, most of our readers (90%) come from urban areas which is in Klang Valley.
4. What kind of content do you look into when it comes to building up your site?
As I mentioned just now, we will try to get as much inspirational and positive stories to be featured on our site. This includes traveling tips, movie reviews, gadgets reviews and many more. We will try to abstain from featuring dirty gossip or controversial stories.
5. As a publisher, what were your main challenges and how did you overcome them?
The main challenge would be on the 'legitness' of certain stories or news that we received everyday. Some news might turn out to be a total hoax and untrue. So, in order to overcome this problem, we would do thorough research on all news and stories before featuring them on our website.
6. What is your strategy to stand out among your competitors?
Our main strategy would be to keep things positive and feed our readers with quality articles and news. The competition is getting harder as everyone will try to do the same thing. Nowadays, everyone can build a large number of followers, and likes on social media. But in the end, we believe whoever has original content will win. So for this year, Vocket will be producing more original content (articles & videos) to stand out from the rest.
7. Other than your very own, what are your favourite sites that you usually go to and why?
We don't have a specific website I must say but it depends on what kind of stories that we wanted to look into. But if we have to choose one, mashable.com would be our pick. Why? Because of the various topics available to us. Plus, sometimes, very random stories will pop up which is interesting for us to cover.
8. What other limitations or flaws do you find in the digital industry? What do you think the industry needs to grow?
We would say.."infringed content" or stolen video, music and editorial content distributed on the web. Websites that are full with infringed content can make money easier because they don't need any effort to produce content and they do not have to spend on content production.
The industry needs to grow in terms of ethics. Give credit where credit is due. Here at The Vocket, we respect creators.
9. What do you like working with Innity so far?
Innity is easy to work with. They always build new ad formats, and ad tech to cater to the current trends. The people are awesome and really want to help digital media companies like us to grow revenue.
10. What is Vocket's vision for the future of Media?
Our vision would be that in the coming years, media will be more powerful than ever. By that time, digital media will play much bigger role than the traditional media such as newspapers and magazine. We can see now newspapers and magazine are all adjusting to the trend and build up their own online team. The time is right for Vocket to fully-utilize the internet tools in order to be a digital media company that loved by people.
11. What does Vocket hope to achieve in the coming years?
Our main focus right now is to stabilize our revenue. Well, money is like fuel. The Vocket cannot move forward creating great content without fuel. But of course we want to not just be a digital media company but a tech company in the coming years.