A Day In the Life of an Assistant Business Development Manager in Innity Thailand
She has a beautiful mind, works with a cheerful heart, and has a great attitude for gratitude. She is Lookkaew, the gorgeous Assistant Business Development Manager from Innity Thailand. What to know more about what she does? Let her tell you more.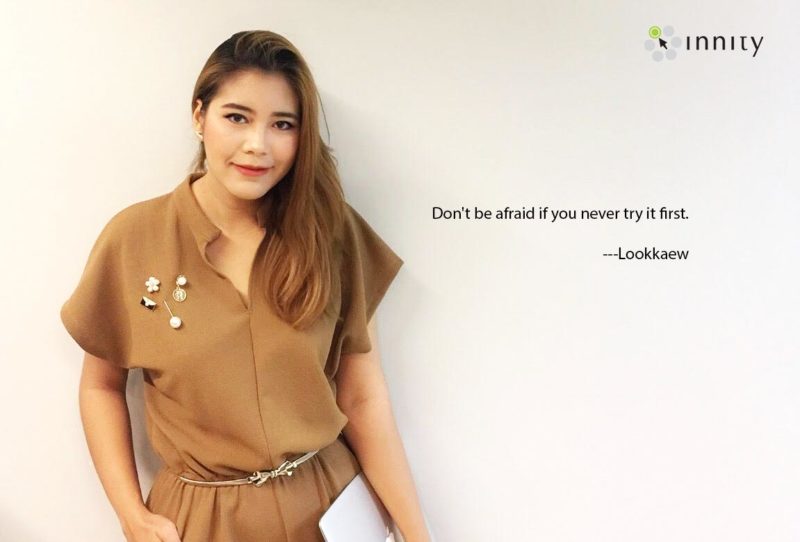 What are your key tasks as an Assistant Business Development Manager at Innity Thailand?
Basically, I overlook all of Innity Thailand's Business Development. Firstly, I need to find new publishers and also maintain good relationships with current publishers. In addition, I will oversee launches of new promotions and pricing to support our sales team. Moreover, I also handle one of our recent big projects – "OPPA" (Online Premium Publisher Association).
What comprises a typical day for you?
I start my day with checking and replying emails and then prioritize and list what I need to do for the rest of the day, bearing in mind that I'll still need to support the team and publishers by solving day-to-day issues.
How did you land at Innity?
Hahaha I am so proud to tell you the story!! Back then, I wanted very much to apply for an online advertising job, specifically in the field of planner or marketer. Once I read the ad ops job role from Innity, I fell in love! I then immediately apply for it. Next day, Innity Thailand was calling me for an interview. I was shocked because they were so fast compared to other companies. After two rounds of interviews, Innity gave me the chance to be the one and only Ad Ops in its Thailand office on 5th Jan 2015.
What's the best thing about your job role?
I took this position as a "Football team leader". I need to pay attention on studying everything about our company goals, publishers' needs and also keep myself updated on competitors. Sometimes talking with publishers can bring me a lot of great ideas. It helps me to have a clearer vision to plan better strategies for the company.
What are the challenges in your job role?
Wow, my main task involves a lot of communication with different parties in order to find inventories and solve various problems. I need to deal with people that have different characteristics as well. Moreover, I also face different problems everyday and need to solve them for publishers as fast as I can. It's not easy as my time is limited, however, I will do my best and keep learning.
Can you tell us about your passion for digital advertising and why you chose this industry?
I think that staying in the digital advertising industry is very challenging because it changes everyday! Therefore, you will see new tools or strategies coming out constantly.
Any advice to give to those who are interested in starting a career in digital advertising industry?
It might be hard if you want to join the digital advertising industry without any advertising background. Most companies requires at least 3-5 years of experience. BUT! just keep telling yourself "Don't give up". However, once you do get a chance to work in this industry, learn as much as you can! At the same time, try to think beyond the digital trends if you want to be ahead of the advertising game.
What Motivates You To Succeed?
I have an idol for online advertising and I want to be like him. When I am feeling down and want give up, I usually tell myself that "I cannot lose and I need to get over myself in order to achieve the dream". Then I will go back and fight again until the job is done.
What Animal Best Represents You And Why?
Well, I am a "Cute CAT". The reason why I chose a cat to represent myself is because I love freedom. And like cats, sometimes, on the outside I may seem arrogant, but actually I am very playful :)
What Book Has Influenced You Most?
"Re: digital book" is written by lot of professional advertisers in Thailand. This book taught me to think big and prepare myself to face the digital problems in the future.
If you could recommend just one "must see" place for visitors in Thailand, what would it be and why?
I would recommend them to visit "Bangkok's Grand Palace" or "Wat Phra Kaew". The place has the most famous Buddha statue for visitors to pray. Furthermore, this palace is rich of a lot of Thai royal history. Visitors also can see the old tools, equipment, money and photos from the past. Trust me! It is very beautiful and worth the time to visit in Thailand.
What is it like to be an Innitian?
I had worked for some companies but I can say that being an Innitian is the best. My colleagues make me feel like home and part of a Family.
Looking for a career in Innity? Check out our latest positions here.