[June] Aspirant SG is Innity's Featured Publisher of the month
This month, we feature Aspirant SG, a Singapore Publisher that has won the APAC Bloscars Travel by Scanner award. It is a food, travel & lifestyle portal in Singapore with a readership of 500,000 page views monthly. Wanna know more? Let's see what they have to share about themselves!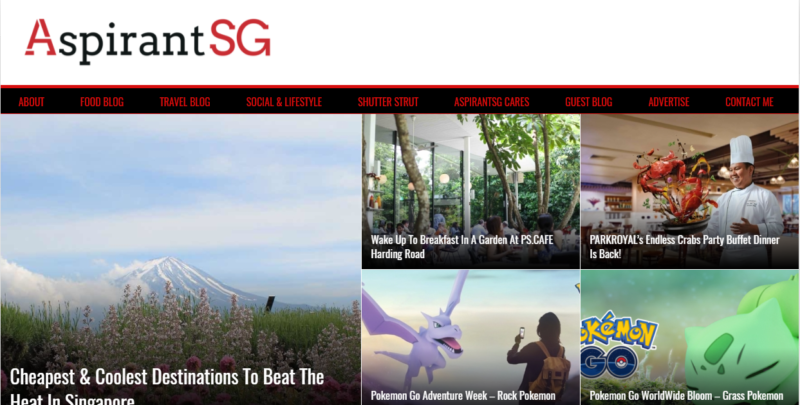 Name: Toh Sian Hoi
Position: Editor
1.) Can you tell us a little about AspirantSG and how it got started?
AspirantSG first started as a personal journal to help us keep track of our personal food and travel adventures. As our readership grew, we started to receive queries as well as encouraging comments and feedback from readers who have been following our posts. This spurred us to rethink our initial objectives and we decided to expand beyond a personal blog and develop AspirantSG into an informative food, travel and lifestyle website for Singaporeans who aspire to experience finer things in life.
2) Who are your targeted audience/readers?
AspirantSG commands over 500,000 page views and reaches out to more than 220,000 unique visitors monthly. The blog reaches out to Young Adults (18 – 24 years old) as well as Professionals, Managers, Entrepreneurs and Businessmen (25 – 44 years old) who are generally working adults with spending power and a penchant for lifestyle, travel and finer things in life. 57.4% of our readers are ladies.
3.) What is your strategy to stand out from your competitors?
Our key strategy is to stay relevant to evolving needs of our readers and offer quick bite size information that can help them in daily dining, travel and lifestyle decisions.
4.) What are the main challenges faced by you in this highly dynamic online media ecosystem?
The key challenge is to adapt fast to evolving readers' preference, particularly the shift in media consumption behaviour.
5.) What can you share with us about building content for the site?
Google Trends and Google Analytics are your best friends when it comes to figuring out the type of content to publish on your website. Google trends will give you a good idea what readers are searching for online. With this information, you can research to find out if other websites have adequately covered the content and if there is still value for you to spend time crafting the article on the topic. Google Analytics on the other hand tells you how well your published posts are being received by your readers. If a certain genre is doing well, you can consider venturing into other related topics to milk the interest further.
6.) Any words of wisdom you'd like to share with new and aspiring new publishers?
It may be demoralising initially when your website is very new. You may feel that you are spending a lot of time writing quality articles which eventually reach out to a very small group of readers. You will need to hang in there and not give up. It will take a while for your new website to be picked up by search engines but eventually it will. You can speed up the process by sharing your article on Facebook, Twitter, Instagram, forums and other channels to increase visibility and build back links.
7.) As we know that Aspirant SG has a sister site called Ardor Asia which mainly shares about travel and lifestyle in Asia, what is unique about the site compared to other travel sites? Also, why did you start a new site apart from Aspirant SG?
Yes, we have just recently started ArdorAsia (http://www.placestovisitasia.com/). While AspirantSG focuses on bring the latest food, travel and lifestyle news to Singapore readers, ArdorAsia targets Asians readers who are looking to visit other Asian cities as well as readers living outside Asia who are looking at visiting Asia for work or play.
On the uniqueness of ArdorAsia, we focus on delivering convenience to our readers by providing them with useful, bite size information before they visit Asian countries. The website is still very new and we are working hard to build up our content library. Based on our experience with AspirantSG, we will slowly figure our readers' preference as we go along. We hope to stay agile and be flexible to tweak our content strategy to better suit our readers.
8.) Other than your own, what are your favourite websites out there? And why?
We love DanielFoodDiary and SuperAdrianMe. They are always one of the fastest websites to break new food places as well as lifestyle news in Singapore and the region.
9.) What role does Innity play in your business and what do you like about working with Innity so far?
Innity plays an important part in our business. It offers us the opportunity to monetise our blog through innovative ad banners and made the implementation and optimisation hassle-free so that we focus our core business of creating contents that resonates with our readers. We really appreciate Innity prompt support when it comes to resolving technical issues on ad implementation as well as timeliness in ad payments.
10.) Where do you see AspirantSG and Ardor Asia in 3 years time and what do you hope to achieve?
We hope to grow AspirantSG into one of the most popular food, travel and lifestyle website in Singapore and stay relevant in the era of fast evolving media market. For  ArdorAsia, we hope to establish it as the go-to website for Asians exploring the region or non-Asians who are experiencing Asia for the very first time.
To publishers out there, if you're interested to join our Innity network, drop us an email at media@innity.com or fill up the form here.
For brand marketers and agencies, seeking for digital marketing solutions? Let us help you out! Contact us at sales@innity.com