[July] Berita Satu is Innity Featured's Publisher of the Month
Beritasatu.com is an Indonesia site that positions itself as a reader's friend for 24 hours, seven days a week by presenting the news every second, nonstop. It's also a news and opinion site that focuses on speed, accuracy, completeness, and proper content selection in order to provide the best information platform for readers to source from. We are proud to talk to one of  their editors to know more about Berita Satu. Find out more below!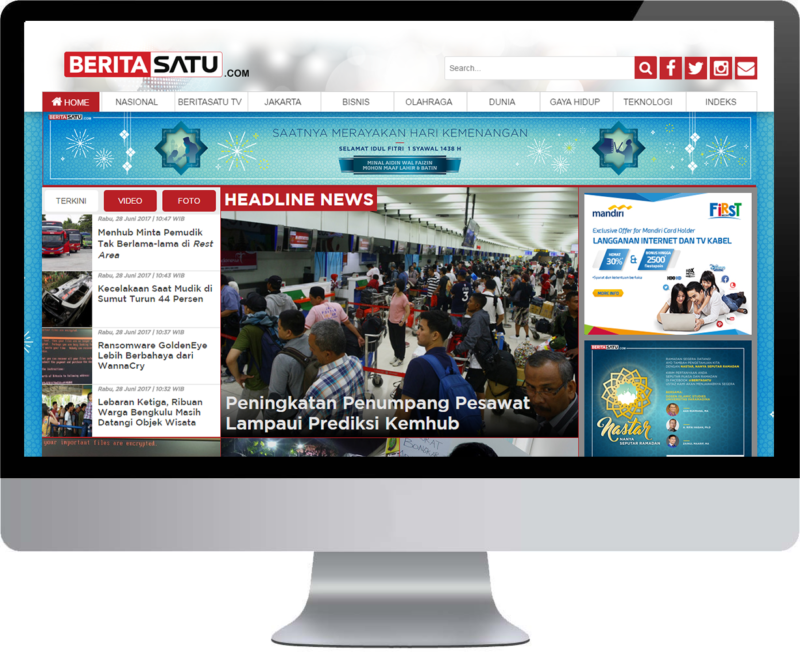 Name              : Anthony Wonsono
Position           : Executive Editor, BeritaSatu
Can you tell us a little about Berita Satu and how it got started?
BeritaSatu believes that strong and lasting democracies require strong and positive journalism. We believe that the Indonesian people deserve high-quality journalism that will inform and inspire them, resulting in more informed decision making and active civil society.
Who are your targeted audience/reader?
Our target audience differentiate across our brands, resulting in tailored journalism that covers a broad array of audiences. Suara Pembaruan for example targets the general populace and is written in an accessible manner with the aim to inform the public of developments in public policy and government affairs, while Investor Daily is geared for the business community to inform their decisions in the marketplace. Our online media platforms, broadly defined as beritasatu.com and jakartaglobe.id are also geared towards different audiences. Beritasatu.com targets the general public (20 years and up), while jakartaglobe.id targets a younger audience, of 35 years and below.
What is your strategy to stand out from your competitors?
We pride ourselves in our strong editorial team. The quality of writings produced from our editorial team is second to none. Strong copywriting and even stronger narration allows us to reach our audiences with greater impact. Moreover, BeritaSatu is committed to being a 21st Century media organization, and will increasingly provide multimedia format content across multiple platforms, ensuring that our readers can access and interact with BeritaSatu with ease.
What are the main challenges faced by you in this highly dynamic online media ecosystem?
Nobody has the "right answer" when it comes to the online media ecosystem. The market continues to evolve and innovate, and while it is exciting and provides ample opportunities, it entails significant transition pains across all parties. For example, conveying to our clients that while programmatic advertising is an effective tool, polished, thought out, editorial content will consistently produce high engagement and impactful results.
The art of conveying an idea, and a message cannot solely be given to a mechanism of picking and choosing banners, placements, and so on. It requires deft communication skills that journalists and writers are uniquely well equipped with.
What can you share with us about building content for the site?
We benefit from having a full-fledged integrated newsroom, where we're able to pool resources from an array of sources, be it our journalists on the field that serves our various print and digital platforms, to our 24-hour news channel that produce excellent AV products. All these sources are strengths that we've successfully leveraged as a media holdings company.
Any words of wisdom you'd like to share with new and aspiring new publishers?
Understand your niche and the market. What strengths does your editorial team have, and how can you leverage it to effectively communicate to your audience?
Other than your own, what are your favourite websites out there? And why?
I'm a fan of both traditional media publications that have made a concerted and innovative effort into the digital world. Chief amongst this group would be Bloomberg Media. They have excellent breadth in content, the actively use technology to deliver consistent content across their platforms, and their UX/UI for me is very well thought out.
I'm impressed by the likes of AJ+, that have also been consistently leveraging social media and the freedom of multimedia content to produce insightful and engaging content. On the domestic side, I think IDNTimes will go far, given that they really know the audience they hope to reach and their editorial strengths.
What role does Innity play in your business and what do you like about working with Innity so far?
I see Innity as media partner that help  advertisers to deliver their campaign trough our platform and accommodate between advertisers and media to choose the right digital mixed based on the suitable target audience as per request by the advertisers. Hopefully we can grow big together looking to current situation that is very dynamic.
Where do you see Berita Satu in 3 years time and what do you hope to achieve?
I see BeritaSatu Media as being the one of the most trusted platform in digital media. We're on path to innovating our platforms and structuring our publications and teams to leverage the opportunities that digital media presents hopefully will be the leader in the digital media.
//////////////////////////////////////////////////////////////////////////
To publishers out there, if you're interested to join our Innity network, drop us an email at media@innity.com or fill up the form here.
For brand marketers and agencies, seeking for digital marketing solutions? Let us help you out! Contact us at sales@innity.com