[August] Click The City is Innity's Featured Publisher Of The Month
ClickTheCity.com is the one of the leading Philippines' online entertainment and lifestyle site delivering the latest entertainment news and events. The site often features activities, movies and events on a regular basis. Readers are drawn back to the site due to its regular showcasing of various noteworthy happenings that appeal to the millennials. This time, we have Mr Edward David, Sales Director of the ClickTheCity to share more about the popular site.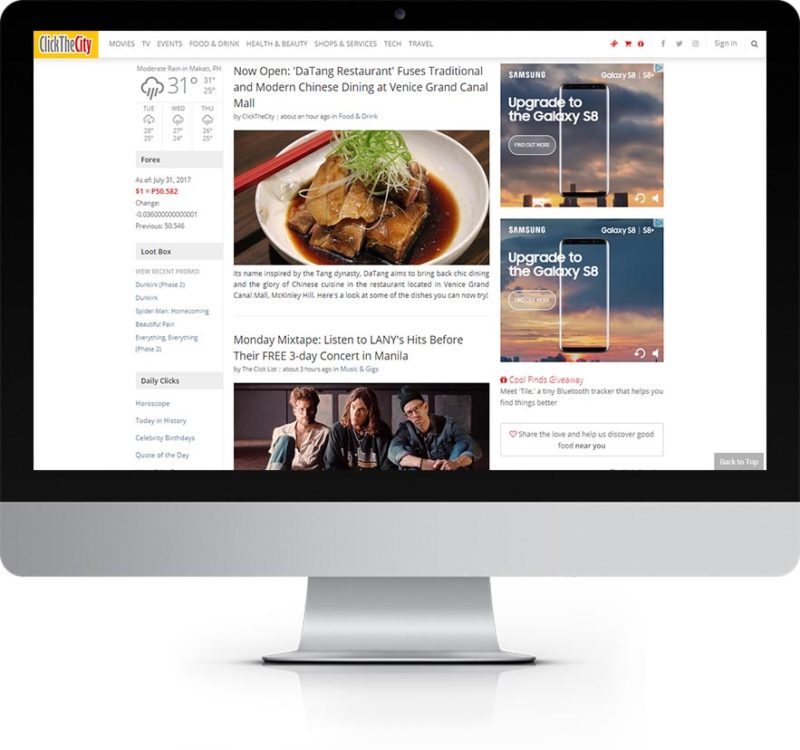 Name: Edward David
Position: Sales Director of Click the City
1.) Can you tell us a little about Click The City and how it got started?
ClickTheCity is the Philippines' definitive online entertainment and lifestyle guide, delivering up-to-date movie, TV, and event schedules, as well as comprehensive establishment listings and features. ClickTheCity showcases various noteworthy trends around and beyond the metro that appeal to the young, upwardly mobile market.
As an Internet Service Provider (ISP) back in the day, ClickTheCity is our venture into content back in early 2000. We felt the need to evolve our business, and content seems to an optimal choice as it can flow with our existing ISP infrastructure. And at that time, there were little to no information online on the entertainment lifestyle space in the country. The first mover advantage allowed ClickTheCity to gain some following.
2) Who are your targeted audience/readers?
The content we publish gives us a very broad audience to target with, with an age bracket of 18 to 45 years old accessing ClickTheCity via online, mobile, and app. Readers usually visit our site mainly for lifestyle and entertainment information such as movies and food & dining.
3.) What is your strategy to stand out from your competitors?
Continuous, non-stop improvement that is user-centric, always keeping the audience in mind by enhancing their digital experience with ClickTheCity
4.) What are the main challenges faced by you in this highly dynamic online media ecosystem?
Technology changes user behavior. And these changes presents opportunity to new players. For ClickTheCity to remain relevant, we not only have to adapt, but we have to adapt fast.
5.) We know that Click The City has developed its own app. What's so special about the app and what can audience obtain from it?
The ClickTheCity app offers a more native and functional experience to our users. We also consider our app users to be the most loyal base in terms of usage and visits. To date we have about 100k+ unique active app users per month. Considering the competition on phone space, on how long an app stays installed on one's phone, we are very glad to have a solid base that prefers to access our content through this platform.
6.) What can you share with us about building content for the site?
Content is the lifeblood of our platform. Considerable resources are continuously invested in developing and maintaining quality content for our readers. Operating a lifestyle and entertainment guide entails a lot of work and can prove to be overwhelming in most occasions. For us, the work of content doesn't end once a listing is posted or an article is published. Every piece of content is inter-connected.
7.) Any words of wisdom you'd like to share with new and aspiring new publishers?
Focus on the content you'd like to develop, understand your audience, and be prepared for failure. Always remember that everyone is your competition, that there are no big and small players in the business of providing content – we are all on equal ground.
8.) Other than your own, what are your favourite websites out there? And why?
As a sneakerhead, I frequent a lot of e-commerce sites and watch tons of video blogs. The Adidas online store is still top on my list because of usability and design. I'm also a big fan of Highsnobiety (curator of topnotch products from the best stores globally) – it's probably the simplest in terms of design and lay-out but they help filter out all the clutter and deliver just the right content for its readers. KicksOnFire is also a go-to-site for me and I'm amazed how updated their content are. In the sneaker-game, getting advanced and complete information is very critical.
9.) What role does Innity play in your business and what do you like about working with Innity so far?
Innity has opened a lot of doors for us recently. Aside from the advertising demand they provide, we've started to incorporate exciting creative formats in our standard offering. They've also helped us understand our audience better with advanced insights and analytics. I love working with these guys because they've become my alter-ego. They make my job easier to say the least.
10.) Where do you see Click The City in 3 years time and what do you hope to achieve?
In three years, we hope to see ClickTheCity as a widely used business platform where businesses can easily offer their products and services to our users.
What we hope to achieve is for ClickTheCity to deliver on its mission, or at least close to it -"Around The City, Online". Block by block, adding more and more services, in an organized and well presented manner, that would replicate what you and I would normally would do or need in the offline world.
///////////////////////////////////////////////////////////////////////////////////////////////////
To publishers out there, if you're interested to join our Innity network, drop us an email at media@innity.com or fill up the form here.
For brand marketers and agencies, seeking for digital marketing solutions? Let us help you out! Contact us at sales@innity.com