How Data Can Help Marketers Spend Less And Earn Higher Quality Engagements
The era of advertisers relying on assumptions to identify their audience has now passed by as we now live in an age where everything can be quantified and measured. The integration of data with digital media has opened a world of opportunities for marketers and brands alike, now being able to reach the right audience with tailor-fitted messages. In a power duo of data technology and creativity, brands and consumers can now interact with one another seamlessly in digital space.
Deeply understanding your target audience is the bedrock of an effective strategy, which aids in creating more meaningful interactions between the brand and its audience. This is where data becomes a significant part of a marketing strategy.
To better understand how relevant data translates into effective strategies, we first have to identify the types of data.
What Are The Different Types of Data?
First-party data is brands' proprietary data. This is data collected through any of the proprietor's owned assets (websites, apps, email database, CRMs etc.) In the context of audiences, first-party data is the information of the brands' existing customers or persons that have previous interactions with the brand.
Second-party data also called "resold first-party data", is another entity's first-party data that the brand has access to. Most marketing partnerships would include sharing data between two products from different companies to further boost the performance of campaigns.
Third-party data is data collected by companies known as data aggregators, businesses that deal primarily in trading large data sets from a plethora of sources. Unlike the first two sources, third-party data is the only data set that isn't collected directly from the primary sources.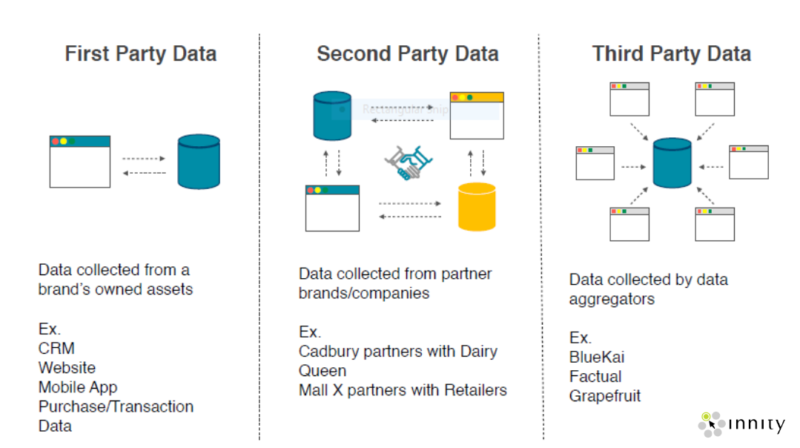 Understanding the interactions between these three types is the first step in creating data-driven campaigns. Essentially, second- and third-party data are meant to supplement the brand's first-party data. The end result of this integration is a robust data set of prospective new consumers sharing the same profile as previous customers, thus ensuring quality engagements with a high intent audience.
It might be intimidating at first because of course, not everyone is a data scientist. However, Adtech companies recognize the growing need for digital media campaigns and have developed various tools to support marketers. This is where the Data Management Platform (DMP) comes to the rescue.
A DMP is a centralized computing system for collecting, integrating and managing large sets of structured and unstructured data from different sources. DMPs are essentially used to track, store, and segment audience's data for the purpose of precision targeting of digital media.
How Does A Data Management Platform Work?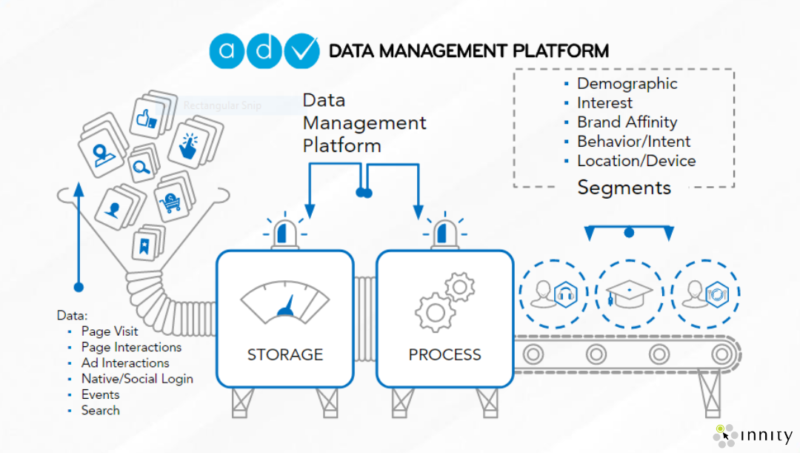 The data first comes in the form of cookies that are collected from various sources: website traffic, ad interactions, and search history to name a few. This data is then stored and segmented into usable segments such as demographics, interest and brand affinity. These segments are then made available to brands and agencies to integrate into their media strategy and allows them to create tailor-fitted materials that resonates well with their target segment.
Data gathered through the DMP helps the company understand its consumer intent, which paints a clearer picture of its target audience. A deeper understanding of one's audience brings about more accurate targeting parameters, allowing for relevant content to reach the right audience. This then helps the cost efficiency of digital media as better targeting equates to higher quality engagements with lesser media spendings. 
The use of data in digital marketing has never been more relevant than it is today. With the rise of technologies like the DMP, integrating data in your campaigns has been made more accessible even to a neophyte in the industry. Through the optimization of first, second and third-party data, brands are able to make informed decisions which directly improves the performance of their digital media placements. The result is less media spending for precision targeting and higher quality of engagements. Adtech companies like Innity, are continuously pushing the boundaries of innovation with the goal of creating a digital ecosystem that connects advertisers to their audiences by powering conversations.
Click here to find out more about Data Management Platform
For partnerships and other collaborations, reach out to us through ph.marketing@innity.com
Follow us on social media: @innityphilippines #EngageWithInnity
— 
Innity is a leading digital media company, that offers the best in class programmatic advertising platform, high impact display advertising, and data-driven audience targeting platform to publishers and some of the world's largest brands and advertising agencies.
Innity has presence in Malaysia, Singapore, Vietnam, Thailand, Indonesia, China, Hongkong, Philippines, Taiwan, South Korea, Myanmar, and Cambodia with more than 300 staff to-date.
Find out more about Innity and its services at www.innity.com