Innity appointed as one of the technology service providers for BSN's SME Digitalisation grant
Innity is 1 one of the 42 Technology Service Provider (TSP) that is participating in the SME (Small-to-Medium Enterprise) business digitalisation grant, managed by the government through Ministry of Finance (MOF), in collaboration with BSN (Bank Simpanan Nasional), SME Bank group, and the Malaysia Digital Economy Corporation (MDEC).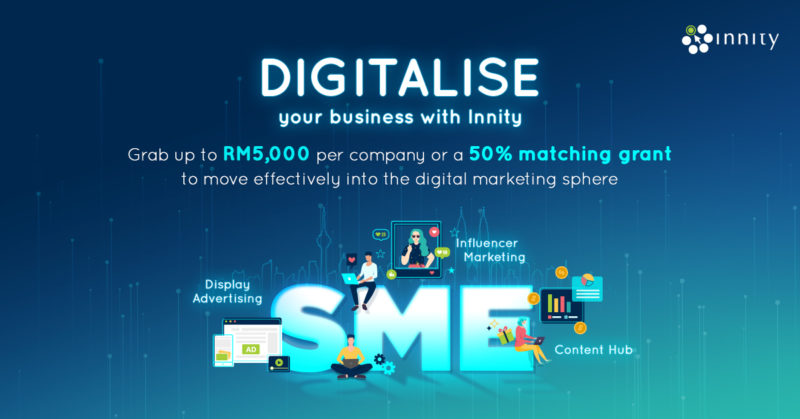 In conjunction with Budget 2020, BSN has been appointed by the Finance Ministry to become the key mover in providing matching grants for SME's to help improve the use of digital tools by local businesses to move effectively and rapidly into the technology sphere.
The Government will provide a 50% matching grant for participating SME's, or a maximum of RM5,000 per company from the total invoice amount, which is worth RM500 million over 5 years. Each SME will be eligible to subscribe to three out of five digital services, and the grant will only be provided to the first 100,000 participants applying to upgrade their systems.
MDEC have also provided a wide list of panels that has great deals on digital solution, and they are in these digitalisation areas: Electronic Point of Sale System (e-POS), Human Resource Payroll System (HR) / Customer Relationship Management, Digital Marketing / Sales, Procurement, and Enterprise Resource Planning (ERP) / Accounting & Taxation.
Innity aims to help SMEs get digitalised
Innity's technology services for this particular grant falls under digital marketing and sales, and SMEs are welcomed to purchase products and services from Innity to participate. For SMEs to digitalise their businesses, Innity offers services such as Display & Video Advertising, Content Hub, Influencers Marketing and Rewards based Marketing for all business owners to choose from.
Established in 1999, Innity is the leading online media company and provider for digital advertising technologies, aimed at both advertisers and publishers. With its expertise in the digital world over the past few years, Innity aims to create simple and effortless experiences for clients to succeed in the digital media field. All in all, Innity has a wide range of interactive, data-driven and engaging online marketing solutions that could help all SMEs move forward and get digitalised.
How to participate
Interested SMEs can participate in a few steps, which is to first subscribe to a digital service by their chosen technology provider, then complete and submit their application forms together with their supporting documents for the bank to process, pay to their chosen technology service provider and the final step would be to submit the receipt to BSN or SME bank. Once the documents are processed, BSN will then make the payment balance to the technology service provider itself.
As part of Innity's efforts to help SMEs get digitalised, interested SMEs can head on over to https://www.innity.com/ for more information. To have more information on the SME Digitalisation grant itself, head on over to https://www.mybsn.com.my/.