How to Reach and Expand Your Customers Online [Infographic]
During this lockdown period, if you go online, people are either posting Tiktok videos, answering Instagram templates, going live on Facebook, or taking up online courses on various websites. The bottom line is: People are online.
With users having more screen time, you can go deeper than the usual data sources and create personalized interactive content with social authentication like interactive infographics, microsites, quizzes, polls, and contests to gather data on user psychographic attributes, interests, preferences, brand affinities, and more.
By analyzing the data attributes and the users' content consumption patterns, you can identify the geographic, psychographic, demographic, and behavioural patterns on a granular level to determine the perfect time to engage. In turn, this helps you to personalize the user experience and optimize the ads for better conversion.
Here's an infographic showing the customer journey of "Bob" and how display advertising and lookalike-modelling can help reach more people like him online.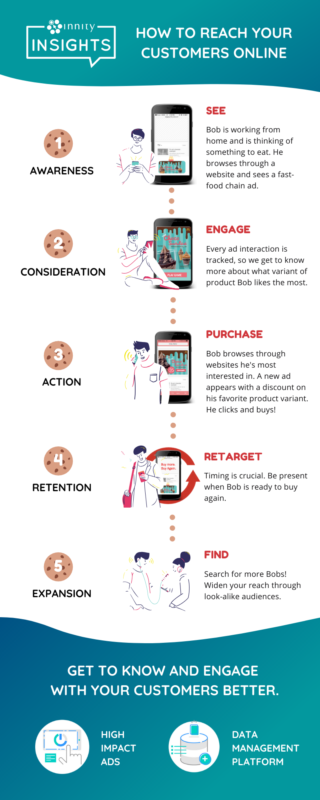 For every phase in the customer journey, interactions are being tracked from clicks, views, engagements, sign-ups, and more. By using existing audience segments, this data can be utilized to expand your reach to a wider market. We can build and scale specific look-alike models and develop new target audiences by using Innity's Lookalike Modeling.
The mastermind behind aggregating all this data is Innity's Data Management Platform (DMP) which collects, stores, and segments first party data from sources such as websites, mobile sites, CRM databases, etc. You can also buy 2nd and 3rd party data and use them in your online marketing efforts.
These are sensitive times, so reaching your customers at the right moment with a product/service and message that is of their interest and benefit is crucial to consider.
For more insights about your customers and a gallery of the creative high impact ad formats, reach out to ph.marketing@innity.com