Creative Roundup: Top 10 Creative High Impact Ads for Q1 and Q2
High impact ads are called that way for a reason; its eye-catching creatives and rich features with multiple capabilities such as gamification, social amplification, sign up forms, photo gallery, and ability to host videos gives brands more opportunities to get to know and interact with their audience.
We're excited to share with you our top picks based on the most creative executions from campaigns launched this first half of 2020:

1. Glade Sakura - Mobile Grow
Glade wanted to create awareness for their Glade Sakura spray products using Mobile Grow, an ad that appears within the article, offering a native experience combined with an impactful display. Through the moving animated flowers, we got that fresh feeling vibe and can almost smell the floral scent!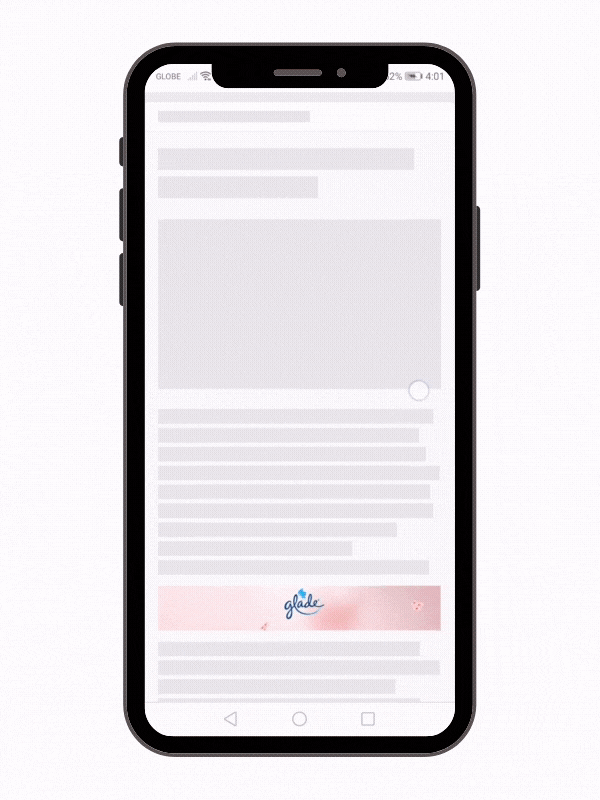 2. Ubisoft Just Dance – Mobile Spin +
Pop and lock your eyes on this colorful ad from Ubisoft's Just Dance campaign. The Mobile Spin + is an ad format that appears at the bottom of the page allowing users to interact and spin the disc in order to learn more about the brand. This version of the Mobile Spin allows brands to put in more details about their offerings through the expandable cards where you can host videos too, bringing more life to the ad!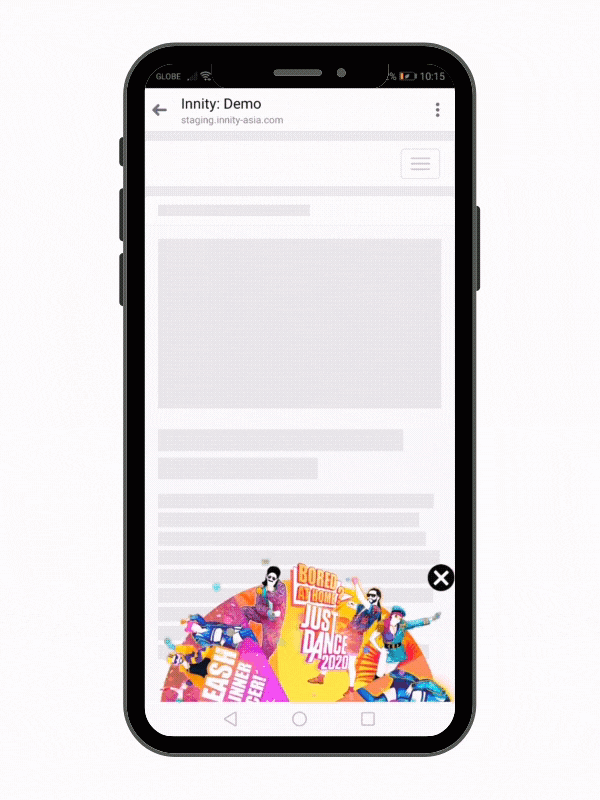 3. McCafe – Mobile Underlay
This creative execution reminded us of the classic Magic 8-ball where we used to ask if our crush liked us back. And if they didn't, well here's some iced coffee to chill that burning heart of yours, but still keep it pumping. McCafe wanted to create awareness for their Mcdo Iced Coffee with three flavors: Milky, Chocolate, and Original. The campaign uses a Mobile Underlay, which reveals itself as users scroll through the page; once 70% of the ad is displayed on the page, it will auto-expand into a full page ad. You just have to tap on the question and you'll be served with your coffee recommendation for the day!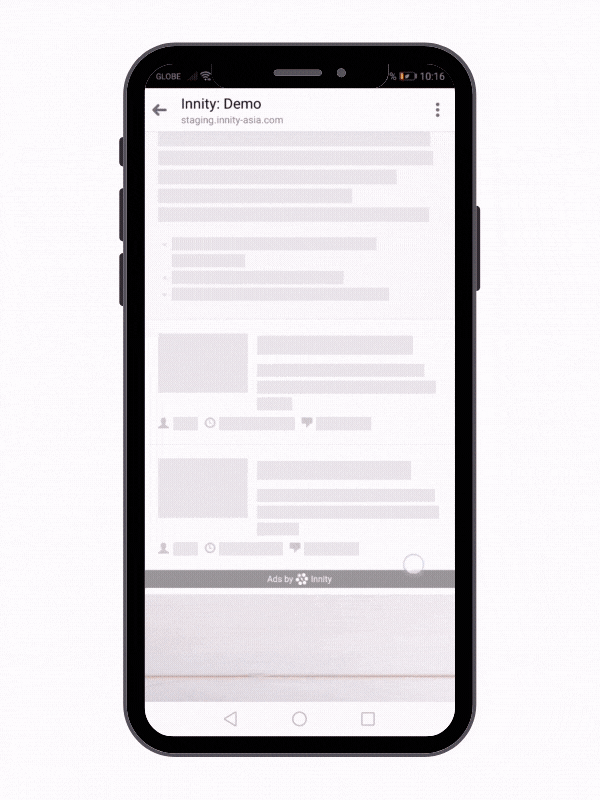 4. CIMB "Seize Life's Moments" – Mobile Spin +
CIMB wanted to generate awareness for its app and boost downloads through its "Seize Life's Moments" campaign. In this Mobile Spin +, there's an elegant use of colors, which looks classy with a touch of royalty to the design. This complemented CIMB's message as the best digital bank in the Philippines. Once you spin the circular disc at the bottom of the page, an expanded background appears displaying their well-deserved awards!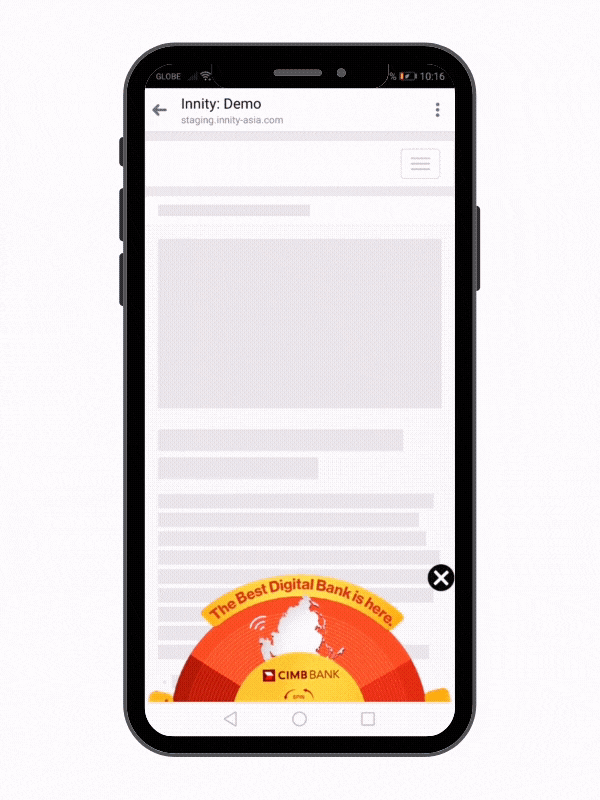 5. Absolute Drinking Water – Desktop Footer
Thirsty for more creative ads? Here's Absolute Drinking Water's ad on a high impact desktop footer. For this campaign, they wanted to gain awareness about their product and increase their sales by driving users to ecommerce platforms such as Lazmart. The footer feature provides more impact compared to standard banners because it's an overlay ad that has 30% share on-screen. We also love how the elements are well-placed and the visuals appeal to the emotions, especially the animation of the bottles getting closer together. A non-alcoholic cheers to that!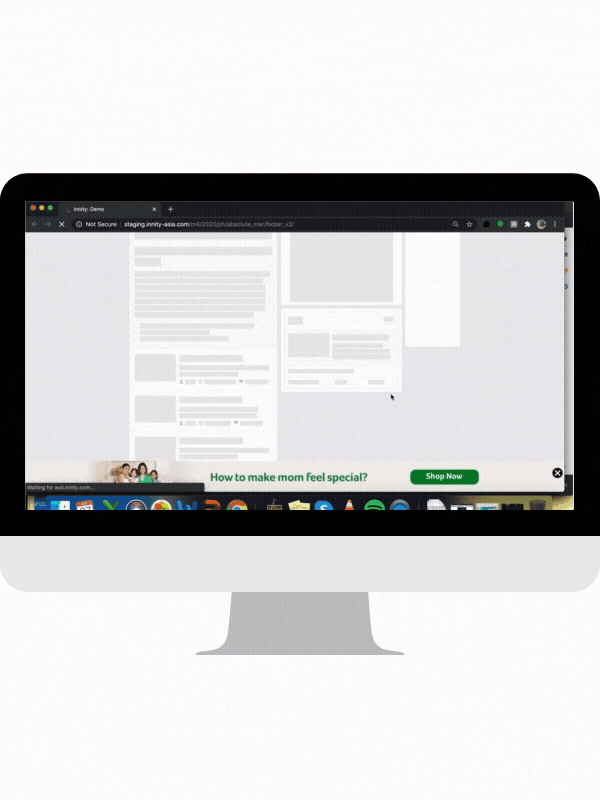 6. Oppo Project Rainbow – Mobile Revolver
Oppo released the new Oppo Reno 3 and wanted to create buzz and increase its sales. Mobile Revolver was one of the high impact ads utilized in the campaign – this 3D revolving ad space has a futuristic design that matches Oppo's sleek product features! Once the user clicks on a card, it expands and takes over the whole screen, revealing the full experience. With each card having its own landing page, it's perfect for Oppo's goal to gain traffic for their new cell phone products.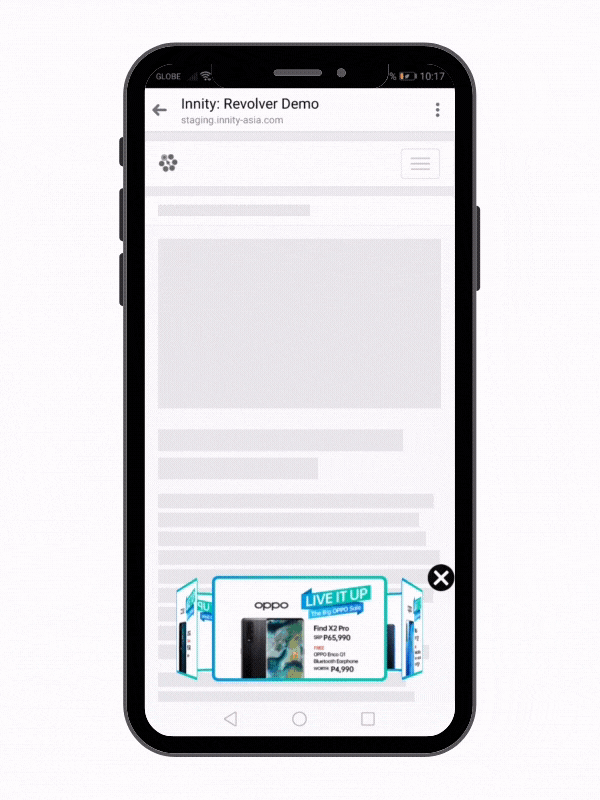 7. L'oreal Excellence Campaign – Mobile Spin +
As the saying goes, a woman's crowning glory is her hair. L'oreal explored using Mobile Spin + to highlight its products by enticing users to test it out on themselves virtually. With the goal of increasing digital sales, the ad hosted multiple videos through the expanded banners, which led to ecommerce sites. This campaign created an immersive experience for those who want to try before they buy!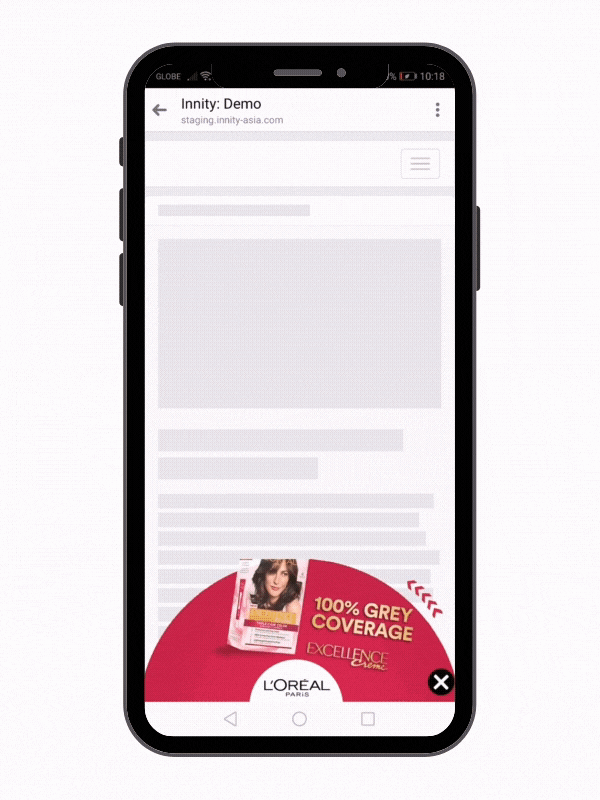 8. Argentina Corned Chicken – Mobile Spin Lite
Have you ever seen a food ad somewhere and suddenly you got hungry and started craving for it? Argentina promoted its Corned Chicken through the Mobile Spin Lite, featuring different kinds of meals you can try out with this flavor! By clicking on the ad, you'll get directed to their Facebook recipes using the Argentina Corned Chicken.
No more "chicken nanaman?", because you can now spice things up!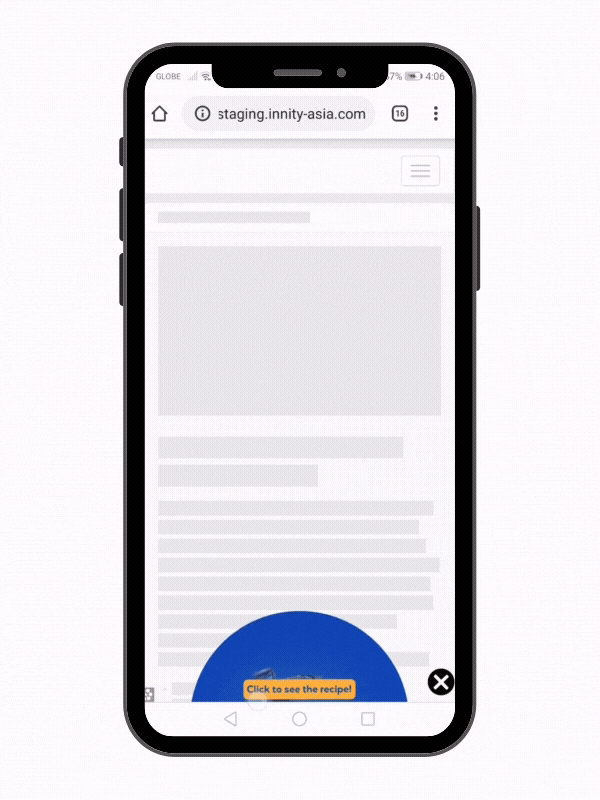 9. ING – Mobile Skinner
ING wanted to help their customers grow their emergency funds through this Mobile Skinner ad. This execution used to be just for desktop, but now it's available on mobile and features a small tab that comes out when the user scrolls down on the page.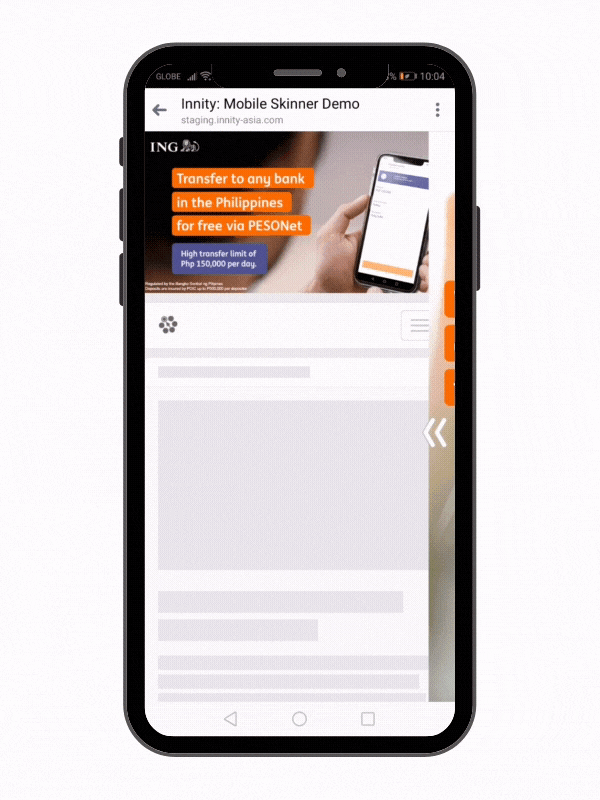 10. Smart LTE campaign – Mobile Engage (Pull Up)
Okay, we're not gonna deny that this ad probably got picked because Hyun Bin is here. Smart move, Smart.
Smart wanted to create awareness for the latest LTE offer using the Mobile Engage (Pull Up), a full-page unit which appears when users pull the invitation banner. The 3D animated clouds and attractive use of Smart's dominant color green makes this an eye-catching ad with bonus points from the eye-candy. (wink)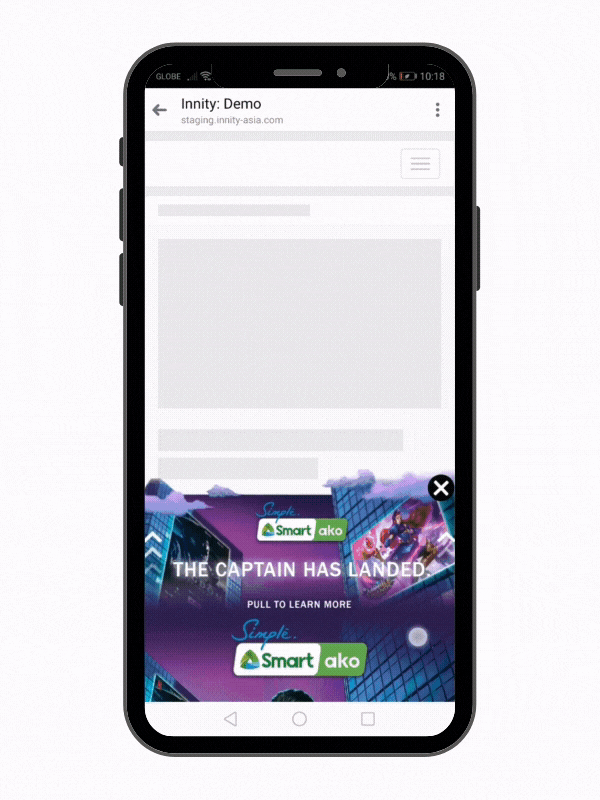 We can't help but notice that 9/10 of the creative picks are mobile ad formats and a lot of brands were able to showcase their creativity using the different versions of Mobile Spin. This is not really surprising since mobile advertising surpassed desktop advertising back in 2017 and continues to play a major role in the digital advertising industry, with a forecast to take over 75% of all digital ad spend by 2022.
Who's gonna make the cut for Q3-Q4? We're excited to find out!
_____
Feeling inspired? Let's collaborate and think of a creative way to feature your brand's products and services through our high impact ads.
Connect with the team so we can brainstorm together!
marketing@innity.com