REVO Malaysia Partners With CIMB For e Credit Card
REVO, a Card-Linked Rewards Platform introduced by OfferStation Sdn Bhd (a member of the Innity Group of companies) has partnered with CIMB Bank Berhad to offer its customers exclusive deals, extra bonus points, and even more cashback through CIMB's new e Credit Card.
The new e Credit Card allows customers to maximize the value of shopping by redeeming exclusive deals, bonus points, and cashbacks in each transaction with no minimum spend when they shop with its featured partners such as REVO, Shopee, Lazada, Setel, Happy Fresh, Foodpanda, and more.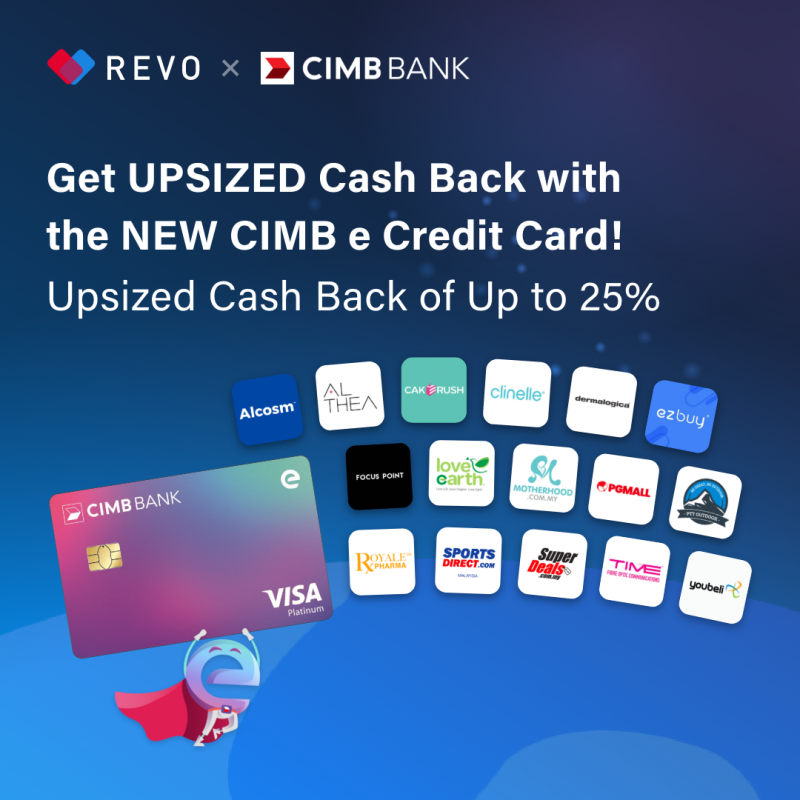 This partnership allows REVO users to enjoy 12 times Bonus Points (BP) when shopping with its merchant partners by using CIMB's e Credit Card on eDay, which falls on the 10th of every month and 5 times Bonus Points on days other than the 10th as well. With this, users can enjoy more deals when they shop with REVO's participating merchants like Alcosm, Althea, EZ Buy, Sports Direct, and many more. You can find the full list of participating merchants here. But wait, there's more! CIMB has the best Bonus Point conversion value, so after shopping, they can use those Bonus Points to redeem more than 300 products from their Member Rewards Catalogue.
On top of that, we have also recently partnered with AEON Credit Service and Digi in running campaigns catered to their users. These partnerships allow AEON cardholders and Digi users to receive an extra RM10 sign up bonus when they first spend at REVO's participating merchants.
First introduced to the market in December 2019, REVO is the first card-linked rewards platform to launch in Malaysia that caters to all types of contactless payment users of various lifestyles. What makes us different is that users are not required to reload money into our app, all you have to do is link your existing credit cards and pay as you usually would. The cashback will be tracked and reflected into your REVO account, you can then withdraw the money into your bank account easily.
Most importantly, REVO promises a safe and secure platform as your credit card data is securely encrypted with 256-bit bank-level encryption and we never store your card details!
"We believe reward-based marketing is a powerful tool because it puts consumers in control while giving them additional value to engage with brands. With these new partnerships, we are excited to introduce our users to a more seamless and efficient method of contactless payment whilst rewarding them with cashback deals. We look forward to partnering with more merchants in the future!" said Simon Ong, the Co-Founder of OfferStation.
REVO has also recently launched our brand new mobile app to allow users to conveniently browse through cashback deals and track activities on their phones. Our REVO Malaysia app is available for both Android and iOS devices via the Play Store & App Store.
Contact us to find out more about how you can partner with us and make your consumer's purchases more rewarding!