Radio Mindanao Network is Innity Philippines' Featured Publisher of the Month (November)
With 68 years in the media industry, Radio Mindanao Network (RMN) has truly made a mark and continues to reach millions of people to serve its commitment as a network:
To uphold brand of excellence and continuously strive to provide the most comprehensive media service their listeners and best creative advertising to their clients.
Aside from their AM and FM stations that deliver public service and entertainment, RMN also creates humanitarian programs focusing on education, environmental advocacies, initiatives on nutrition, relief operations, and more.
With health and environmental issues being one of the many things that we need to prioritize, especially now, we wanted to give the spotlight to one of our publishers in the network.
1) Can you tell us a little about RMN and how it started?
RMN Networks is the biggest and dominant Radio Network in the country, which started 68 years ago with over 60 stations nationwide.
In the latter years, it started to venture into digital to be able to reach new and wider audiences nationwide through various digital platforms such as Facebook, Website, Youtube – as it continues to provide the needs of its audience.
2) Who are your targeted audience/readers?
Our audience comprises the Masang Pilipino or the CDE market. We speak to a wide variety of people aging from 16-65 years old.
3) What insightful tips can you share for new and aspiring publishers/bloggers
Know Your Audience: It's the primary consideration to be able to come up with quality content that is relevant and relatable.
4) Where can people follow RMN and stay tuned for more content?
RMN has over 6 Million Facebook Community across the country topped billed by RMN News, RMN Iloilo and iFM Manila Facebook Pages and its localized website at www.rmn.ph.
Visit RMN and iFM Facebook Pages and RMN Drama Youtube Page to subscribe to the latest news, events and entertainment in your local community.
5) What role does Innity play in your business growth and what do you like about working with Innity so far?
Innity has been a valuable partner to RMN. Innity helps us connect and build relationships with brands.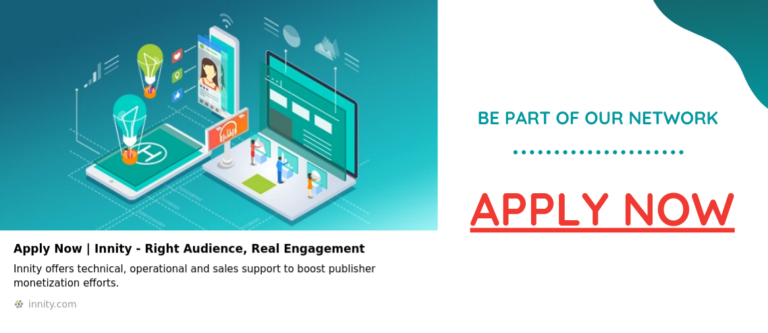 If you're looking for a partner to support you in monetizing your website, apply now to be part of Innity's network.
Fill up this form to get started!