Innity Indonesia proudly celebrates ten years of collaboration with KLY network, the largest female readership in Indonesia
As an official partner of Innity Indonesia' Premium Publisher Network, we are thrilled to announce that we are celebrating ten years of collaboration with KLY network. KLY (KapanLagi Youniverse) is one of the Largest Lifestyle, News & Entertainment online media in Indonesia with an audience of over 150 million people across the country.
Innity's Ad Format can be run on their networks includes Merdeka, Liputan6, KapanLagi, Dream, Fimela, Bola.net, Bola, Vidio, Otosia, they also have a site for specific audiences, but for the latest news updates, they have Liputan6, one of high credibility online news portal in Indonesia.
KLY's Vision and Mission
KapanLagi Youniverse (KLY) vision is to become a digital media with the largest number of users in Indonesia, and presenting leading and trusted content for various segments, from news, entertainment, sports, lifestyle, etc.
On the other hand, they address advertising challenges related to "Brand Safety", and global issues such as Fake News, hoaxes, and other non-credible news. Liputan6.com is an online media verified by the International Fact Checking Network (IFCN).
Why are brands so suitable for showing their products on KLY?
KLY strives to meet the needs of brands in terms of advertising, from banners, articles, to digital activities.
During a pandemic like this, brands can use digital activities to continue interacting with their loyal users, without violating covid-19 prevention protocols.
On the other hand, KLY is a part of EMTEK Group, along with video and Bukalapak. In EMTEK Digital, we present a full stack of advertising, starting from users viewing advertisements, reading marketing content, watching videos (both VOD and LS), and at the end of the journey, users can buy products from brands at Bukalapak.
Currently, only EMTEK digital has a full service like this in Indonesia.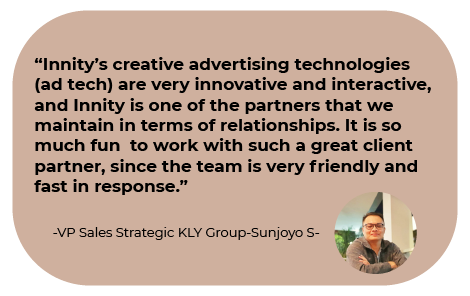 About KLY
When it was first founded by Steve Christian and Eka Wiharto on February 28, 2003, the goal was to build an internet technology company that would change the landscape of content consumption. When mobile users started to reach critical mass in Indonesia, KapanLagi.com took the opportunity to provide entertainment for these target audiences. From a start-up company which was only started by five engineers, KapanLagi Group has now grown to become one of the largest Internet companies in Indonesia with 500 employees today. Along the way, new vertical networks were created including Bola.net, Vemale.com, Otosia.com, and Merdeka.com.
On March 3 2014, KapanLagi Group officially changed its new name to KapanLagi Network to start a new beginning through a merger with Fimela Network, which was founded by Ben Subiakto and Dian M. Soedarjo. Fimela Network is a lifestyle beauty network that operates Fimela.com, etc. KapanLagi Youniverse is under PT. Liputan Enam Dot Com, a member of the Emtek Group, has two offices in Jakarta for business development and marketing, and in Malang for the editor, programmer and designer section.