FIRST QUARTER OF 2021: LIST OF PUBLISHERS WITH HIGH CTR AD PERFORMANCE – INNITY PHILIPPINES
Innity Philippines' rounds the top publishers with the a CTR ad performance that is above 0.80% in the first quarter of 2021.
Innity takes pride with our rich media ad formats that elevate display advertising campaigns with it's highly interactive features and visually compelling appearance. Aside from these, we've also built partnerships with various publishers to aggregate premium ad inventories. With Innity's rich media ads and quality inventory, we've managed to provide a brand safe environment and create better performance benchmarks for advertisers.
PEP.PH (CTR: 0.81%)
PEP.ph (Philippine Entertainment Portal) is an entertainment news and lifestyle website in the Philippines that covers celebrity lifestyle and has expanded to non-celebrity lifestyle content about a range of topics that interests our wide audience—beauty, fashion, parenting, home, health, and more!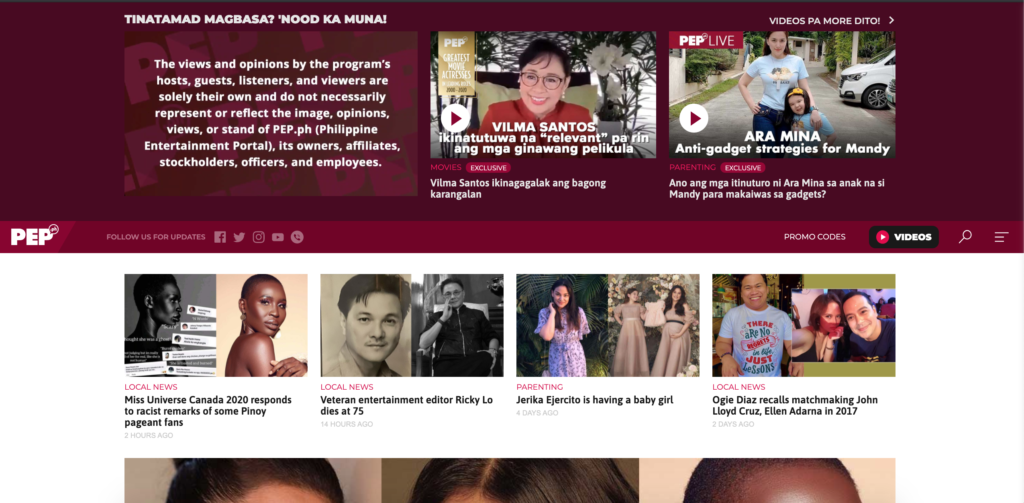 THE BOHOL CHRONICLE (CTR: 0.84 %)
Established in 1954, The Bohol Chronicle, popularly known as the Chronicle is a daily newspaper in Bohol and is one of the longest running community newspapers in the Philippines. With over 65 years in the industry, they have received multiple awards such as the 1) prestigious Community of the Year in 1970 during the 4th Annual Journalism Award by The Rotary Club of Manila 2) The Republic Editorial Award in 1973 and 3) The Manila Standard Editorial Award in 1994.
INQUIRER.net (CTR: 0.85 %)
Philippine Daily Inquirer, popularly known as Inquirer, is a large broadsheet that has expanded from a single media platform to a multi-platform network with more than 30 million readers. They exist as an entity that is "fearless in the face of repression, and unflinching in its commitment to the truth for the Filipino people.
ABS-CBN News (CTR: 0.87 %)
This is the news and current affairs programming division of ABS-CBN, which is responsible for the daily news in the Philippines and the world. They exist to serve the Filipino by sharing information that informs, educates, and entertains through creative content.
SPIN (CTR: 0.89 %)
Sports Interactive Network (SPIN.PH) is a sports website — the first of its kind in the Philippines — which delivers the latest news from the world of sports in real time as well as in-depth features, columns, videos and podcasts.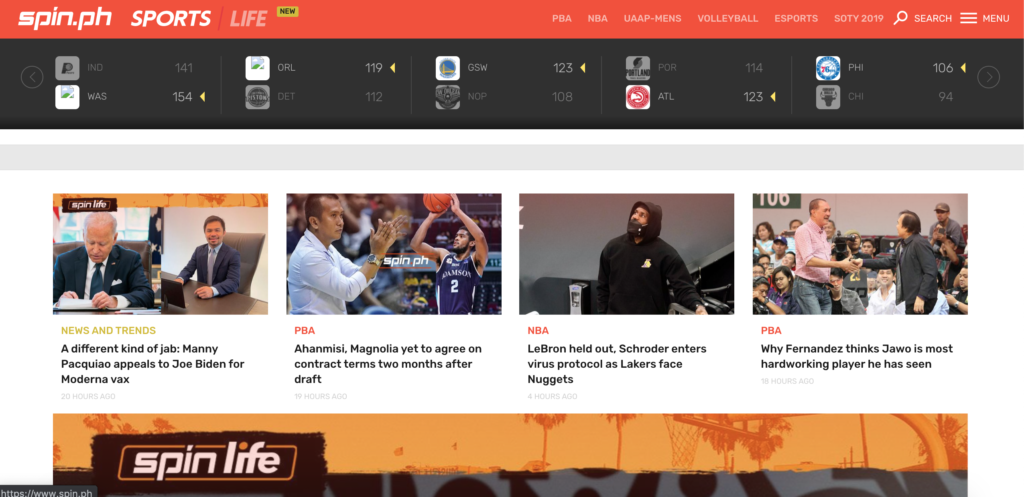 PINOY ADVENTURISTA (CTR: 0.89 %)
Pinoy Adventurista is a travel blog created by "Mervz", an adventure junkie who aims to share his mountaineering tips, and travel guides for his fellow kababayans.
The website has become an online source of recommendations for the best places to go to, food to try, and activities to explore in different destinations in the Philippines.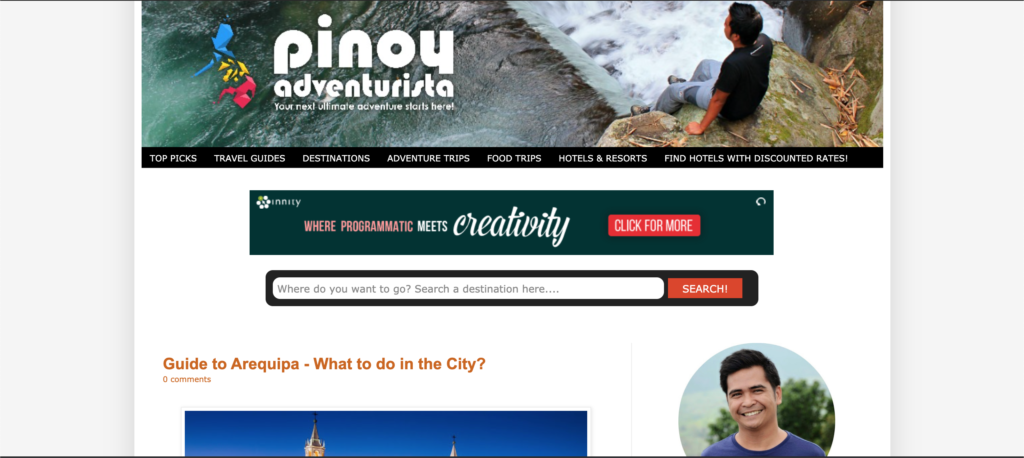 TOP NOTCHER (CTR: 0.89 %)
TOPNOTCHER.PH or TOPNOTCHER Philippines is a website that focuses on providing FREE exam reviewers, tips, How-to's, guides, PRC exam results and more. With over 50+ online practice tests, tutorials, and tips, their mission is to help Filipinos pass their examinations through comprehensive guides.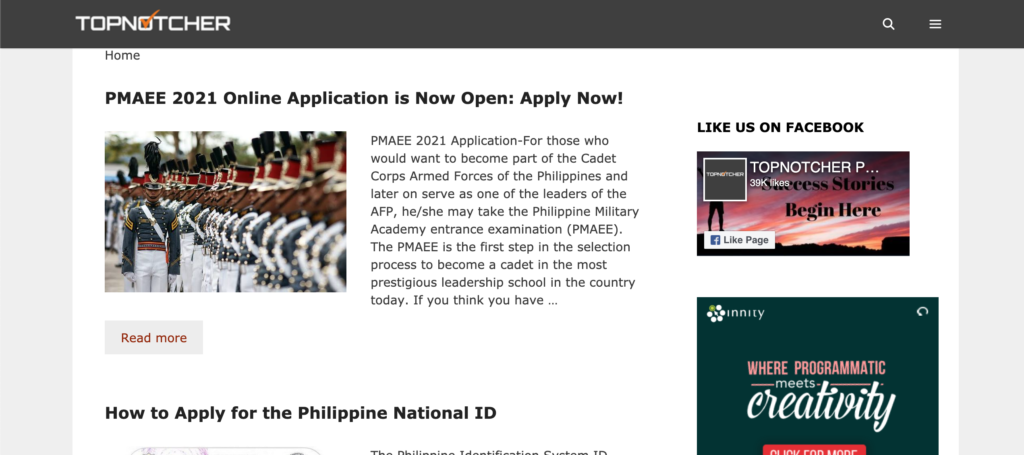 RAPPLER (CTR: 0.92 %)
Rappler is a social news network that combines the best of journalism with crowdsourcing. Their stories aim to inspire smart conversations that lead to digitally fueled actions for social change. Its pillars center on journalism, data and tech, and community.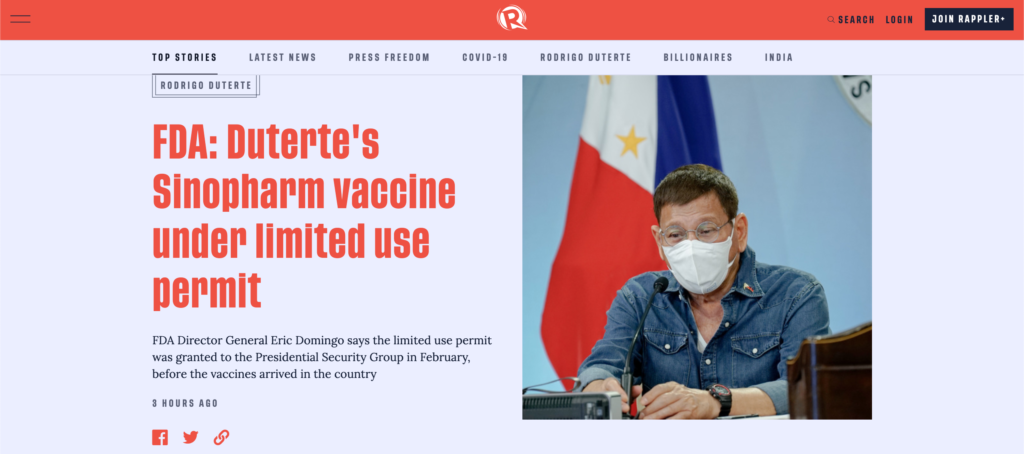 CNN PHILIPPINES (CTR: 0.96 %)
CNN Philippines is a channel providing first-class news and information and aims to create engaging and accessible content that covers local and international news, feature stories, live video streaming, image galleries and video clips, targeted to Filipinos. With in-depth coverage and a dedicated team of journalists, CNN Philippines offers its viewers a global perspective on key issues and trending stories from around the world.
INTERAKSYON (CTR: 1.25 %)
Interakyson is a Philippine digital news website owned by Philstar Global Corporation. The website features human-interest stories from the latest trends, politics/social issues, featured celebrities, hobbies and interests, and a vertical called Rumor Cop. It also contains news aggregation from Philstar Media Group's properties such as The Philippine Star and BusinessWorld, as well as human-interest stories.
ABS-CBN – ENTERTAINMENT (CTR: 1.35 %)
ABS-CBN is the Philippines' leading media and entertainment organization. Also known as Kapamilya It is primarily involved in content creation and production for television, online, and over-the-top platforms, cable, satellite, cinema, events, and online radio for domestic and international markets. Through their entertainment website, they share the latest in Philippine entertainment scene and celebrity news and features plus happenings on Hollywood stars from television, music and movies.
METRO.STYLE (CTR: 1.65 %)
Metro.Style highlights the best-curated products and content with relevant topics that continue to inspire, inform, and transform women to be the best version of themselves.
PINOY EXCHANGE (CTR: 1.7%)
Pinoy Exchange (PEx) is an online forum with over 1.5M monthly users globally. Users "Connect and Converse" by reacting and expressing their opinions on the platform mainly by Filipinos from all over the world.
Innity's Publisher Badge
As a partner publisher, you will have exclusive access to a technical support team that will help you monetize your website and increase traffic through our advertiser campaigns. You will also have access to learning sessions and educational content, which include recommended strategies to maximize your platform's earning opportunities.
You will also be qualified to receive a publisher badge to authenticate your affiliation with Innity's Publisher Network.
The badge system includes four categories that consider the quality and performance of publisher partners: 1) Verified Publisher 2) High Traffic Website 3) Excellent Ad Performance and 4) Premium Quality and Performance
To become a publisher, sign up here to start your application process.
To know more if you qualify for Innity's Publisher Badge of Excellence, connect with us at ph.pub@innity.com or ph.marketing@innity.com