How Innity Helped McD Transform People Into K Idols
With the yearly release of McDonald's infamous Spicy Korean Burger series, McDonald's wanted to raise awareness and boost sales on this burger series. However, with the pandemic going on, McDonald's hoped to create an impact online through social media platforms. With lockdown restrictions in place, the issue of being able to execute the campaign effectively arose as well. Targeting the younger Millennials and Gen Z audience, Innity decided to make the campaign more trendy, fun and stylish to resonate better with the target audience.
Strategy:
The Korean wave and Kpop culture have recently turned into a global phenomenon. With the recent successful McDonald's and BTS collaboration, it was proof that combining McDonald's fans and the Korean culture is effective and would be able to create a strong presence online.
Additionally, with everyone frustrated from the pandemic and stuck at home, Innity wanted to make the most out of the situation and cheer up the mood by giving the audience an excuse to dress up, even if they weren't going anywhere.
Hence, the team designed a campaign that implemented Kpop culture into McDonald's Spicy Korean Burger, creating the #McDKIdolSearch campaign.
To take part in the #McDKIdolSearch contest, audiences would have to order McDonald's Spicy Korean Burger, snap a picture of them transformed into a Korean idol and pose with the Spicy Korean Burger. They also had to come up with a creative caption that included the hashtag #McDKIdolSearch. With the first 100 and top 21 most creative entries winning cash prizes worth over RM50,000. The campaign lasted for a month, starting from 28th June 2021 and ended on the 21st July 2021.
To drive awareness and participation, Innity engaged 17 well known influencers to kickstart the contest.
With macro-influencers consisting of over 100,000 followers, micro-influencers of those between 10,000 to 100,000 followers, and seeders of those with follower counts below 10,000. Innity recruited influencers from all three tiers as each influencer tier brought about different impacts online, providing a win-win situation. As a result, the campaign was able to leverage on the premium influencers' higher quality content and maximum diverse reach, while also benefiting from seeders' niche markets and high engagement rates.
Innity partnered with 4 macro and 13 micro-influencers to create hype on Instagram around McDonald's release of their Spicy Korean Burger. Influencers such as Han Byul, Gaston Pong, Rose Nicotine, Bella Khan and many more were invited to participate in the #McDKIdolSearch campaign. The 17 premium influencers each posted an Instagram video on their personal accounts, featuring their own take on a Korean idol transformation video. The video was edited professionally by the team to standardize the style and approach, adding graphic elements while featuring important campaign details such as the campaign hashtag and the attractive prizes to be won.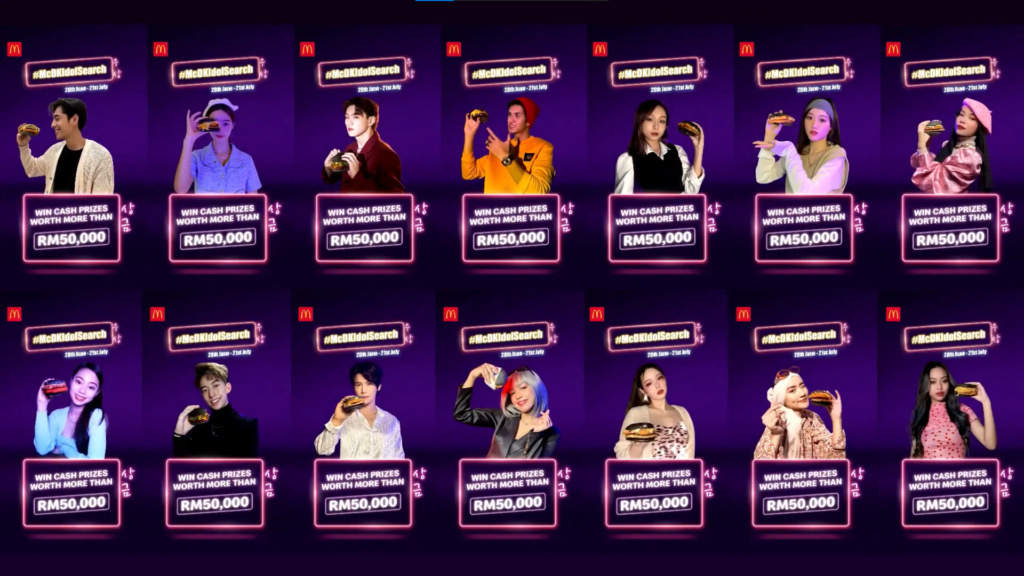 Through their #McDKIdolSearch hashtag, the influencers invited audiences to join the #McDKIdolSearch contest and show off their own Korean idol look at the same time showcasing McDonald's Spicy Korean Burger. The premium influencers also shared the campaign on their Insta Stories, Instagram feed, encouraging their followers to join in on the trend. Their posts garnered many positive responses, with many commenting that they too will participate in the contest as well.
Leveraging on Innity's very own influencer marketing platform – Passionation, which consists of over 11,000 social seeders, Innity was able to further increase participation and drive more awareness towards the campaign.
The campaign garnered additional earned media not only through the value-added content from the premium influencers, such as Instagram stories and reshares, but also through Passionation's social seeders' Instagram postings. On top of all that, several publishers also featured the #McDKIdolSearch campaign on their Facebook pages and websites as well. These earned media helped further extended audience reach and boost excitement.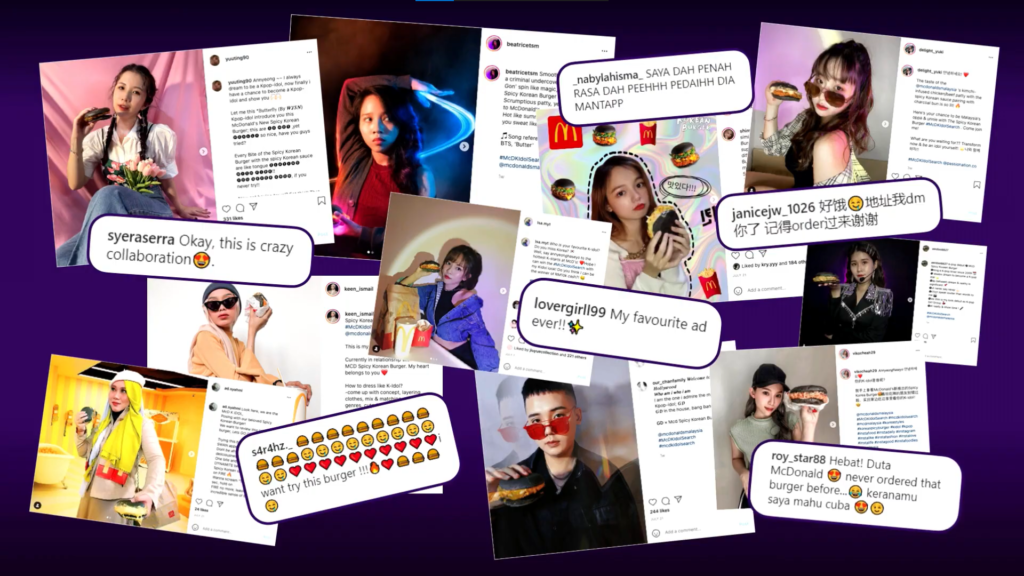 Despite the lockdown restrictions and having to work with a much smaller team, Innity were still able to efficiently video shoot the influencers' transformations and maintain the quality, improving it through animations and graphics. Their Korean idol transformation videos from the influencers were also compiled into a promotional video, which was then posted on McDonald's Malaysia's official Instagram account to drive further traffic to the campaign. The videos from the influencers were also amplified via Facebook ads to reach an even wider audience.
Results:
With a total of more than 2 million followers, the 4 macro-influencers transformation videos amassed close to 5 million reach, over 11 million impressions and 1 million total positive engagements, with an impressive overall engagement rate of 47.64% on Instagram alone. While the 17 premium influencers' Instagram image posts and stories received a total of 729,000 reach, 253,000 total positive engagements, and 800,000 total impressions.
The Facebook ads performed well, with one of the influencer's content achieving over 4 million impressions and the highest post engagement amongst all creatives.
Within a month, the #McDKIdolSearch contest received over 1,000 entries on Instagram. With entries from participants of all ages and generations, the campaign proved to have strengthened audiences' brand love.
In comparison with McDonald's past "purchase, snap, pose and win" campaigns, the #McDKIdolSearch campaign received the highest number of entries, with many positive mentions and also created substantial positive sentiment around the product and brand as well.
Watch our case study video here!