Innity Vietnam wins Three Golds at MMA Smarties Vietnam Awards!
We are thrilled to announce that Innity Vietnam has been awarded three Golds in MMA Smarties Awards!
The "Võ Lâm Truyền Kỳ 1 Mobile: Real Ambassador X Virtual Experience – Bringing Reality into Game Marketing" campaign won two Gold awards in total! One in the APAC region under the Cross Mobile Integration category and another one under the Innovation Technology channel in the Vietnam region. While the "Sanofi: Calcium Corbiere unites pregnant TikTokers" campaign brought back the third Gold under the Social Media Marketing channel in the Vietnam region.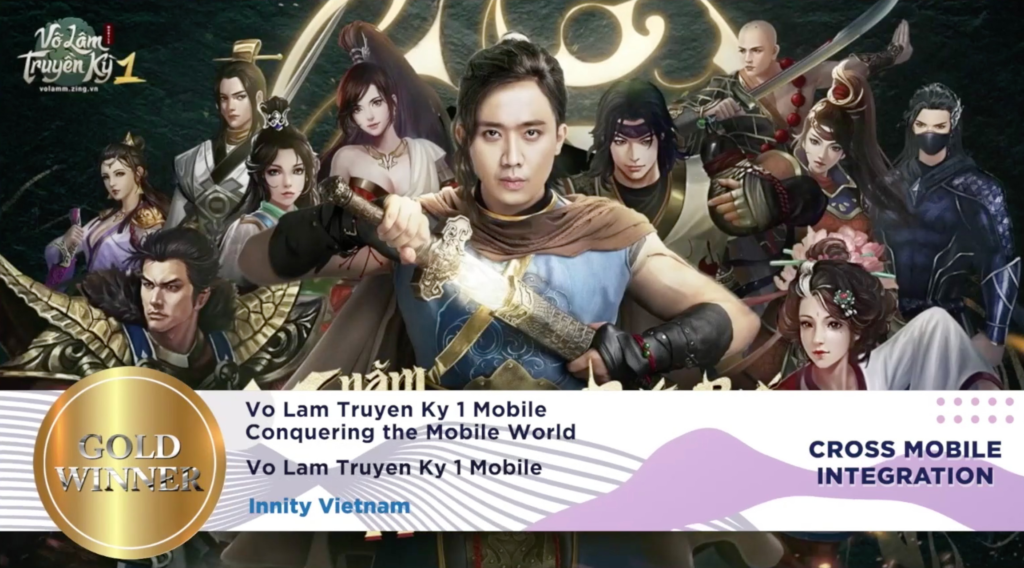 MMA Smarties Awards is the world's only global marketing awards program that recognises the most effective modern marketing campaigns, celebrating innovation, creativity, and success. The Innovation Technology category explores innovative and transformative ideas, devices, methods, or unique marketing concepts that pushes the boundaries of modern marketing, resulting in significant business impact for a brand. Whereas the Cross Mobile Integration category focused on campaigns integrating at least 3 mobile applications or mediums.
VNG launched a new mobile version of their Võ Lâm Truyền Kỳ series, Võ Lâm Truyền Kỳ 1 Mobile. Mass audience have always perceived Võ Lâm Truyền Kỳ as an old, lackluster desktop game, hence Innity Vietnam and VNG together ran "Real Ambassador X Virtual Experience – Bringing Reality into Game Marketing" campaign with a key message of "A 16-Year Martial Arts Classic – Now Playing on Mobile", targeting not only hard-core gamers, but also casual gamers and mass audience.
The campaign utilized a 360-degree media strategy, covering all owned media, paid media, and earned media channels. With the pairing of a multi-level KOL marketing strategy, the campaign maximized their reach and engagement to the mass gamers.
Thinking outside the box, a creative strategy of bringing "outgame into ingame", bringing reality into the gaming world, was used instead of the usual "ingame to outgame". Trấn Thành, a Vietnamese comedian boasting over millions of followers, was chosen as the brand ambassador and was transformed into a CGI in-game character, which was then showcased in multiple marketing creatives.
Dominating the top ranks in Vietnam's App Stores and ranking 6th in BSI Top 10 Social Campaigns Award, a first for a role playing mobile game, the "Real Ambassador X Virtual Experience – Bringing Reality into Game Marketing" campaign overachieved in both download volumes and revenue.
For more information on the campaign, watch the video here!
On the other hand, the "Calcium Corbiere unites pregnant TikTokers" campaign won Gold in the Social Media Marketing category, which focuses on creative social activities that uses social platforms to impact business objectives or to enhance relationships with a brand, community, or consumer.
Despite bone health being one of Sanofi's biggest categories, Calcium Corbiere was unable to grow in 2021 and Sanofi saw a decline in market shares. Needing to find new channels with a different approach, Innity Vietnam worked with Mindshare and proposed to roll out a strategy to target tech savvy millennial moms on International Women's Day, through a #HealthyHappyDance campaign on TikTok.
The campaign raised bone health awareness with fun branded effects, a catchy jingle and lively dance moves. Running the campaign during such a sentimental occasion celebrating women helped the audience resonate better and drove higher engagement.
In those crucial 3 days, the campaign reached a total of 18 million users, with 72 thousand TikTok videos created, which amassed 105 million views. With the help of the campaign, Calcium Corbiere Vietnam overachieved their gross sale objective and recovered their market share.
Watch the video to learn more about the campaign!
The awards serves as a recognition for Innity Vietnam's exceptional marketing initiatives and the team's dedication throughout these years as a leading technology provider of high impact digital advertising solutions and influencer marketing.